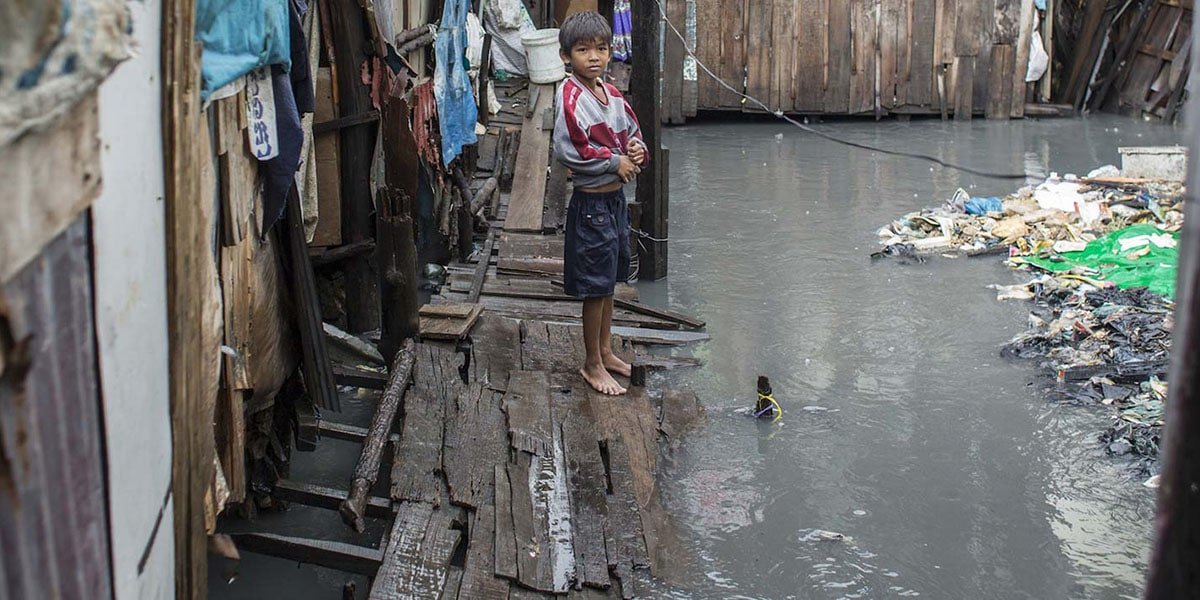 Living with HIV in Cambodia:
Building Homes for Affected Families
Paul often works with the Elton John AIDS foundation to create some of the most successful and exciting charity fundraising events in the UK – mostly supporting vulnerable families living with HIV, in this case in Cambodia.
While it often is very satisfying work for Paul, he felt he needed to see exactly where the money was going. Eager to get his hands dirty, he wanted to find out if he could help on the ground – for a more hands-on approach.
Building homes in Cambodia for HIV-affected families
So Paul decided to head to Cambodia on one of our building projects dedicated to vulnerable families such as people living with HIV (including single-parent families as well as orphans).
In the bustling city of Phnom Penh, thousands of people live in illegal slums and many are affected by HIV.
Life in Phnom Penh's slums: extreme poverty in Cambodia
Coming to visit the Pen Venh family, whose home is perched over an open sewer. The family has been living in this slum for over 10 years. The children often complain about the rather large rats, who not only steal the food but also bite them on the legs and feet.
When it rain season starts and the floods come, the family also has to deal with "all things float up to the surface: rubbish, faeces, leeches, etc". Paul asks about the whereabouts of the father and finds out that he died of an AIDS-related disease. The boys' sister and mother also have HIV and worry about their future.
Being able to go to school is everything to them, it's the best way to ensure a brighter future for the children, and as one of them puts it "[My dad] warned me not to inject any drugs or to sniff glue, and asked me to study hard".
The smell in the slum is "absolutely putrid" and it's difficult for most visitors to even imagine how people can live here. Walking away, you feel terrible that you can't do more to help… But Paul came here to build a house that will help lift a family like this out of these desperate conditions.
Moving away from temporary shelters and into real homes
Elton John AIDS Foundations volunteers and local workers have begun constructing the first of over 300 houses that will give AIDS-affected families a fresh start. They'll have running water, electricity, a solid roof and a toilet.
Paul gets to do everything: mixing cement, breaking rocks (some of the hardest work you can do on our building sites) and bricklaying.
It might seem like it's only bricks and mortar but when you've seen the conditions in which the people live in those slums of Phnom Penh, you realise it really makes a world of difference to them:
Roofs don't get blown away during typhoons
The house remains dry when it rains and doesn't flood
The family has electricity, running water and toilets
The children can do their homework inside without running the risk of losing their textbooks and notebooks due to floods and rain
Helping people living with HIV in Cambodia
While it's great for Paul to see the house he's working on take shape, he couldn't stop thinking about the family he'd met in the slum.
He was later delighted to find out that they were going to be re-housed as part of the project. He therefore invited them to the build site to have a look around and enjoy the smiles on their faces as they discover how clean their future home will be, the presence of proper toilets, or as the mother of the family puts it:
"It fills me with hope to imagine living in a house like this."
Breaking the cycle of poverty
Moving to one of these new homes is a huge stepping stone for those HIV-affected families and will create positive change for generations to come, helping entire communities break the cycle of poverty.
For Paul, it wasn't so much about building homes in the end, but rather about the people he met:
"To see the looks on their faces was definitely the most inspiring moment of the whole trip."
It is important to note that these building projects are not dependent on volunteers, nor created for the sole purpose of "entertaining" them (e.g. voluntourism).
Every day around the world local builders are working on our projects, creating local jobs, and boosting the economy. Volunteers bring a crucial boost to the productivity and a valuable reminder that compassionate people want to help these families and communities to thrive.
(All photos are courtesy of Christian Barnett)
This project is funded by the EU.
Take Action
Related
Comments