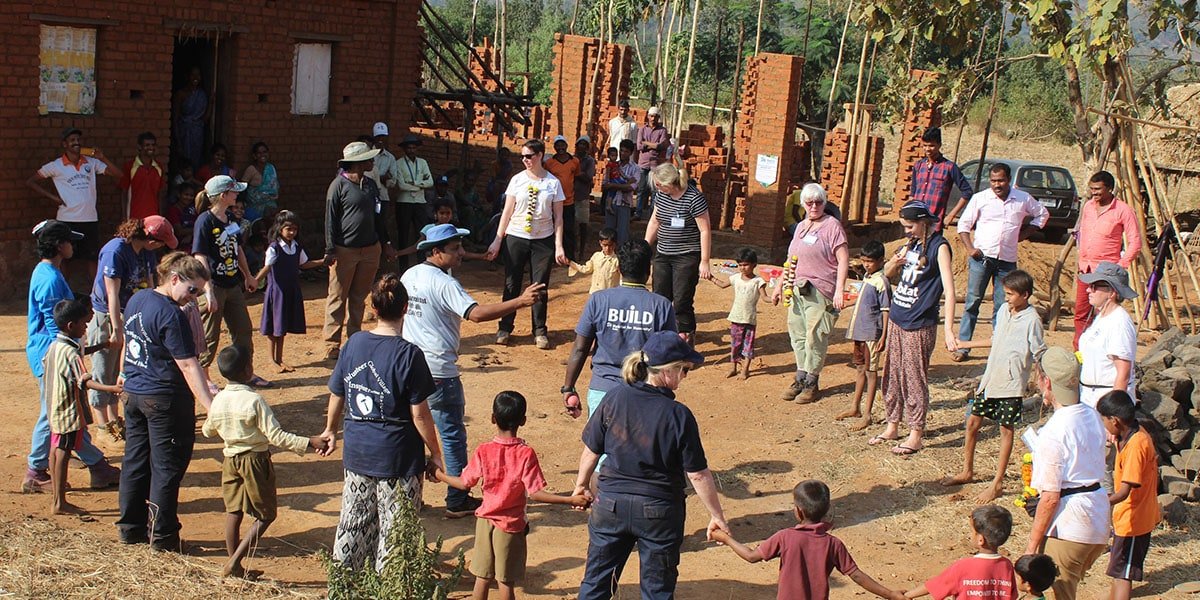 Female Home Builders Volunteer in India
& Raise £10,000 for a Vulnerable Family
The team of women came together to volunteer for one week to build a home for Leela Chimte and her family in the small village of Chimtewadi.
We paused our busy lives as CEOs, postgraduate students, small business owners – and as mothers, wives, and daughters – to make our own contribution to building a world where everyone has a safe place to call home.
In a quiet tribal community, tucked in the mountains a few hours away from Mumbai's chaotic energy, we witnessed Habitat for Humanity's work in action and its impact on families – especially women.
Our work in India is at the forefront of alleviating poverty through innovation. We strengthen communities by integrating housing with other vital needs, such as fresh drinking water and clean and accessible toilets.
Every year thousands of women in India are attacked, raped and sometimes murdered when heading to open "defecating fields" – which also contribute to spreading diseases such as cholera.
Better health, education and job opportunities in 75 days
This transforms a house into a home by creating a foundation for better health, education, and employment opportunities. The overwhelming majority of people living in poverty around the world are women and girls; this is why our India programme hands ownership of homes to women, to improve their security and provide more opportunities for them and their families.
It takes 75 days for Habitat for Humanity to build a home in India and our week-long build was just one piece of this process. As we laid bricks, experienced the daily water collection and laughed with the women, we witnessed how your support of Habitat for Humanity's work is helping families and communities thrive.
Two leading home builders 
Two leading female figures from Scotland's home building industry have returned from building a home for a vulnerable family in Mumbai, raising over £10,000 in the process to support charity Habitat for Humanity.
Chief Executive of trade body Homes for Scotland Nicola Barclay and colleague Gill Henry of Cruden Homes joined 11 other women on the week-long volunteer trip abroad, during which they built a new home for a family of four designed to withstand the monsoon season.
This new shelter will also allow the family's two young children to study in a safe, dry place.
Nicola Barclay (CEO, Homes for Scotland)
"We may still have mud on our boots, brick dust under our nails and aching muscles, but myself and the Women Build team are proud in the knowledge that our efforts have contributed to giving a family a fresh start.
"I was humbled by what I witnessed in Mumbai and the surrounding rural area and can only stress to others considering taking part in future builds just how fulfilling an opportunity it really is.  I am also extremely grateful to all those who contributed so generously to our fundraising page and spurred us on.
"Working in remote hillsides with a tribal community which has to collect water from a well, deliver hand-made bricks to site on the back of bullock carts and share one latrine, really put our support into context.  The children of these families have hopes and dreams beyond primary education and our assistance in providing them a sustainable home will help to realise their ambitions."
Gill Henry (Head of Business Development, Cruden Homes)
"Like Nicola, I feel extremely privileged to have had the opportunity to meet and work alongside such a fantastic but very isolated community. Sharing in their enthusiasm, hard work and commitment to building a safe and sustainable new home for a valued family who wanted nothing more than to provide a better environment for their boys to study really puts our daily challenges in perspective.
"The sense of community, respect, hard work and support that we experienced is something I will treasure forever and I would encourage anyone who is thinking about taking part in a build to get out there and do it. It is an experience of a lifetime."
Take Action
Related
Comments