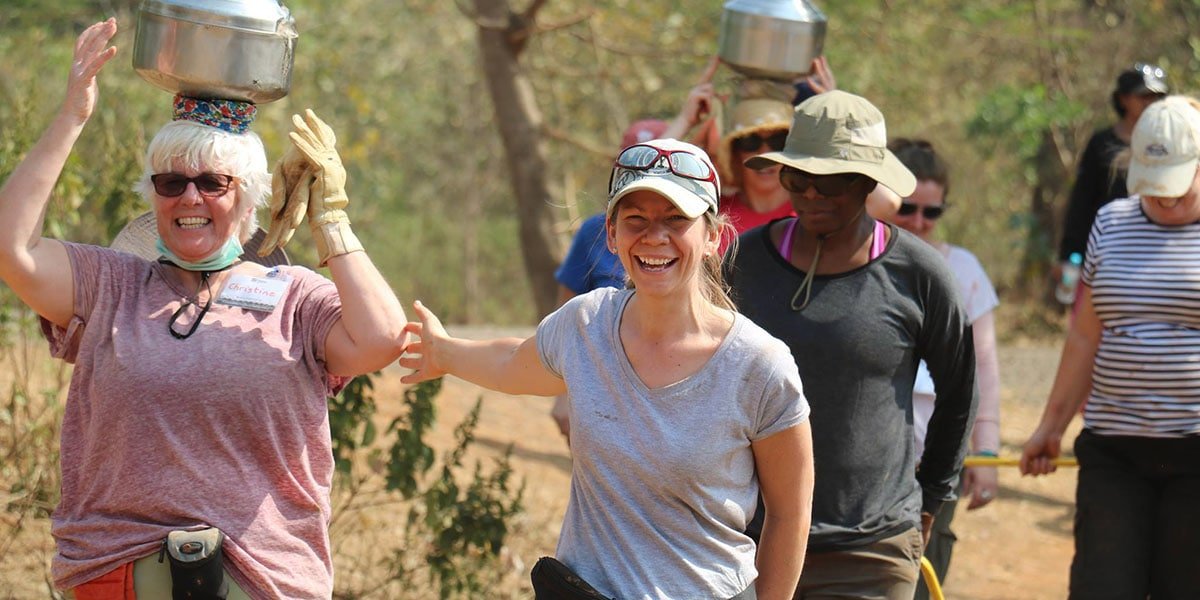 Women Build Homes in India:
2017 Family Update
In January 2017, an all women team of volunteers came together for one week to build a home for Leela Chimte and her family in the small village of Chimtewadi.
In addition to working hard on the construction site, the women smashed their fundraising target, contributing to a world where everyone has a safe place to call home.
Throughout the week, the team worked extraordinarily hard to build as much of Leela's house as possible. When their time in India finished, the house looked something like this – covered in balloons, flags, and decorations to celebrate the end of an incredible week with the family and the community.
Moving into their new home
We've received some updates from our Indian colleagues about Leela Chimte's family. Most importantly though, here's what the completed home looks like now – we are all very proud!
Safe and clean
Building a safe, decent home allows all members of the family to live freely and happily. This means children like Leela Chimte's two boys, Rutik and Rohit, are able to play inside in a dry and comfortable home. Rohit told us that he most enjoyed his home because it was a "safe, easy environment to study in".
He is able to work harder because there is more space and no distractions. Rohit was very passionate about the development of his home from beginning to end, missing a few days of school during the build as he was so excited and eager to help.
Toilets help prevent the spread of diseases
We've also got the chance to catch up with other family members such as Sitabai Chimate (the grandmother), who emphasised how safe she now feels in the new home and how much more hygienic it is – as they now have access to a proper bathroom.
All the family members sent their love to all the women volunteers and wished they could return to help the village build more homes.
Manuela, who leads our international volunteering programme, perfectly encapsulated the power of Women Build:
"It expands your heart to realise that we all share a need for a home, and the need to make a home for others". 
Watch the video below to catch a glimpse of what it was like to volunteer with us.
Our volunteers create for long-lasting change
As we mentioned earlier the team beat their fundraising goal for the trip. To give you an idea of how this money is spent and how Habitat for Humanity works, we've broken down the key information on costs and repayment for the family. Please note that these amounts apply to projects in India:
The cost is $3,000-3,500 for a house between 300 Sq.ft to 400 Sq.ft  – this includes training, funding, education and holisitc support
In some projects, Habitat for Humanity will support the family with 50% of the house cost and the rest will be taken care of by the future homeowner(s) through the available materials – such as bricks, sand, labour etc. Sweat equity helps them to reduce the cost too
The repayment period is then 5-6 years for the family (on their not-for-profit, interest free microloan)
Take Action
Related
Comments