Helping Women in Zambia Build a Better Tomorrow
Women in Zambia face significant challenges in securing the rights to their land and homes. This means that women can face being evicted without notice, despite having lived in their home for many years. Since the outbreak of COVID-19, more women than ever have become vulnerable to having their homes and land taken from them by local authorities and their in-laws, which has resulted in a need for them to seek legal and financial assistance. After becoming widowed, some women can even find themselves homeless because their in-laws lay claim to their property and possessions. Although illegal, the practice of 'widow inheritance' (whereby; a woman is required to remarry a member of their late husband's family) still exists in Zambia.  
Participatory Approach to Safe Shelter Awareness
To deliver learning to the community, a series of activities have been implemented through Participatory Approach to Safe Shelter Awareness (PASSA). PASSA is a people lead approach to solving issues around land and housing issues. This means teaching people invaluable skills that can be passed on to other members of the community and used to create action plans for positive change. Habitat for Humanity define PASSA as a process that enables people to make informed decisions about their homes by focusing on safe shelter and disaster risk reduction.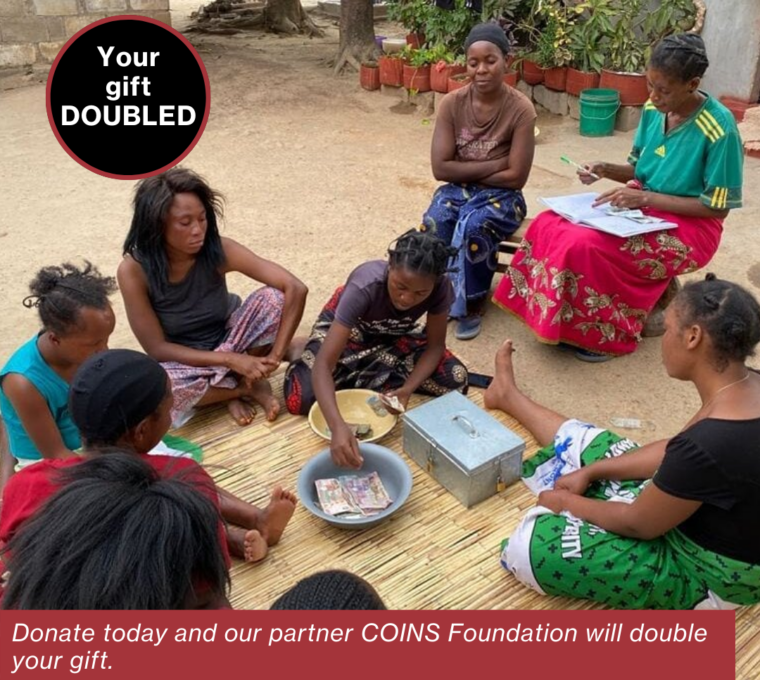 Study Groups
Only 13.6% of adults in Zambia are classed as 'financially wealthy', but through the implementation and facilitation of study groups, also called study circles, we are building communities together to address this. A typical study group is a meeting that brings together community members, civic leaders and government representatives. During their time together, everyone has a safe space to raise and discuss issues relating to land and housing rights. In addition, the community are also empowered to make recommendations and propose solutions to these problems.
Your gift can help people to understand their housing rights and have a safe place to call home.
Study groups teach community members financial literacy skills and help them to understand what their land rights are. Following these teachings, community members are able to procure land occupancy licences. Community members are officially recognised as having full ownership of their land and home when a land occupancy licence is obtained. This eliminates the risk of being made homeless by local authorities or family members.
[su_button url="https://www.habitatforhumanity.org.uk/online-donation/" target="blank" background="#00b7d7″ color="#ffffff" size="4″ icon="icon: handshake-o"]Donate Today[/su_button]
Bridget's Study Group Success
Bridget is just one of the thousands of people in Zambia that have benefitted from joining a study group. As a mother of three, she wanted to secure a safe and secure home for her children's futures. Money was a huge issue for Bridget, and despite her running a small seasonal business during the harvest season, she needed assistance to understand her finances and land rights.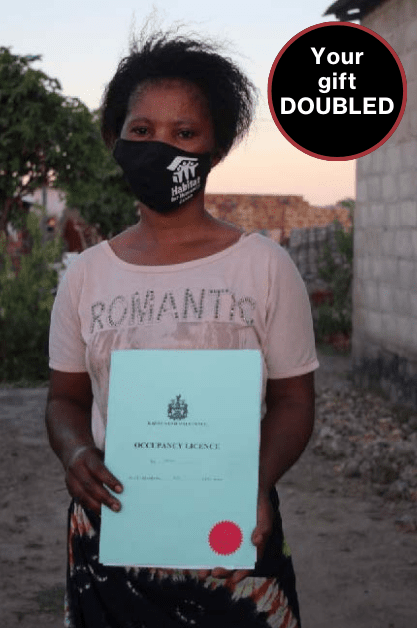 "… I knew about occupancy licences, but money was a big problem for me. For that reason I could never finish the application process…"
A Study Group Agent met with Bridget in her community. Habitat for Humanity trains Agents to inform people about study groups. The group welcomed Bridget with open arms and taught her all she needed to know about how to manage her finances and how to make household study.
"I joined a Habitat for Humanity study group and it didn't take me long to save enough money to apply for my occupancy, which I secured in 2020. I feel free and safe because I know my land is secure. I am still a member of my local group and act as the groups secretary. I advise others in my community to join the group so they can learn, save and achieve land security".
With your support today, we can run more projects just like this in Zambia and across the world. Your donation will go a long way in ensuring that vulnerable people like Bridget can acquire land and secure a safe place to call home.
[su_button url="https://www.habitatforhumanity.org.uk/online-donation/" target="blank" background="#00b7d7″ color="#ffffff" size="4″ icon="icon: handshake-o"]Donate Today[/su_button]
Help Us to Widen Our Impact
Thanks to the incredible generosity of our partner, COINS foundation, all gifts made to our Christmas Appeal in 2021 will be DOUBLED – this means that your donation will have TWICE the impact. You vital donation will help us to continue supporting people in vulnerable communities around the world that are in need of a safe place to call home.
Visit Our Christmas Appeal Page
Related
Comments
One response to "Helping Women in Zambia Build a Better Tomorrow"
We use cookies to improve your web experience. By continuing to use the site, you agree to the use of cookies. more information
The cookie settings on this website are set to "allow cookies" to give you the best browsing experience possible. If you continue to use this website without changing your cookie settings or you click "Accept" below then you are consenting to this.