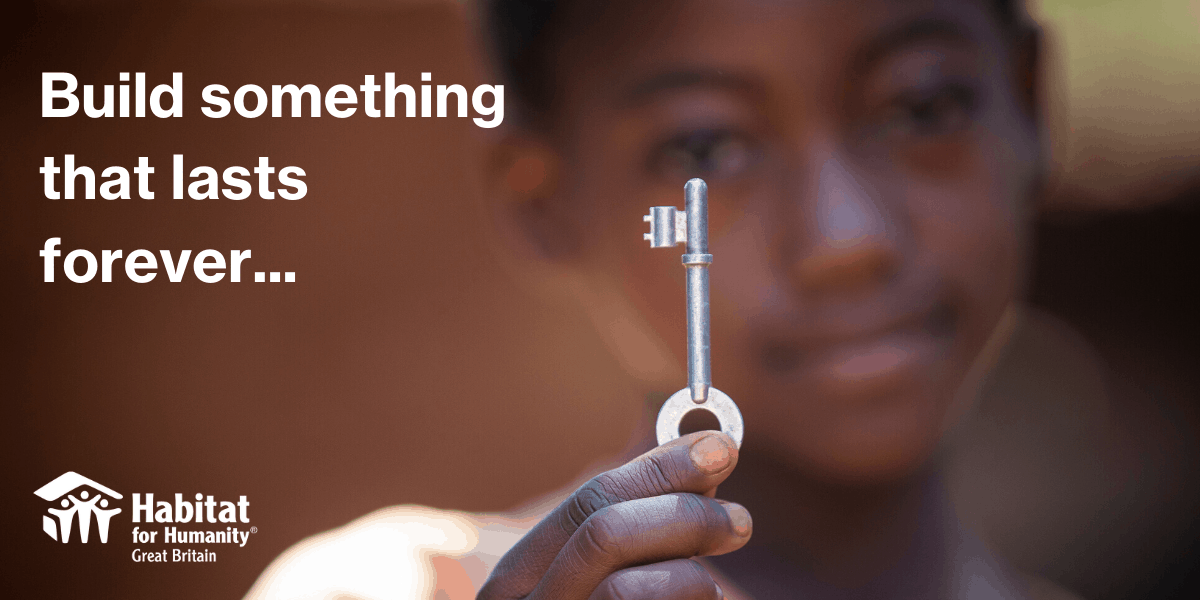 Gifts in Wills
Help us fulfil our vision for the future
A decent place to live is a place we can call our home. A home for us and our family. A home provides the foundations for security, an education and a livelihood. It's a place to share stories, food and laughter, and to have a good night's rest.
Housing poverty is one of the biggest global challenges we face. Shockingly, by 2030, the United Nations expect that one in four people will live in slums.
But we are committed to a vision to change that. A vision that will take generations of families to achieve, but it's a vision that can become a reality through the amazing generosity of our supporters.
Leaving a gift in your Will
To date, we've helped over 29 million people build or improve the place they call home and a gift in your Will can truly help us have a lasting effect in helping us tackle housing poverty across the globe with our innovative projects.
We promise to deliver solutions that last. We're not here for short-term fixes, we're in it for the long-haul and with your help, we'll be continually striving for a world where everyone has a decent place to live.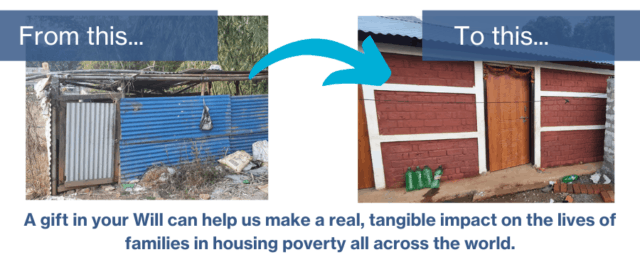 Making this very special commitment to us allows us to plan ahead for future projects. From helping those stranded in poverty after natural disasters, to improving water sanitation and building homes for those most in need, your legacy really will improve the lives of so many people, both worldwide and here in Britain.
Quite simply we could not continue our vital work in building a world where everyone has a place to call home without the generosity of our supporters.
Next Steps
If you are considering making the incredible pledge of a gift in your Will to us, then we realise the process of writing or changing a Will can seem complex. But the reality is that making, or even updating, a Will is easy.
Just leaving 1% of your Estate to Habitat for Humanity Great Britain can make a remarkable change.
If you already have a Will, you can contact your solicitor stating that you wish to add a gift in your Will to Habitat for Humanity Great Britain (charity number 1043641). It can be done in minutes but will have a lasting impact on the lives of so many vulnerable people across the world.
Your Will written for FREE
We've teamed up with online Will provider, Guardian Angel to offer the opportunity of having your Will written for FREE. You are not obliged to leave a gift towards our work in your Will, but of course, we do hope that after looking after your loved ones, you'll consider leaving a percentage to Habitat for Humanity Great Britain as well.
Enjoy peace of mind for you and your loved ones and leave a lasting legacy today.
Why do this today?
Completing an online will takes just 15 minutes
Guardian Angel Wills are legally binding and checked off by Will experts
It is FREE for Habitat for Humanity volunteers and supporters
Peace of mind that your affairs are in order (priceless)
Face-to-face Wills are also available if you feel more comfortable with a solicitor
How to redeem: click here and enter the code HABITAT-FREE-20 in the promotional code box at check out.
OR if you prefer call 0800 773 4014 for a free face-to-face Will (only valid for simple Wills).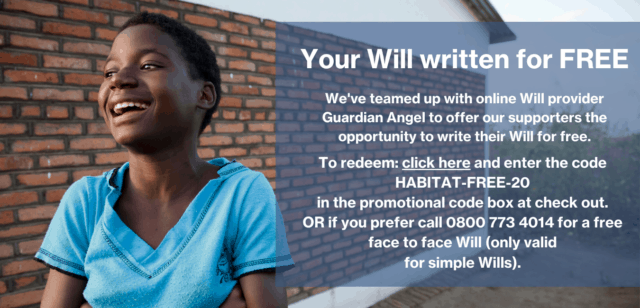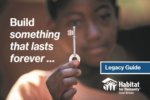 If you would like more information about gifts in Wills or to request our free legacy guide, just email hello@habitatforhumanity.org.uk or call 01753 313 539.
On behalf of all the vulnerable people your support helps – thank you so much for considering a gift towards our work in your Will.

We are hugely grateful.