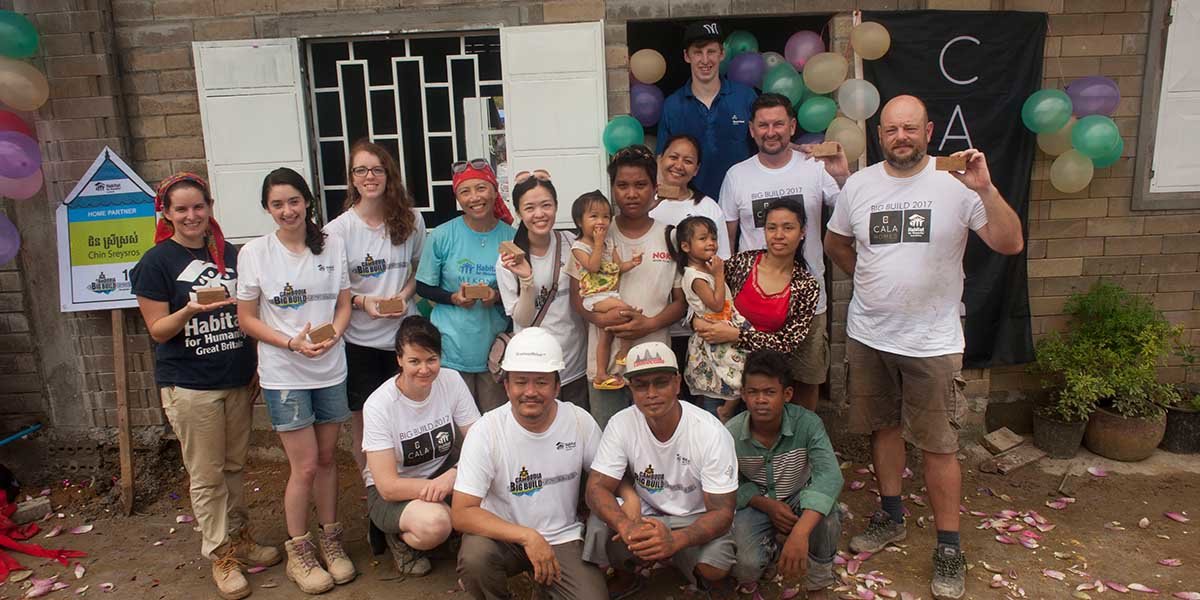 CALA Homes
Our Partnership with CALA Homes
We are thrilled to have partnered with CALA Homes since 2017. CALA Homes' values of passion, delivery, quality and respect have been demonstrated by all of those supporting our work over the years.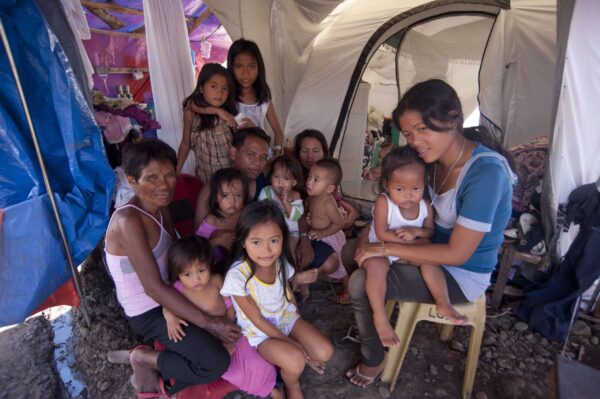 Building Homes and Supporting Communities
CALA Homes began working with us in 2017 when a team of volunteers took part in our  fundraising event, the Hope Challenge. Through their participation in this shelter build and trekking challenge event, CALA Homes raised vital funds to support our projects around the world.
Since then, CALA Homes have shown dedication to build projects in Cambodia where there is a need for decent housing for vulnerable families. The commitment to supporting our vision of a world where everyone has a safe place to call home has also been expressed by supporting our Covid-19 response in India.
Decades of war under the Khmer Rouge, has seen Cambodia's level of poverty decline, but huge inequalities persist.
In 2017, CALA Homes sent 3 employees to join our Big Build in Battambang, Cambodia. This build saw 259 volunteers from around the world come together to construct 29 homes in just 10 days.
In 2019 a team of 10 employees from CALA travelled to Cambodia to build a home for a family of 6. The family, headed by Chea Sol and his wife Yat Yen lived in a house constructed with corrugated iron sheets that provided no shelter from the bad weather or ventilation of any kind.
Meet Chea Sol's Family
In 2020, CALA Homes were able to support our Covid-19 Emergency Response in India by diverting already raised funds for a future build project into the relief effort.
All funds raised that were diverted from the planned build trip to India were used to support projects such as providing Hygiene Kits and Family Essential Kits to families isolating from the virus.
Read More About our Covid-19 Response
We have been incredibly privileged to be able to support this family. The reward of doing something so immediately tangible in terms of its benefits and being able to see them move in to their home will be up there in terms of the most profound moments in life for all of us.

CALA Homes team following their Cambodia Trip.

The legacy of giving someone secure accommodation in which they can build their lives from is just amazing.

Andrew, CALA Homes

Everybody, if they are able, should do something like this in their life. To benefit these people and any other people in a country that has suffered how this country has suffered. By working as part of a CALA team we have achieved all the values that CALA hold dear. Mostly in delivery. What we have delivered on the final day has been phenomenal. Working with their tools, and respecting how they work and finish things just brings the quality out of the work we carried out. It is fantastic in our view! It's just been a fantastic experience and I will do it again.

Ron, CALA Homes
When you see the legacy of what we're leaving behind, you realise it's a home for somebody, I know that does sound like a cliché. But you can actually now because there are other houses on site that are finished you can see enough into the door to see it's somebody's home. Although on video and in photos it might just look like one tiny room. For many, it is, for these people, this is an absolute transformation.
Rachel, CALA Homes
I'm completely overwhelmed by the experience. The amount of passion, quality, and respect that we all brought to this build has resulted in a fantastic home for the family. Just seeing all the smiles it has brought to the community has made me realise that that I would do this a million times over again!

Casey, CALA Homes

I think that the CALA build from a personal point of view has broadened my horizons,I've seen alot, the things you wouldn't see in the UK , how people live. It has widened my experience and respect for all the people here. From a CALA point of view we have worked so well as team, teamwork has been central in this and that's a massive thing to take back to the people I work with.

Paul, CALA Homes
Photo Gallery