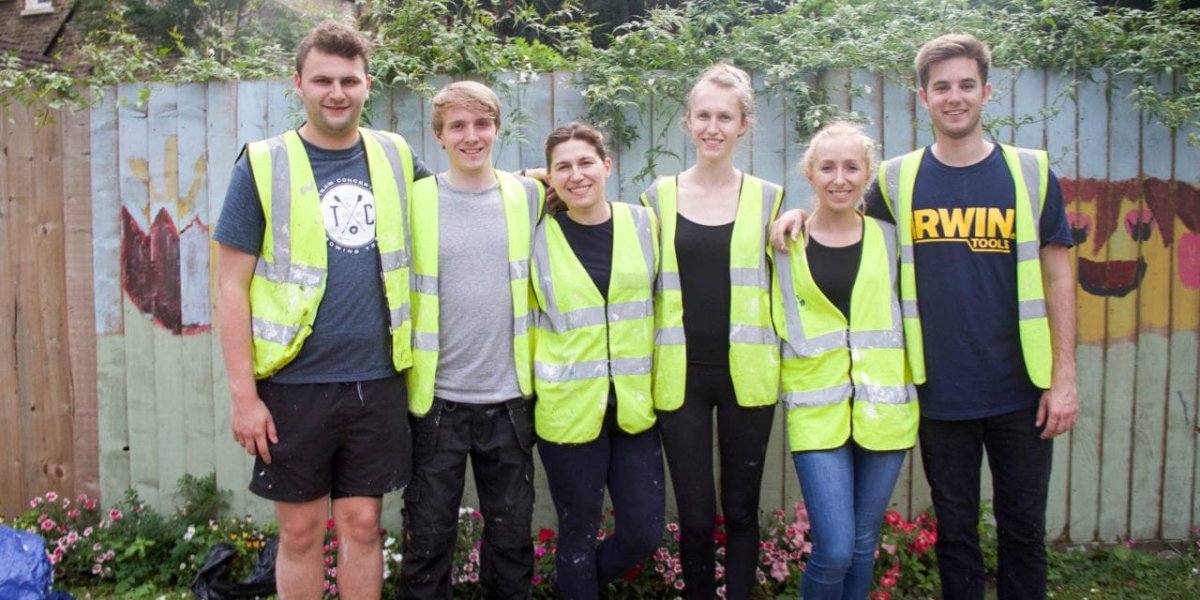 Stanley, Black & Decker
Going above and beyond for women living in refuges
In 2017, we were delighted to welcome a team of six from the Stanley, Black & Decker (SBD) office based in Slough, Great Britain on one of our local projects. Globally, SBD help people build and rebuild homes, "donate tools and sustaining tool-sharing programs to respond to emergencies…", and making schools safer through their security systems. They have created an incredibly philanthropic culture within their workforce, committing to "…making tomorrow better".
Two years ago, the team supported our Kingsley Hall project in Dagenham, trimming overgrown bushes, tidying the external area of the site, and preparing the rear entrance of the community centre for what would in time become the main entrance. These important works would eventually contribute to creating a welcoming entrance for the community with box planters, a pergola and seating.  Last month we had the pleasure of welcoming a team of six volunteers from SBD, who volunteered at a refuge run by our long-term charity partner Housing for Women.
The refuge is home to women and their children, with two double rooms and three single rooms, who have been subject to domestic violence and abuse. The refuge manager and support worker that regularly visit the refuge to support the women and maintain the refuge, ensuring that the women feel safe and secure whilst they are there.  The refuge manager is responsible for the upkeep and maintenance of the refuge, this could include putting up shelves and fixing appliances to cleaning and decorating.
Whilst at the refuge last month, SBD painted and decorated the hallways and one of the women's bedroom. After the volunteer day, the lovely team leader Melanie, along with her team kindly donated some much-needed tools to the refuge to help with maintenance and repairs. The donation of these tools will mean that the refuge can do their own repairs, as opposed to externally hiring someone.
Habitat for Humanity GB Homes greatly appreciate and value all the support we receive from our corporate partners, like SBD. But what we love even more, is seeing them build relationships with our charity partner afterwards, connecting with the project and continuing their valued support and commitment to the people like the women who live in the refuges and to the staff members who work hard to provide the much-needed support,
Thank you to SBD for your passion to support and empower women in London, and for going above and beyond.