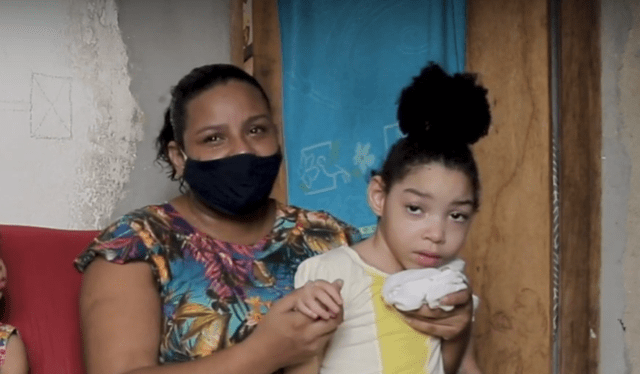 Living with Microcephaly
My daughter, Emilly has a condition called microcephaly, caused by the zika virus. Looking after her is a lot of work.
Even before the pandemic, I didn't leave the house much as she needs constant care, but that's ok, I love being with her.  She's my little angel.
I can't always afford to buy the things I need for her – especially since the COVID-19 outbreak. She needs a specially formulated milk through a tube and when the pandemic hit, I struggled to buy it. Her medication is paid for by the government, but when they run out I must buy it privately and it's very expensive.
Thankfully, Habitat for Humanity have been able to help by sourcing and delivering her milk formula to me, as well as other essentials like nappies, ointment, and hygiene wipes. The packages they send are a huge help to me. It's a relief to have that support.
Habitat for Humanity work with vulnerable people to ensure that they have a safe place to call home. In addition to our house building work, we work with people like Fabiola and her daughter to support wider needs – such as disability support, to improve living situations.
Our vision is a world where everyone has a safe place to call home. If you would like to support our mission then please consider making a donation today.
Related
Comments