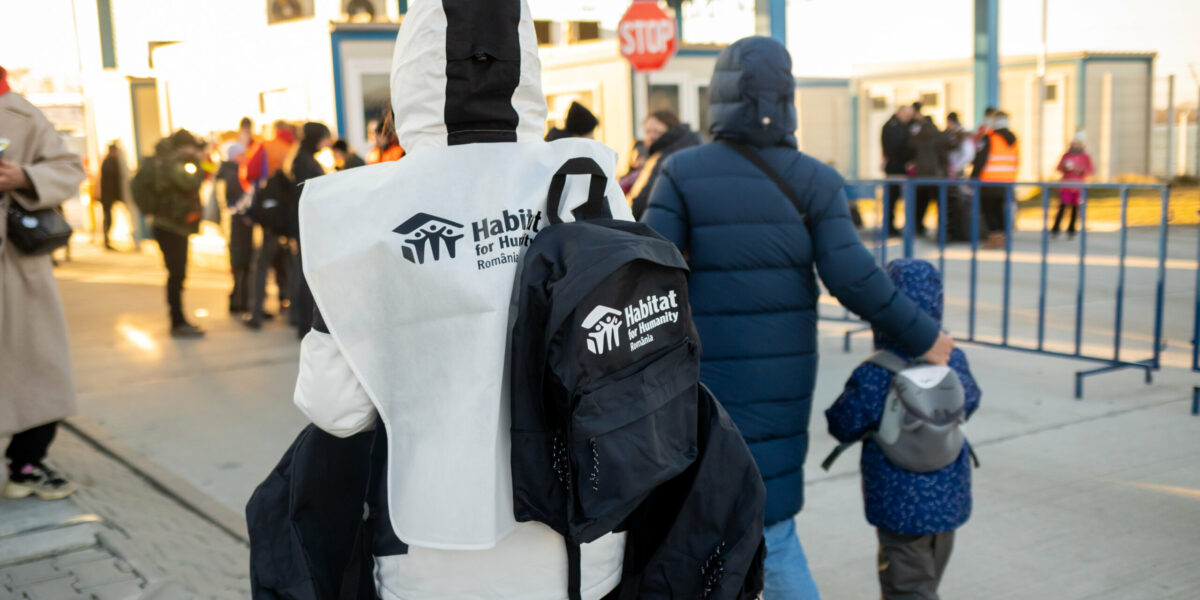 One Year On: Ukraine War
One Year On
Russia's full-scale invasion of Ukraine one year ago has forced more than 13 million people from their homes, causing approximately USD40 billion in damage to Ukraine's housing sector. The war has displaced some 5 million people within the country. Over 8 million are living as refugees across Europe. The conflict has destroyed Ukraine's infrastructure, decimated businesses and leveled homes as families flee for their lives, taking little or nothing with them, desperate for stability, warmth, and a place to live in safety and dignity.
Habitat for Humanity's response to this crisis — in keeping with our Pathways to Permanence approach — meets affected families where they are, supporting their short-, mid- and long-term housing needs to achieve stability and recovery. Prior to the conflict, Habitat for Humanity had already worked in the region for three decades, developing expertise, experience and a network of partners who bring their own skills, knowledge and contributions to the affordable housing market.
In our Ukraine response, we leverage our experience to increase access to shelter and influence affordable housing policies, promoting Pathways to Permanence for families fleeing unspeakable violence, chaos and uncertainty. While our programs may differ according to individual needs and the context in which we address them — from Poland to Romania, Hungary, Germany and Slovakia — our vision remains firm: to help families build their resilience through affordable, dignified housing.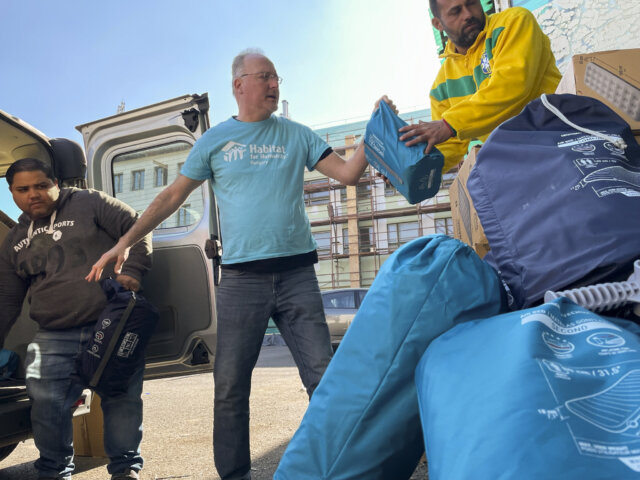 Our Interventions
Over the past 12 months, we have served more than 35,000 people through a range of interventions, from emergency travel kits with items such as blankets and hygiene products to rental assistance, hotel vouchers, and the placement of refugees from Ukraine with host families in neighboring countries. In some cases, we have fully subsidized housing costs for families as they identify and secure employment. In other cases, we have furnished apartments with sofas, bed frames, mattresses, appliances, linen and other supplies to ensure comfort and habitability. And we have refurbished vacant buildings and spaces and provided upgrades to collective shelters to house larger numbers of refugees.
As we cross the war's one-year threshold, we aim to apply this Pathways to Permanence approach for the first time inside Ukraine — where an estimated 140,000 residential buildings have been damaged or destroyed — while we continue to strengthen our response in neighboring countries. Providing housing support inside a war-torn area is always a bold step, but our commitment and our mission command no less of us. As a global leader in the housing sector, we are committed to supporting the short-, mid- and long-term housing needs of the Ukrainian people as they prepare to rebuild.
We are identifying, creating and sustaining reliable, reciprocal relationships with government officials, civil society actors and other stakeholders as we develop a high-impact, low-risk presence in Ukraine. An operational presence in-country and a nuanced understanding of the context there will add significant value as we position ourselves to be the partner of choice in housing sector reconstruction and in the design of affordable housing models.

Building Upon A Robust Response In Neighboring Countries
The scale and complexity of the Ukraine crisis and its impact on civilians requires a robust, multifaceted, multistakeholder response to support the efforts of the Ukrainian government. Habitat for Humanity is well-positioned to be a leader in the recovery of the housing sector by leveraging its experience in the region, including the proven ability to convene any number of partners and to design and implement any number of programs to serve the housing needs of individuals and families impacted by the war. Our teams in Poland, Romania, Hungary, Germany and Slovakia have been actively serving displaced people from Ukraine since the war began.
Through our Pathways to Permanence approach, we will continue to pursue a range of interventions that help meet the short-, mid- and long-term housing needs of refugees. This includes leading and supporting social rental programs; facilitating access to affordable mid-term housing; coordinating and providing in-kind donations; providing energy-efficiency upgrades to apartments; and offering supportive services such as language classes, child care support and vocational training.
We will continue to advocate for legislative changes needed to clear the way for housing solutions, sharing knowledge and technical support with national governments and municipalities. And we will continue to engage with news media to raise awareness of the housing issues arising from the conflict in refugee-hosting countries. Following is a snapshot of some of those efforts from our national offices and partners in the region.
POLAND
Poland has faced the highest influx of refugees, with more than 1.5 million people officially registered in the country. Facing an unprecedented challenge, Habitat for Humanity Poland quickly pivoted from a program focusing on advocacy and policy change to administering a first-line refugee response, providing short-term accommodations by matching refugees with host families in Warsaw and coordinating stays at local hostels for over 2,400 people. After the first wave of short-term support, it became clear that long-term solutions will be needed. Habitat answered this need by scaling its social rental program by 400%, from 40 apartments to 200, and coordinating with other organizations and service providers to facilitate access to basic necessities in supermarkets, vocational training, language classes, career counselling and child care to permit single mothers to find employment and become self-sufficient. To respond to the numerous inquiries, Habitat launched a crisis information line, which provided over 4,400 consultations. The organization has used its Habitat ReStore as a logistics hub, supporting the furnishing of 160 apartments for Ukrainians, upgrading collective centers with in-kind donations of household items, and providing winterization assistance to more than 3,000 people. Habitat Poland also has advocated for sustainable, long-term affordable housing options and has invested in research and demonstration projects on increasing the affordable housing stock in Warsaw and Gliwice by renovating vacant or underused apartments and other structures such as dormitories and community centers. Back in February 2022, Habitat Poland employed 20 staff members. Given the urgency of meeting a vast need for refugee housing, the organization quickly expanded its capacity and now employs over 70 people. Habitat is a member of the expert committee set up by the government to advise on policy and good practice to ensure that vulnerable groups, including Ukrainians, are supported in Poland.
ROMANIA
Habitat for Humanity Romania has intervened in the Ukraine crisis since the conflict's beginning, mobilizing support for families who have left the war zone. Staff members were present with teams at the most transited border points, in Siret and Isaccea, but also in Bucharest at the North Railway Station where the organization met refugees with on-the-spot information and answers to their questions. During those early cold days, Habitat Romania donated electric heating devices and backpacks with external batteries. Beyond meeting those immediate needs, Habitat Romania has helped over 2,750 refugees secure hotel accommodations and, when needs changed, rented 30 apartments, covering all rent and utility costs. Further, in partnership with the local government, the organization transformed three buildings in Bucharest into long-term housing, including a full refurbishment of a three-story building and the creation of a social hub offering a range of services to help stabilize hundreds of families.
GERMANY
Habitat for Humanity Germany has mobilized vital funds to support emergency response efforts in Romania, Hungary and Poland. It has also established an affordable housing program inside Germany, in two cities in North Rhine-Westphalia. There, staff members, volunteers and partners help refugees identify long-term rental options, which can prove scarce given Germany's housing shortage and affordability issues. The influx of refugees since 2015 has put additional strain on the housing system, making it increasingly difficult to find apartments that are affordable to refugees. Habitat's initiative provides administrative support and guidance for refugees applying for housing and relieves already-overburdened municipalities as they seek to support refugees through their own means. The effort is both scalable and well-structured, and Habitat Germany is presenting the model to municipalities in partnership with civil society organizations and peers.
HUNGARY
Early in its response, with activities in and around Budapest, Habitat for Humanity Hungary launched a Solidarity Accommodation program in cooperation with a local partner, placing over 100 families in no-cost, mid-term housing. As needs evolved, Habitat Hungary began supporting families with rent assistance, mediating between refugee families and local landlords to establish rental agreements and contracts. The organization has continued to focus on helping families secure mid-term housing, supporting them as they move and providing furniture and appliances such as washing machines, microwave ovens and refrigerators. At the one-year mark, Habitat Hungary's chief goal is to help stabilize families in long-term housing in Hungary. To that end, the organization assigns social workers to individual families, assisting with everyday tasks such as enrolling children in school, scheduling doctor appointments and preparing family members for the Hungarian workforce. Through Habitat Hungary's support, a temporary refugee shelter, administered by the Municipality of Budapest, built a social kitchen area. This shelter provides short-, mid- and long-term accommodations for approximately 100 refugees from Ukraine, offering families the opportunity not only to prepare their own meals, but also to socialize, build friendships and make connections, thereby establishing a vital social network as they begin and sustain their recovery.
SLOVAKIA
In Slovakia, Habitat for Humanity began responding to the needs of Ukrainians in the country by focusing on a range of housing needs. An early assessment identified material support, such as hygiene and sanitation products, as the most urgent need of newly arriving refugees, particularly for the most vulnerable such as the elderly, those with disabilities, and women and girls. Meeting those needs has reduced the vulnerability of affected families. Habitat Slovakia hired a staff person to coordinate its response and establish partnerships with like-minded organizations that have proved essential to the implementation of Habitat's efforts in Slovakia. Habitat Slovakia has also distributed household appliances, such as washing machines, dryers, microwave ovens and refrigerators, to individual and collective shelters and to other organizations engaged in the response across eastern Slovakia.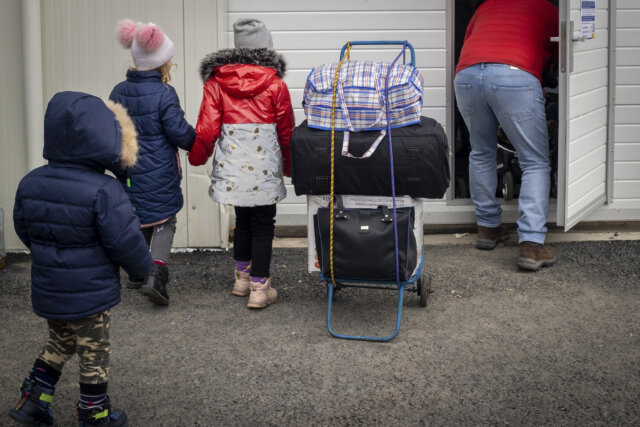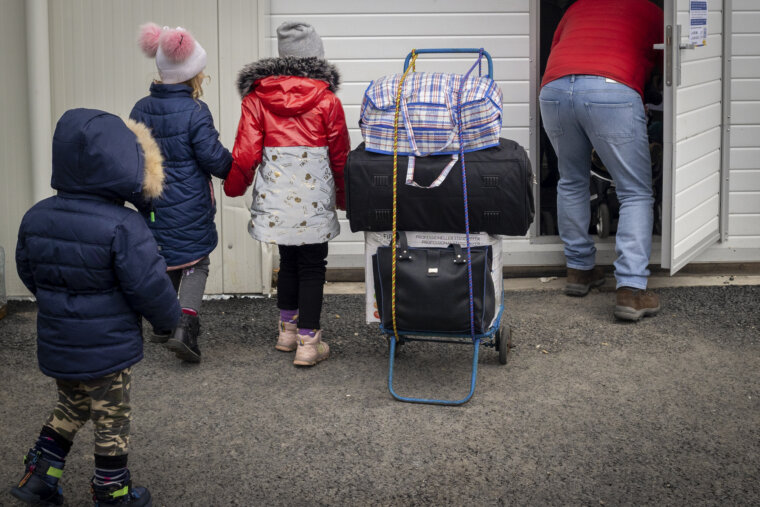 As the war in Ukraine enters its second year, Habitat for Humanity remains committed to helping affected families secure durable solutions to their housing needs, whether in neighboring countries or inside Ukraine itself. We will continue to mobilize resources and partners, influence housing markets at the national and municipal levels, and lead in the housing sector. By designing and implementing these innovative and impactful programs, we will help families recover. We are and will remain focused on meeting families where they are on their path to recovery. Click here to support our work around the world.
Related
Comments