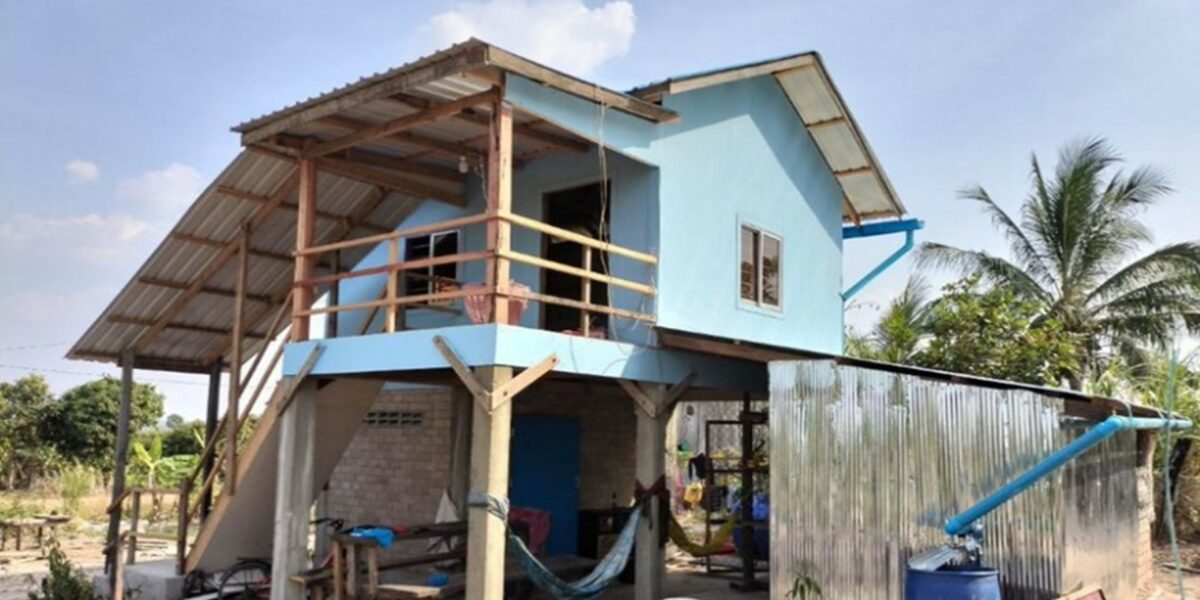 New Start, New Life
Touchstone's Support In Cambodia
Thanks to support from Touchstone, Habitat Cambodia recently completed a three-year project called Chapadeum Chivet Thmey ("New Start, New Life") which built 17 new houses, upgraded 21 houses, built 10 latrines, trained 38 family representatives in financial literacy and livelihood skills, and provided 17 families with micro-finance livelihood start-up support.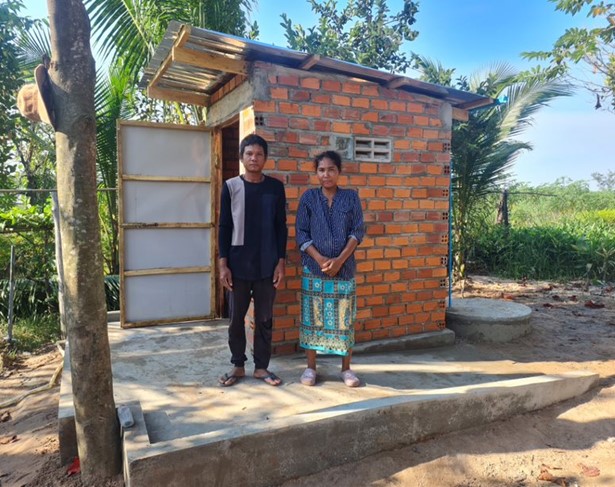 In Cambodia, 2.8 million people (18%) live in extreme poverty, living on less than $1.25 per day. 91% of the most vulnerable families live in rural areas of the country. Some progress has been made over the years to reduce rural poverty whilst urban levels of poverty have remained stagnant.
Siem Reap is composed of 12 districts with 946,656 people (190,106 families). 59% of the population are women and 17.7% of the families are formally classified as poor. 16% of households live in thatched houses or houses made from scrap materials which are either dilapidated, inadequate, or unsafe, which further exacerbates their vulnerability. 47% of the households do not have access to clean drinking water, and 56% do not have access to a toilet. The primary source of income for inhabitants is seasonal farming, and as a result many individuals migrate to seek labour opportunities. Habitat Cambodia understands how the provision of adequate and safe housing can significantly increase a family's productivity, resulting in improved overall wellbeing.
Growing the New Start, New Life Project
Due to the success of the New Start, New Life project, Touchstone kindly granted a one-year extension of  the New Start, New Life project which expanded into the village of Khsach Popil, which is located in Varin district.
Varin district has a population of 36,651 (7,248 families). Almost 30% of the families have no electricity, 20% do not have clean water, and almost half do not have a toilet. The village of Khsach Popil in Varin distrcit was selected for support through this project as it is isolated and has some of the greatest needs for support. The village is home to 158 families. 71% of houses are deemed to be in "low condition" whilst 22% are in "poor condition". The entire village uses water from wells and ponds for daily use as there is no pipe water connection in the village.
Through this 12-month project extension, Habitat for Humanity Cambodia aimed to:
1. Build 4 new houses and Upgrade 6 existing houses
Within the second half of the New Start, New Life project year, 100% of the planned houses were constructed/upgraded (4 new houses and 6 upgraded houses) and all of the families are currently residing in the premises.
The families now have access to better places to live. Prior to this intervention, the families were living in small-sized houses of 3 meters by 4 meters. The families each shared their small spaces for all activities including sleeping, eating, and cooking. When there was heavy rain or strong wind, they had no choice but to temporarily evacuate and stay with nearby neighbours or relatives due to the poor condition of their houses.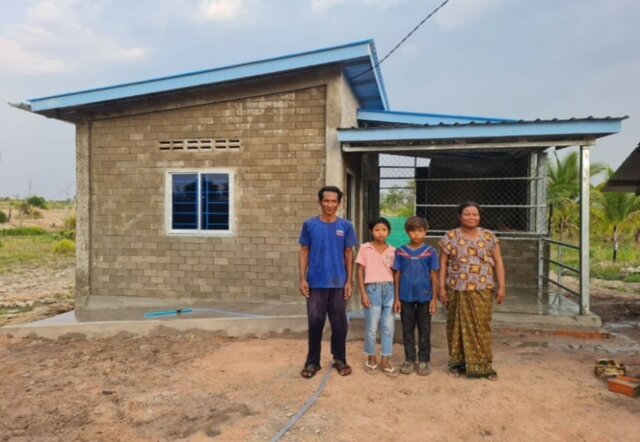 2. Build 7 latrines
Nhanh, a homeowner with a new toilet construction, said "Before this project, whenever we needed to use the toilet, we would have to go in the bushes. We were always afraid of poisonous snakes or centipedes, but we had no other choice because we did not have a toilet to use at home. My family received a newly constructed toilet which we can use anytime we need to. It has significantly improved hygiene and sanitation for the entire family".
All 7 toilets that were planned for construction have been built and are being used by the beneficiary families. After the construction completion, the project team provided hygiene and sanitation training to each family on how to use and maintain the toilet. During the monitoring visits, the project team observed that all the toilets are functioning correctly and are being kept clean.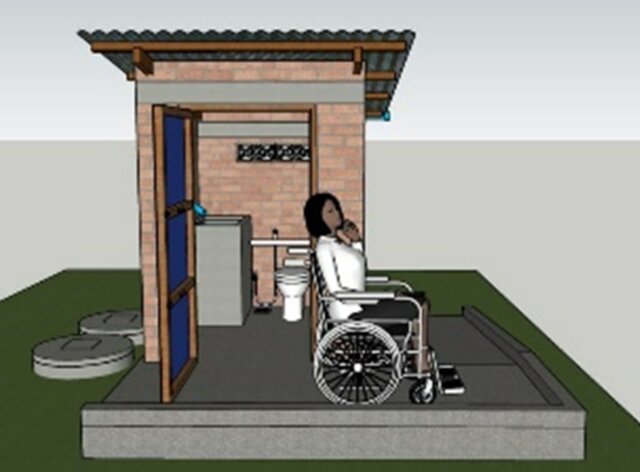 3. Train 17 family representatives on financial literacy and livelihood skills
All 17 families who were supported through construction activities also participated in 'other' trainings which included trainings on livelihoods, financial literacy, home maintenance and hygiene and sanitation. Home maintenance training provided basic knowledge to families on how to maintain their houses, including how to do minor repairs. Hygiene and sanitation training helped the families understand best practices for hygiene and sanitation and the importance of adopting these practices for their health and wellbeing. Livelihood training taught the families about how to run profitable vegetable gardens and chick-rearing enterprises. The training also included climate-smart concepts, including drought-tolerant crop varieties, short-duration crops, and water-saving technology using a drip irrigation system.
Thoeun, a homeowner, expressed "Since receiving training on sanitation and hygiene, financial literacy, and home maintenance, I have encouraged my family to adopt hygiene practices to promote better health. We have also started a family saving plan".
Chhoeun, a homeowner, commented "The livelihood training was useful for me. Before I joined the training, I kept the space around my house free, but now I use it productively. I have planted several different vegetables to grow nutritious food for my family's daily consumption.The money saved from buying vegetables from the market can then be used for other purposes."
4. Provide 4 families with micro-finance livelihood start-up support
The project team worked together with NGO partner organisation, HURREDO, to conduct family assessments on the capacity to manage and implement a micro-grant for livelihood opportunities. To select the right families for a grant, the project team and HURREDO conducted door-to-door assessments of all 17 beneficiary families. This assessment included determining potential commitment of the families and the identification of a clear business plan, as well as household facilities e.g. land size, water source for crops etc. From these assessments, 5 families were selected to receive micro-grant support to implement livelihood activities and improve their families' income.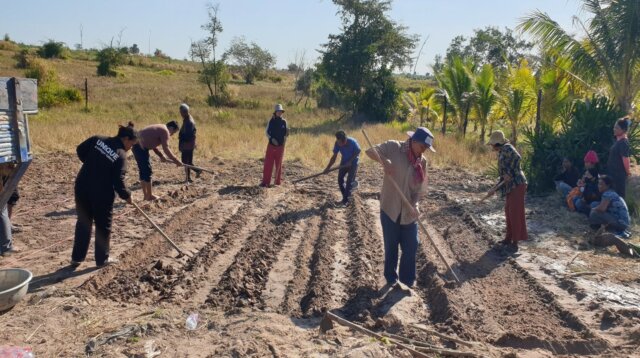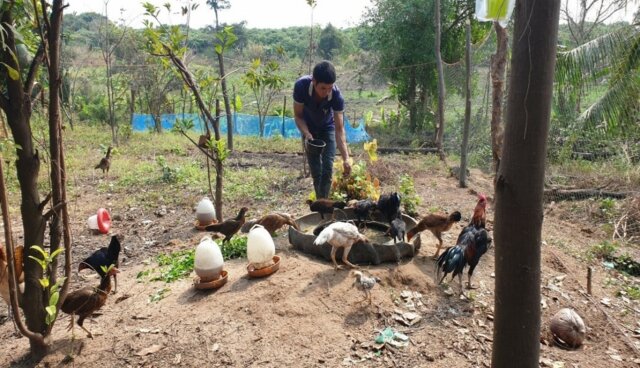 Donate today to support vulnerable families in Cambodia and around the world
New Start, New Life Selection
To ensure transparency and accountability of the beneficiary selection, a consultative meeting on the selection process was conducted with the community. 50 community people (30 females), including the families, the commune leaders, and the village chief, joined the consultation meeting. Their participation helped ensure the process was transparent and avoided fragility and jealousy, mainly to confirm that the families were rightly selected for the project support.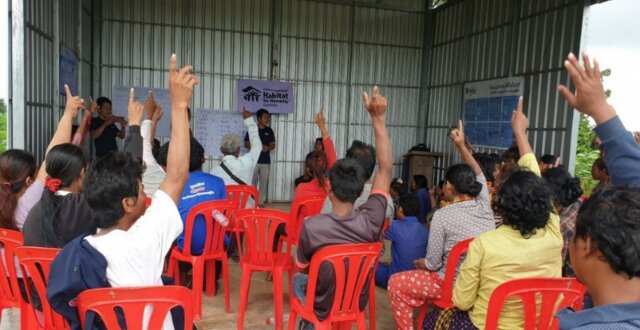 Ms. Norm, Srae Noy Commune Leader, said of the selection consultation meeting "I was delighted to be part of the family selection consultation meeting with the villagers in the Khsach Popil village. I can confirm that the beneficiary selection approach is transparent because all participants in the consultation meeting prioritise the family who are the most vulnerable and most in need of the support from the project. It is a great process in which everyone can be part of the decision. More importantly, all selected 17 families are living in the same village, and there is no conflict or jealousy among the community members with this selection approach".
Related
Comments