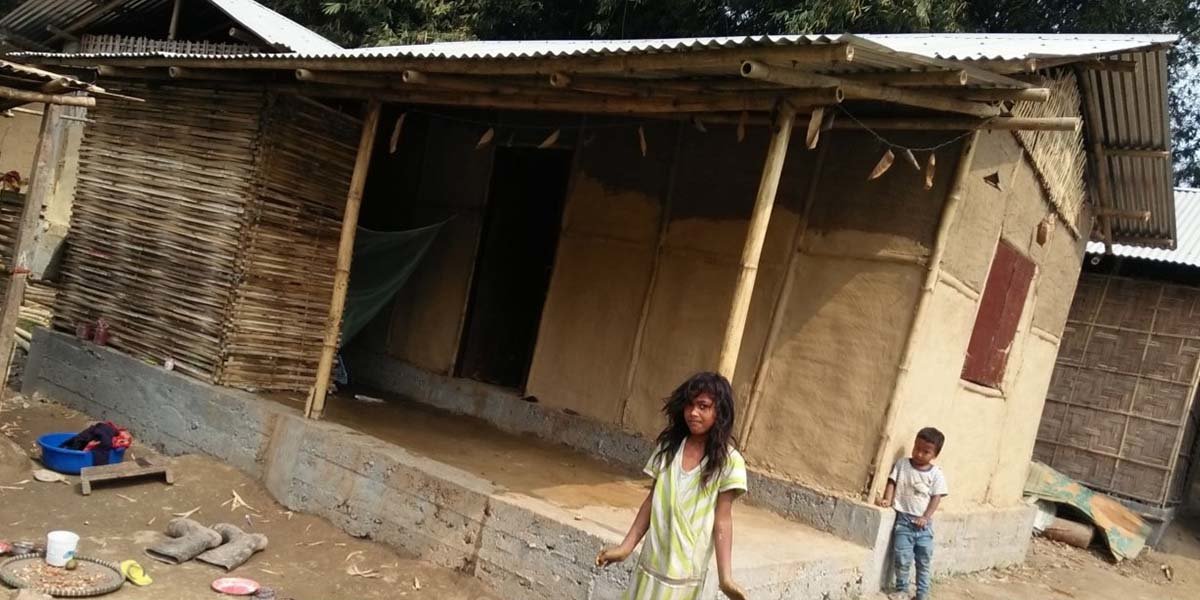 Nepal: Tika Kumar family Update
We are excited to share an update on Tika Kumar Chaudhary and his family in Nepal.
Tika's old family home
Proud new homeowners Tika and Sushila, along with their two daughters Alisha and Alina, once lived in a house that they shared with 11 other family members. This meant that the family of 4 were unable to have quality time together in the privacy of their own home. Living with 11 other people meant that the family were deprived of personal space. This lack of space meant that Tika was faced with a big decision – to continue living in cramped conditions, or to relocate the family.
Tika decided to build a small house for the family that would join onto the wider family's home. His modest house was constructed from mud and bamboo, with corrugated tin sheet roofing.
Sadly, after six months of living in their new house tragedy struck. The nearby river flooded and destroyed the house that Tika had worked so hard to build for his family. The family were left homeless with no resources or land to rebuild their home.
"The flood water gushed from the nearby river and swept away their house and belongings…"
With nothing left, the family moved to a nearby town, Saalbari Tol, to start a new life. Depite Sushila working as a laborer, and Tika working as a mason, they found that there was simply not enough income to fund the construction of a home that was resilient to extreme weather. Instead, they constructed a home similar to their previous one that offered little protection from any bad weather.
When talking about their house, Sushila explained that she "feared their house wouldn't withstand any storm or heavy rain" and that she was frightened that "it may collapse at any time."
The new family home
Prior to partnering with Habitat for Humanity Nepal, the family's home consisted of one room. The one room was sheltered with a thatched roof and served as the kitchen, bedroom, and study room for the girls.
With the support from Habitat for Humanity GB volunteers, the house has been transformed. In December 2017, a team of 19 dedicated volunteers worked tirelessly to ensure that the new home would be the perfect fit for the family. A separate kitchen was constructed offering a safe space for the cooking to be done away from the children. Having a separate bathroom has also provided the family with the privacy that they need.
Sushila now works as a park cleaner and Tika is continuing his work as a skilled mason. The couple feel as though their situation is improved by having a new home. With the new house, the family is able to save their money for the things that they really need, rather than spending their earnings on constant repairs and maintenance.
The family have expressed their happiness, telling the team in Nepal that they are overwhelmed to have separated rooms with enough space for the children to play and study.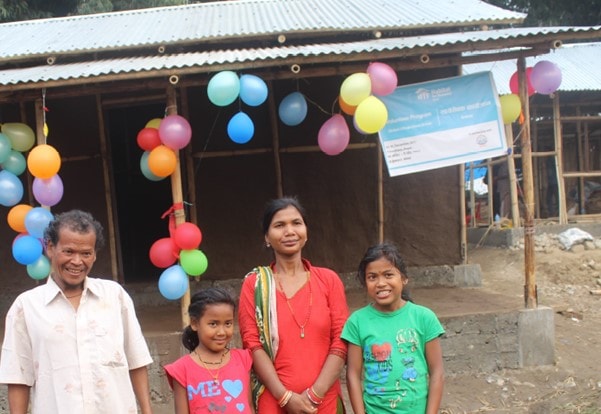 The new home offers the family protection from the rain with a strong tin corrugate roof and bamboo walls with solid brick and concrete foundations. The home has windows that can be shut to give the family privacy from their neighbours, and a small veranda that the children can play on safely without having to stray too far from home.
"They no longer have to worry about building a house for themselves."
We at Habitat for Humanity GB are extremely happy to see that the family is thriving in their new home.