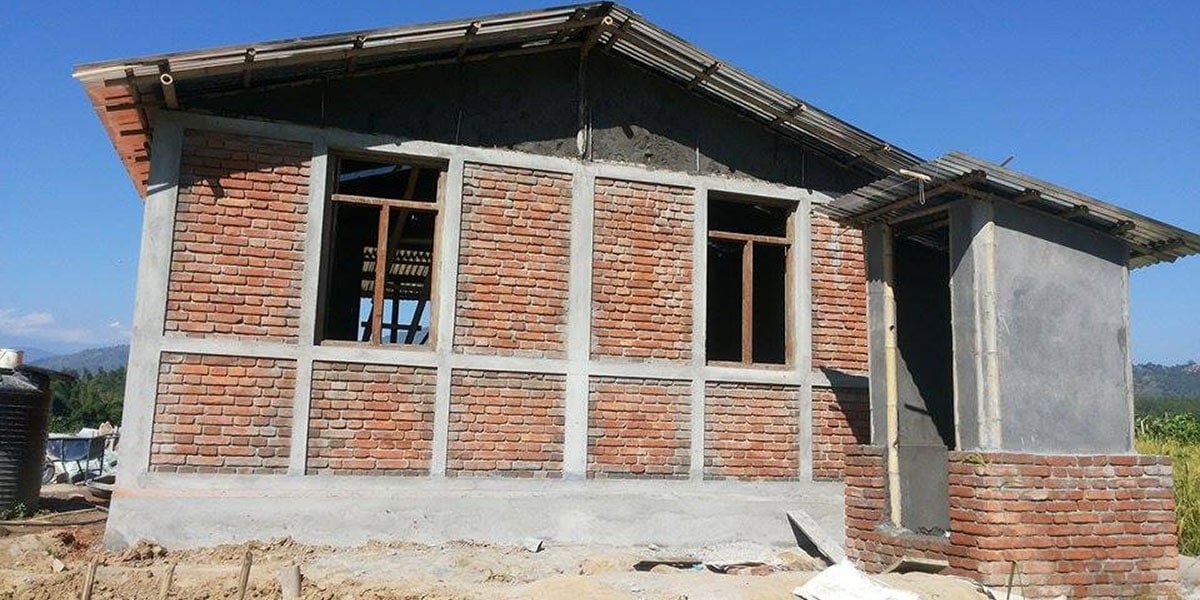 Nepal - 6 months on
Click here to read our full report of Nepal – 6 months on.
The first new post-earthquake Habitat Home in Nepal is complete! This particular home was built in the Kavre district of Nepal as a direct result of donations received from Standard Chartered Bank.
Thanks to the generosity of people like you, Habitat for Humanity GB raised over £350,000 to support the victims of this disaster.
Six months have passed since the 7.8 earthquake struck Nepal on 25 April 2015.
This was followed by another magnitude-7.4 earthquake to the northeast near Mount Everest on 12 May. According to the government of Nepal, more than 8,800 people were killed. The effect on housing was devastating. The government reports that more than 602,000 homes were destroyed and 285,000 homes were damaged. The Nepal government declared a state of emergency and requested international aid. Many international agencies responded, including Habitat for Humanity.
In the subsequent months since the earthquakes, the recovery process in Nepal has moved on from the emergency phase, and recovery and reconstruction has begun. Our donors' strong support and contributions have been instrumental in ensuring the completion of the emergency phase, which included distributing 5,065 temporary shelter kits, 20,000 water backpacks and removing 650 tons of rubble. Surveyors have conducted safety assessments for damaged houses to help families determine if their homes are safe for habitation, as well as facilitating the demolition of some unsafe homes.
In early July, Habitat for Humanity held a ground breaking ceremony for the first permanent houses to be built in Pipaltar, Kavrepalanchok district. The first demonstration permanent house has been completed and construction on more permanent houses was to have continued. However, amid current challenges, projects will be delayed and timelines will need to be adjusted.
Conditions in the country, such as the fuel crisis, civil unrest and other critical factors are preventing Habitat for Humanity Nepal from doing its work and fully implementing projects. To mitigate the situation, Habitat is adopting various measures, including working with government agencies and other NGOs to overcome challenges, supporting local communities with holistic services and reworking project delivery schedules.
FACTS AND FIGURES:
Temporary Shelters:
Number of temporary shelter kits distributed: 5,065 as of 4 September 2015
Number of demonstration temporary shelters built: 21
Number of families supported: 5,065
Number of volunteers involved: 142
Permanent Houses:
Number of demonstration permanent houses built to date: 1
Number of demonstration houses yet to build: 4
Number of core houses planned for construction: 140
Number of family partners that will have a permanent home: 145
Water Backpacks:
Number of water backpacks distributed: 20,000
Distributions took place in: Gorkha, Dolakha, Sinhupakchowk, Ramechhap, Kavre, Bhaktapur and Dhadhing
Number of families supported: 20,000
Number of volunteers involved: 64
Safety Assessment Project:
Number of houses assessed: 16,244
Districts where houses were assessed: Kavre, Dolakha, Lamjung
Number of families supported: 16,244
Number of surveyors/engineers trained: 60
CHALLENGES:
While Habitat for Humanity Nepal has made progress in the emergency phase since the earthquakes, the country is currently enduring a time of turmoil and instability, with the situation changing daily and unpredictably.  As reported by news media, Nepal has been experiencing continual unrest due to the country's announcement of its new constitution in September and blockages at the border with India. Throughout September and into October, Nepal experienced a series of strikes and protests that restricted the movement of goods, people and organisations, including Habitat.
Currently, many vital goods and materials that normally would be coming into the country – including fuel, cooking gas, food and medical supplies – have been halted or slowed to a critical point, indefinitely delaying the delivery of much of the building materials which are needed by Habitat for the construction of permanent housing. The lack of fuel prevents local suppliers from adequately producing goods and delivering them to Habitat work sites and hinders Habitat and its partner organisations' capacity to travel to work sites. In addition, critical machinery such as generators, often cannot be operated at work sites due to the fuel shortages.
While the government of Nepal has been working to resolve this crisis, Habitat for Humanity has reduced operations in order to safeguard staff and programmes.
We remain committed to the recovery of Nepal and its people after the earthquakes. We will resume construction on the remaining 144 permanent houses in the earthquake-affected village of Pipaltar, Kavre district as soon as current critical conditions have eased, when the supply of construction materials is available and staff safety is not compromised.
Related
Comments