Housing Programmes in Lesotho
The situation in Lesotho
Almost half of the population in Lesotho is living below the poverty line. The extremely high rate of HIV/AIDS in adults has triggered rapidly increasing numbers of orphans and other vulnerable children. According to UNICEF, of the 2.2 million children in Lesotho, 93,000 have lost one or both parents to the disease.
Most housing structures in Lesotho do not meet any local standards for decent living. Built out of mud, stones or sticks and without any windows, they often lack proper ventilation. Safety is constantly compromised, with poor quality doors usually without proper locks. Land ownership disputes related to inheritance rights often lead to vulnerable groups becoming victims of disinheritance and land grabbing and becoming homeless overnight.
Through the Vulnerable Group Housing Program, Habitat for Humanity in Lesotho is improving the living conditions of orphans, vulnerable children, the elderly and people with disabilities through shelter. Ensuring their stability, independence and safety, we have served more than 3000 households.
Securing the Future of Lesotho's Orphans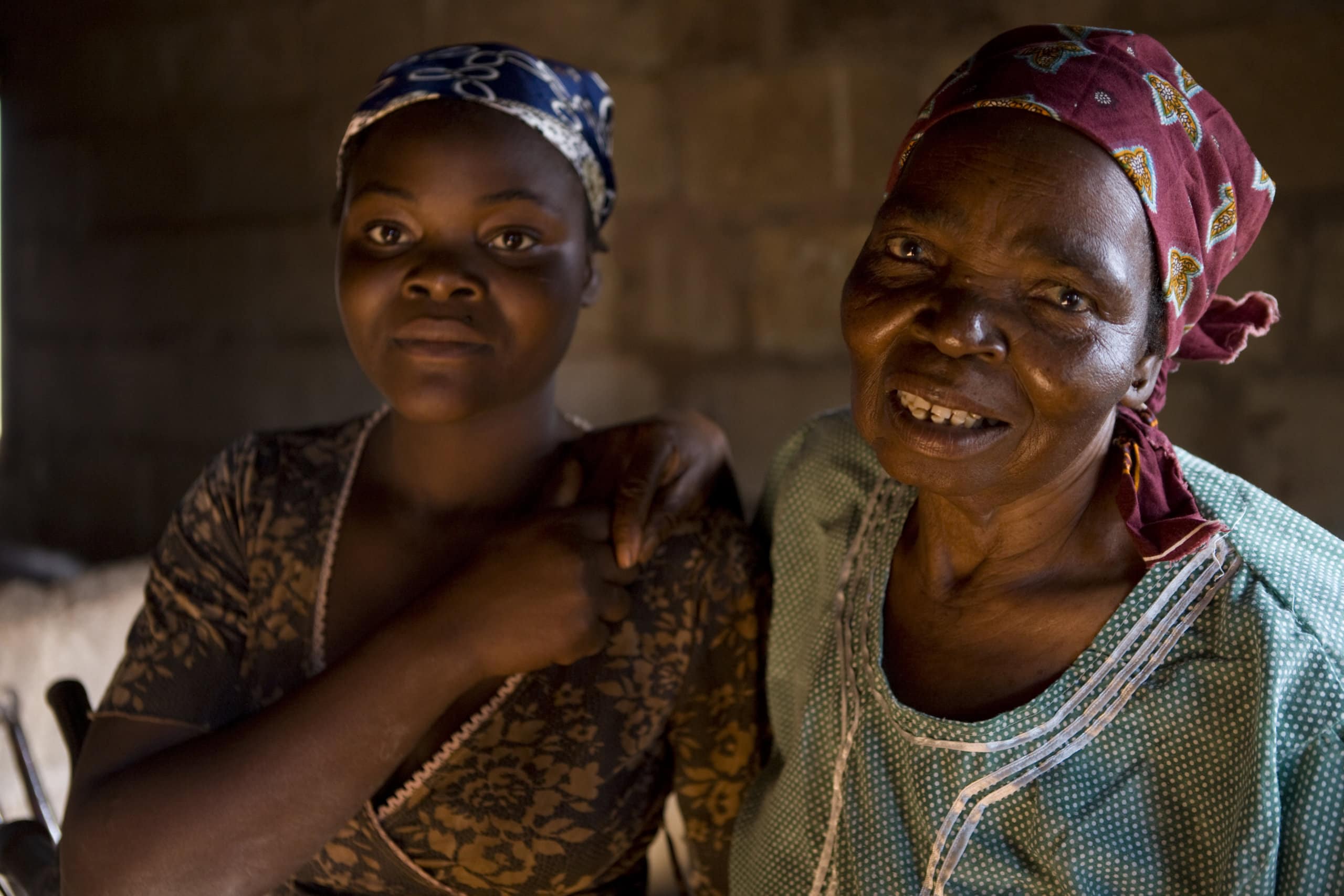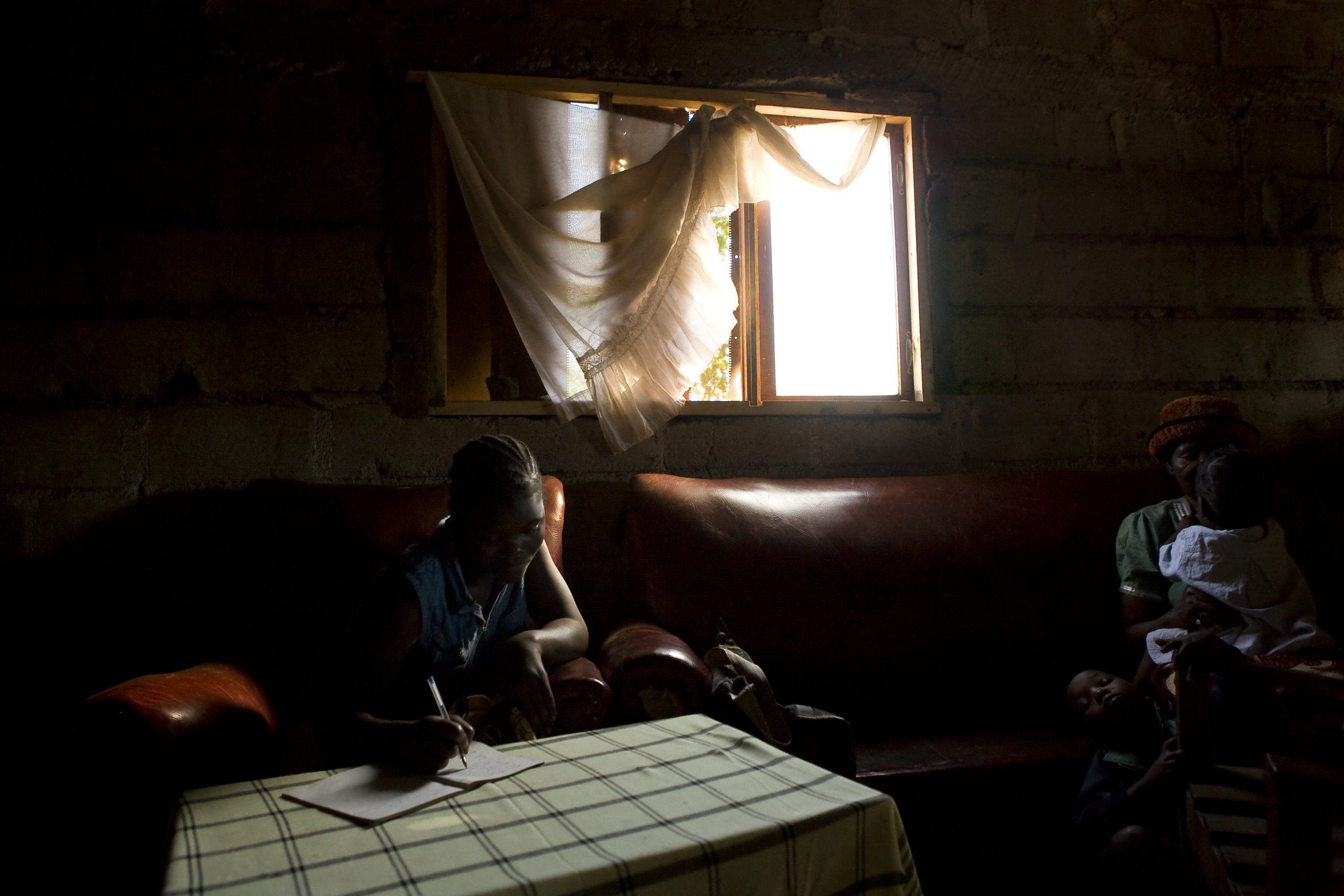 Masease Masolanka lives in Mapoteng, a rural area about 70 kilometres from the capital, Maseru. Here, mountains and valleys stretch into a bright green landscape. But as Masaese looks down into the beautiful valley, she thinks about the challenges she and her family have faced over the last three years. In 2012, when she was already caring for her own three children, as well as her widowed daughter's three children, she learned of her sister-in-law's death. Within days, she and her husband, Letseka, were left to care for his sister's three children. Their family grew from five to 11 in just a few short months.
"I didn't know how I would manage to take care of all these children. I prayed to be given the strength so I would be able to." — Masease
The Masolanka extended family used to live in a one-room, mud-floored hut made of stones, where they cooked, ate and slept.
"We had no toilet and the house was collapsing around us," says Masaese.  "We tried to fix the house with corrugated iron sheets, but that didn't work."
Their situation alerted Councillor Morallana Nkhereayane, from the Mapoteng district, one of the community's leaders.Tasked with identifying and assessing families in need, he determines whether people are living in proper accommodation. If not, as in the case of the Masolankas, he reports back to Habitat for Humanity Lesotho.
In September 2014, Habitat for Humanity helped the Masolankas build a two-room house and a pit latrine using grey concrete blocks and corrugated iron sheets for the roofs.  They have turned the new home into bedrooms and use the old house as a kitchen where Masaese can light a fire for cooking and warmth.  Now, when the old house needs repair, they can fix it without the pressure they were under before.
Security of tenure and land rights
Addressing the plight of the Masolankas is only part of the problem. With thousands of children in Lesotho having lost one or both parents mainly due to HIV/AIDS, Habitat for Humanity recognizes the need for these children to be protected and feel secure. We work with community leaders to make sure land is made available and there is security of tenure. Only then will a house be built. By giving the orphaned children the house and educating the family on inheritance rights, Habitat for Humanity makes sure that orphans, like the Masolanka children, won't be pushed off their land.
To date 95,000 individuals have been trained on property inheritance rights and secure tenure.
Habitat for Humanity in Lesotho plans to continue its efforts and is working with partners to advocate for these vulnerable groups and influence government policy security of tenure and land rights.
A Remarkable Woman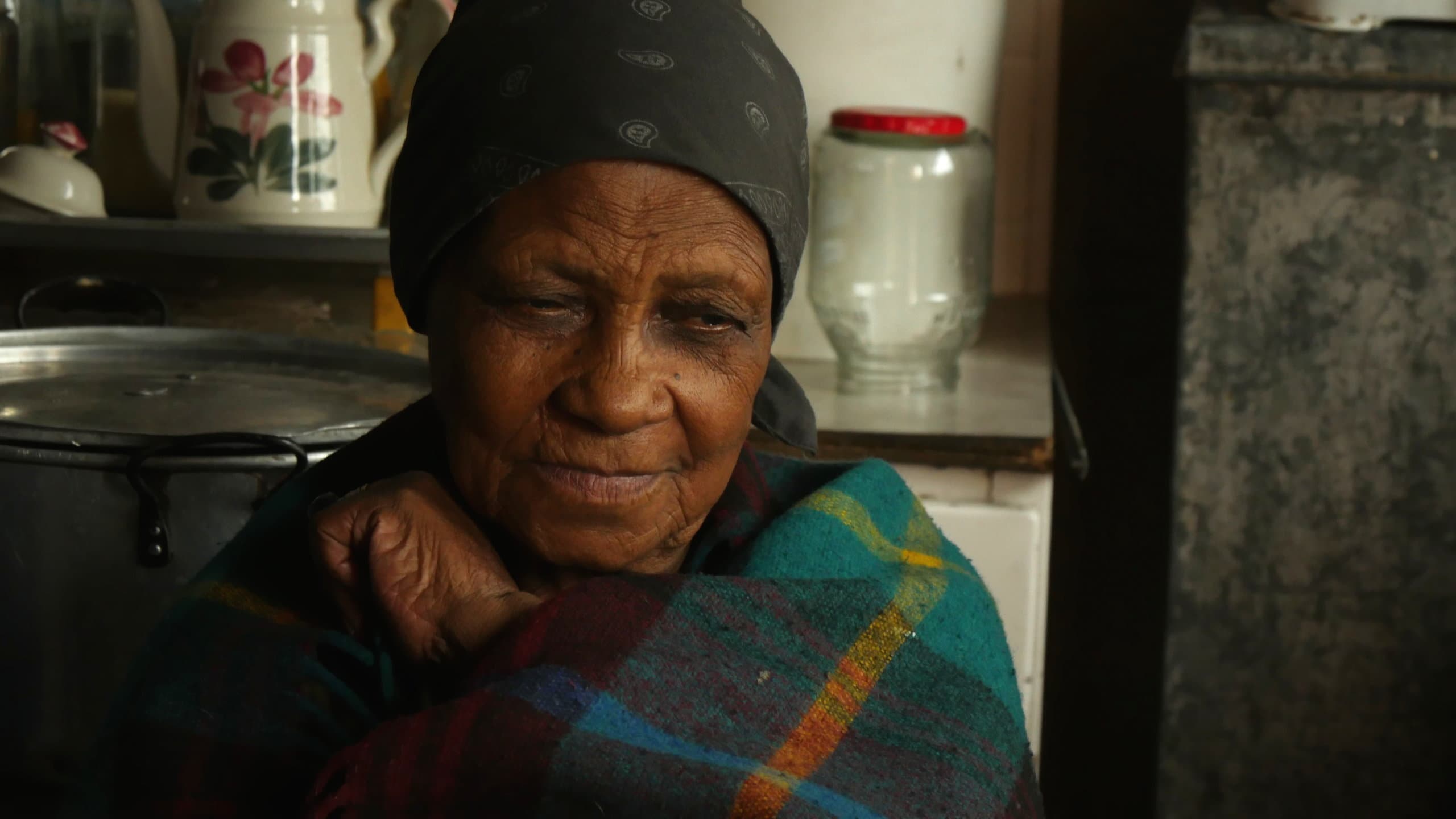 Mamolelekeng Nkoebele is a remarkable woman. What makes her different? She's 82. And she's single-handedly raising five orphaned great grandchildren by herself.
Mamolelekeng lives in Teyateyaneng (commonly called TY) about 40km from Lesotho's capital, Maseru. She lives in a household defined as "poor", meaning that Mamolelekeng cannot feed, clothe or educate her grandchildren. They survive on her pension and child support grants totalling just over $50 a month.
But that hasn't stopped Mamolelekeng.
"We used to live in a shack with holes in the roof" said Mamolelekeng. "When it rained we put buckets around to collect the water. The three boys slept in one bed. There were four of us on the floor. We were packed like sardines. We didn't have a choice."
Orphans and vulnerable children (OVC) often live in unhealthy living conditions, are exposed to abuse, and struggle to access education and basic services. That's why Mamolelekeng took them all in when their parents died.
Initially, Mamolelekeng got by. A generous landowner allowed them to live in a shack for free.
"It was open to both the elements and intruders" she said. "It was our home. Still someone had to be home at all times to guard our possessions."
But even that limited level of security changed when their landlord decided to sell the land. The new owner wanted to evict them.
"With the impending change in ownership, we felt constantly threatened.
"We're grateful to live like this, without the fear of not knowing where we are going next."
Securing the future of orphaned and vulnerable children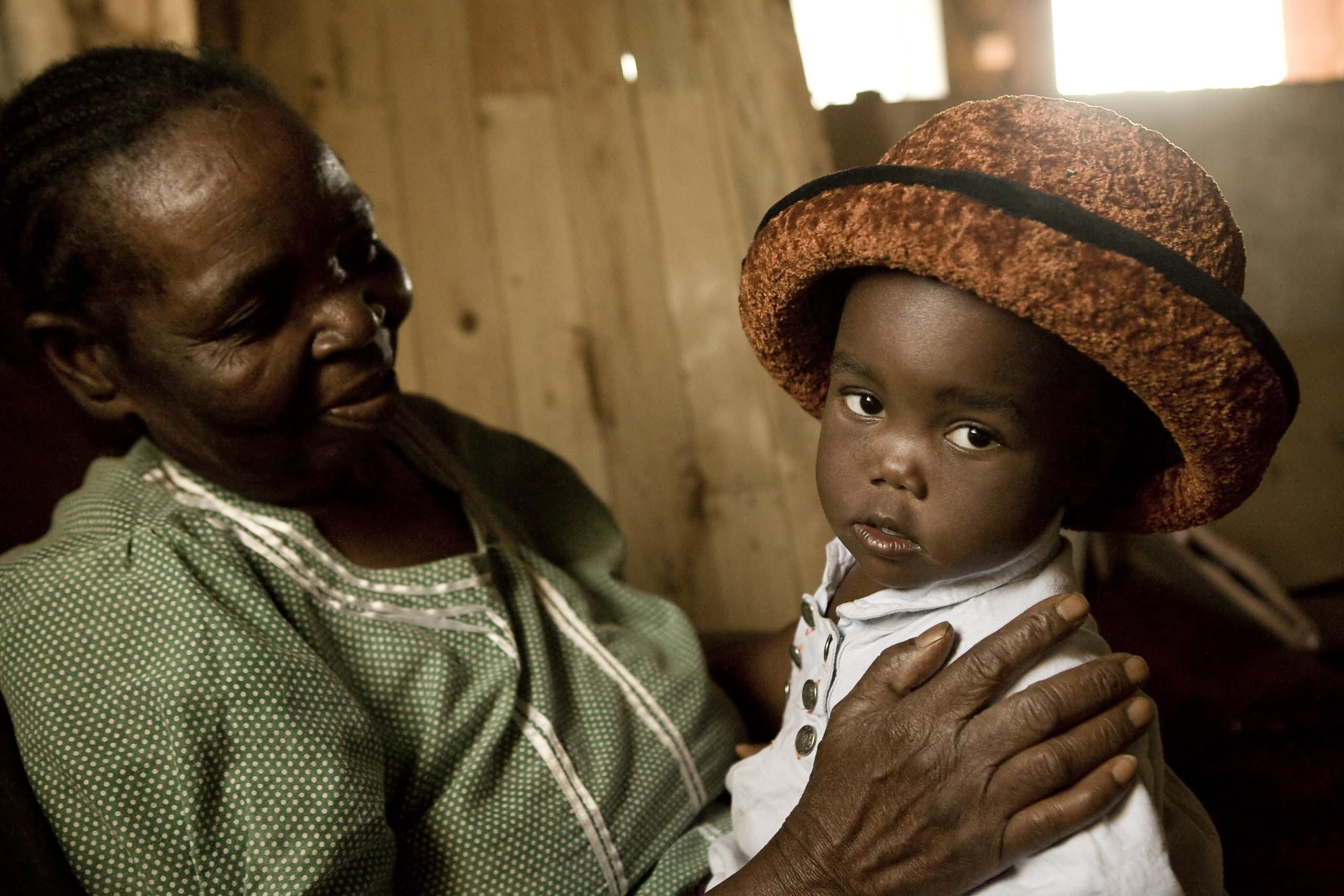 Since 2007, Habitat for Humanity in Lesotho and community leaders have been identifying orphaned and vulnerable children and their families who desperately need help.
If, like the Nkoebeles, the family does not have their own land, the community allocates land and gives the family tenure rights. After this, Habitat for Humanity procures material and engages a builder to build a simple yet durable two-roomed house made of concrete blocks and corrugated sheet roofing, together with a well-ventilated pit latrine.
"I used to ask myself daily what would happen to the kids if I die and leave them in our old shack. After we moved into our new home, I wanted to make sure they were safe. I wanted a solid wooden door – with a lock. Here, we can lock the door so we aren't afraid that when we are out someone can come in and take our things" she says.
"We're grateful to live like this, without the fear of not knowing where we are going next."
The healthier, cleaner living environment, including improved sanitation facilities, has had additional benefits.
While the Lesotho government endeavours to give its rural population access to water, in reality only about 45% of the population has access to clean drinking water. 40% of the population has no access to sanitation facilities and use open spaces and flying toilets (plastic bags used for defecation and thrown into ditches).
So, while having to share a toilet with several households would seem like an unimaginable hardship in developed countries, it is feature of everyday life in Lesotho, and it carries risks like maybe being harassed or even attacked.
"We didn't have our own toilet," said Malehloa, Mamolelekeng's 16-year-old great-granddaughter.
"So we used the neighbor's. But, we were afraid to go to the toilet at night in case we met a stranger. I was worried about being kidnapped."
Anecdotal evidence also shows children, who move into a new house, are less likely to drop out of school and have an 80% increase in attendance.
Malehloa is a perfect example. She is pupil at St Agnes, a walk of nearly 90 minutes from her house. "Since we have moved into the new house, I can study and my marks have improved," she said. So much so, that recently Malehloa was awarded a bursary paid for by the University of Lesotho. She has big dreams too and hopes to be an engineer one day.
The remarkable Mamolelekeng is happier now. A new house. Cleaner and safer environment. Better opportunities for her great grandchildren who will have a secure place to live after she's gone.
Transforming Tšepo's life through shelter and laughter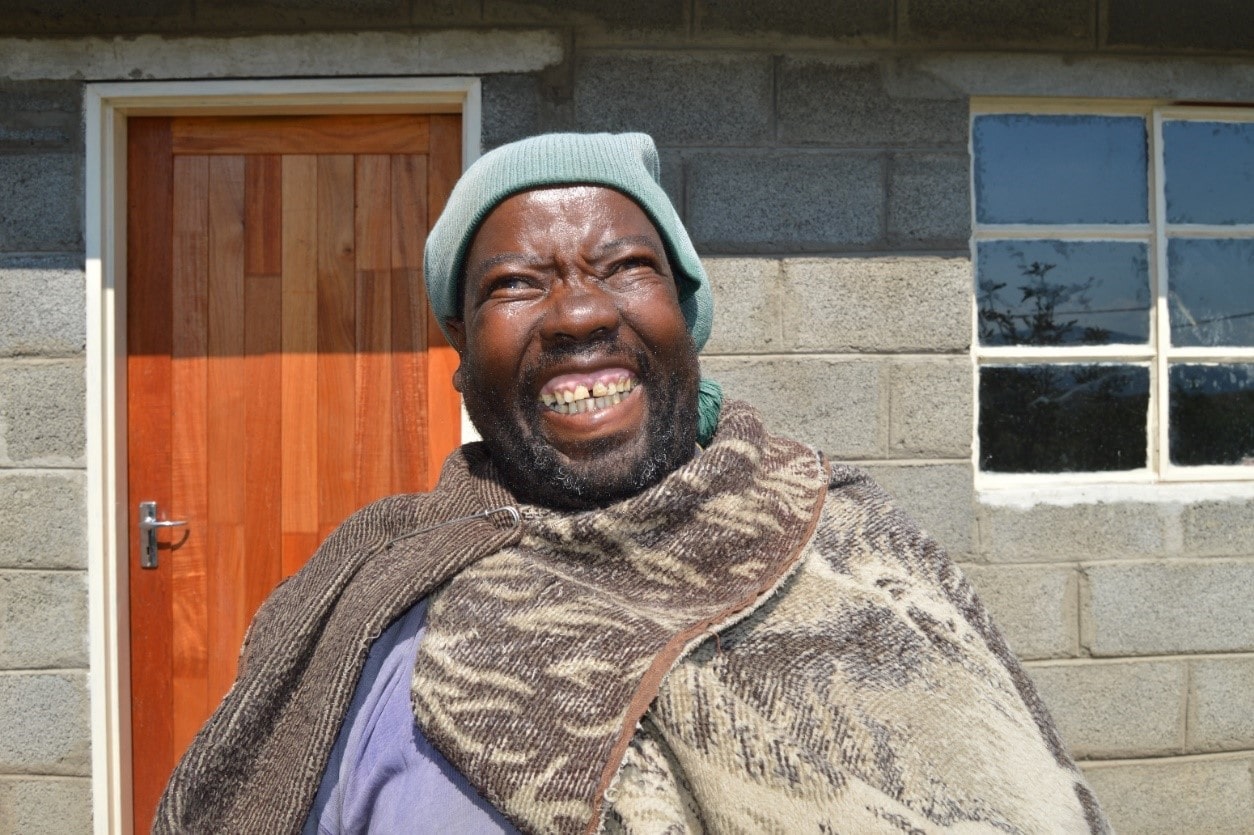 46-year-old visually impaired Tšepo Lebotha lives at Ha-Rantsimane village, in the Thaba-Tseka district. Tšepo and his brother, Mohau used to live in an old rundown single room, built with stones and mud and thatch roofing. Mohau sells wood in the community and used to carry out other odd jobs such us digging pits for ventilated pit latrines for the elderly in his village. Tšepo receives a disability grant of $50 every 3 months which barely covered their essential needs.
Tšepo and his brother moved into their newly build Habitat Home in June 2020. As part of our OVG programme, a two roomed house and an improved ventilated pit latrine were built for them.  When our team in Lesotho visited him, he was so happy that he couldn't stop laughing from happiness!
Meet Mamoshoeshoe Mphatle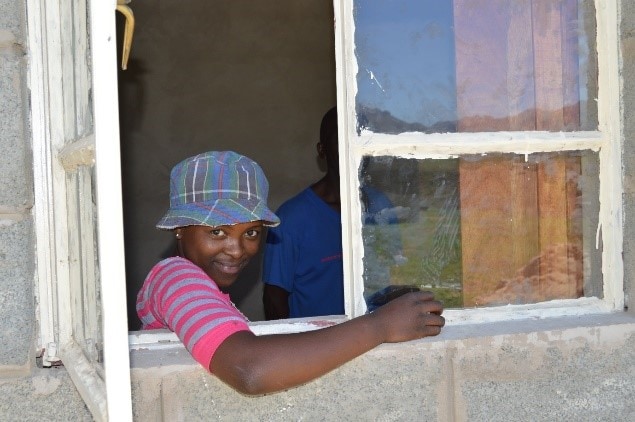 15 year-old 'Mamoshoeshoe Mphatle, is an orphan from Moeaneng village in the Mafeteng district. She lives with her 84 year-old grandmother 'Manthabiseng Mphatle together with her cousins and her aunt.
The family used to live in a rundown thatch-roofed hut which leaked heavily when it rained increasing the household's vulnerability. Realising the plight of the family, Moeaneng village community members identified the Mphatle family as a prospective Habitat homeowner.
As a result of our intervention, a two roomed home and an improved ventilated pit latrine were built.
"I am grateful to Habitat to Humanity, because we have a new home which has huge rooms for all of us and is secure. Our worries during the rainy seasons and cold winter are over and I will be able to study in another room without worrying that I will disturb my family at night."  
Our collective action can save lives.
Support our Housing Programmes around the world today: