Stories from Ethiopia
Getu's story
'I have a happy life now', Getu
When any disaster hits — a storm, a disease, a financial crisis — it is always those who struggle most who suddenly find themselves struggling even more. Habitat for Humanity know that a decent home is central to all aspects of life – freeing families from financial instability, from stress, and from impossible choices between essential needs  
In the midst of the current pandemic, the injustices that families without access to decent shelter face could not be clearer. 
In Ethiopia, 9 out of 10 people do not have access to proper water and sanitation facilities. Additionally, with 70 percent of Ethiopia's housing in need of total replacement and 60 million people lacking clean water close to home, we must continue to be there for families in housing poverty.  
Donate today and your gift will be DOUBLED!
'I don't want my children to suffer' 
We didn't have a kitchen or toilet in my previous house. In addition, the roof leaked and the house would get flooded easily. It was so bad; I wasn't confident enough to invite friends to my house. Since we moved to the new house, which was built by Habitat for Humanity, we've got a kitchen, a toilet, and everything we need.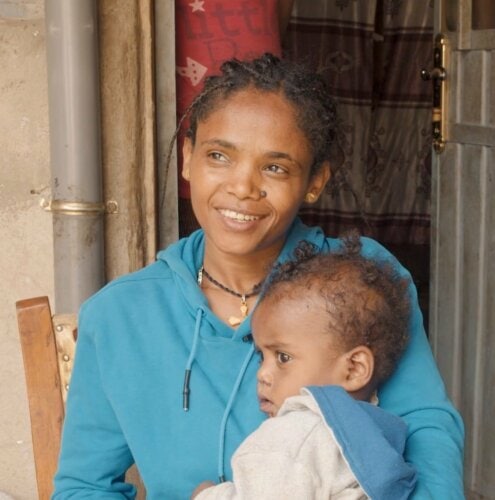 After moving in, I couldn't even believe that the winter months had passed without me noticing – previously we used to get wet, inside and out.I am very happy to have friends visit me in my new house. I have no words to describe how I feel right now! We've been through a lot, but now we're happily settled.
I don't want my children to suffer as much as I did. I pray they have a better future. Since we moved into the new house, we are all healthy and I just hope support is on the way for those who need it most.
We are thankful to you for improving the quality of our lives. I have a happy life now.  I'd like to say a huge thank you to all the supporters who helped me. I am short for words – thank you, thank you, thank you!" 
To support our work in helping families like Getu and her children out of housing poverty, please donate today.
With the support of our partner, the COINS Foundation, your gift will be matched pound-for-pound this Christmas.
[su_button url="https://www.habitatforhumanity.org.uk/online-donation/" style="flat" background="#efd42d" color="#ffffff" size="7″]Donate[/su_button]
Related
Comments