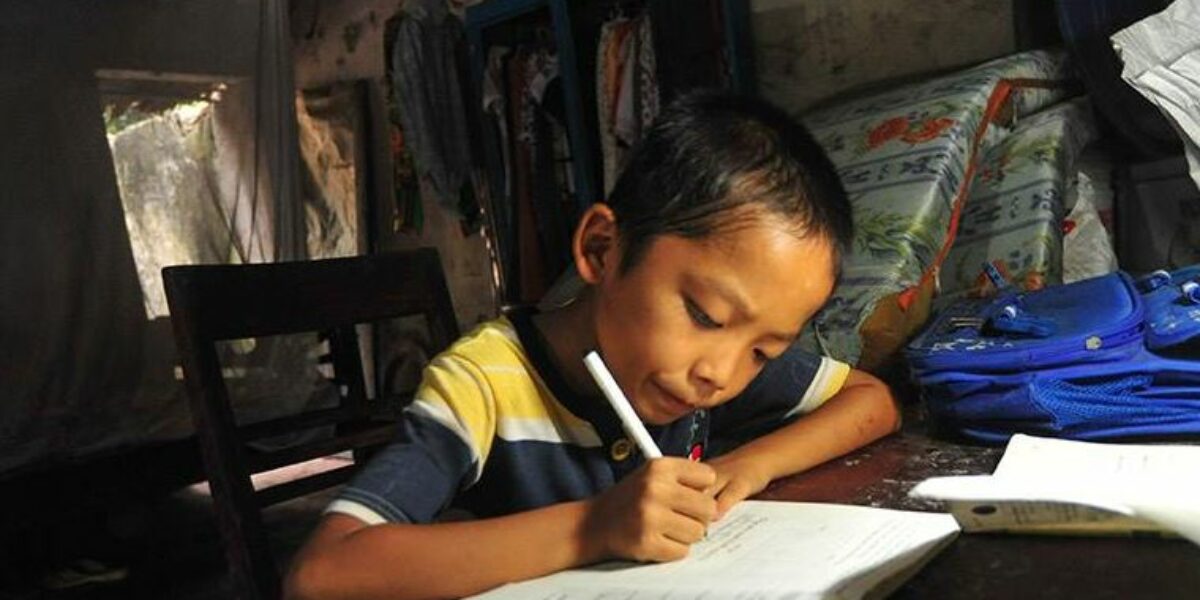 How your support today can build a better tomorrow.
The role of housing in educational opportunities
Music credit 'Once Again' by BenSound: https://www.bensound.com
Education is the route out of poverty for many children. It gives them a chance to gain the knowledge and skills needed to improve their lives. the sad reality for many living in poverty is that education has to be pushed to the end of the priority list.
Children in these families often must share the burden of providing an income. They bear the responsibility for the upkeep of their home, trapping them in a cycle of poverty.
Your gift today can enable more families in housing poverty to have a decent home, from which they can study and work towards a brighter future. 
Academic success begins at home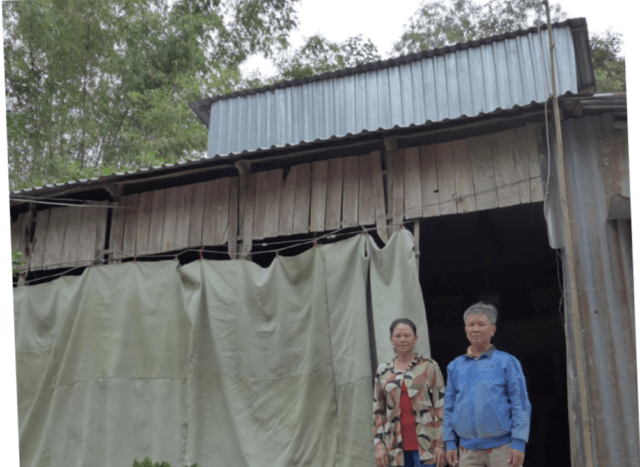 Kinh and Dung outside of their old home. 
Dung, his wife Kinh, and two sons Toan and Tien, lived in a dilapidated house for as long as they could remember. The family was amongst the poorest households in the Dong Thap province in Vietnam. They had to squeeze into a small one-room house and didn't even have access to a proper working toilet. Dung recalls their challenging living conditions:
"The simple house consisted of wooden boards, iron sheets in the roof and walls and a brick floor. It was decaying quickly, and was not a safe place to live, especially during the storm season".

[su_button url="https://www.habitatforhumanity.org.uk/online-donation/" target="blank" background="#00b7d7″ color="#ffffff" size="4″ icon="icon: handshake-o"]Donate Today[/su_button]
Dung and Kinh made income from fishing and farming. However, when Kinh underwent surgery for cancer, further stress was added to their already difficult financial situation. Dung took on extra work as an informal labourer but earnt less than £87 a month. Their dream of a bright future for their children seemed almost impossible.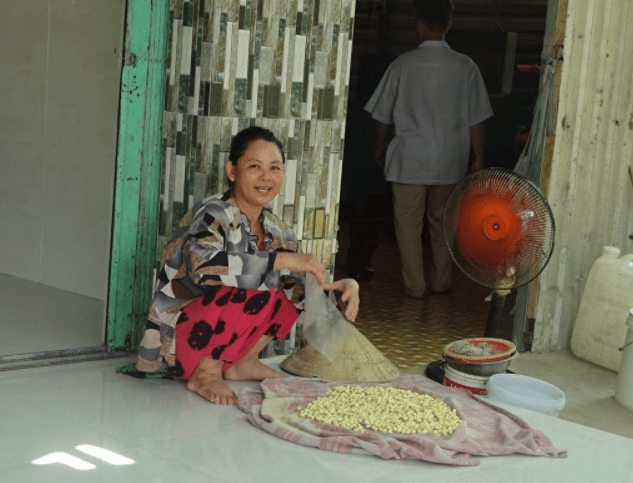 Kinh inside her house, before Habitat's intervention.
Through the generosity of our supporters, Habitat for Humanity Vietnam were able to help Dung, Kinh, and their sons build their dream new home. Immediately, their thoughts turned to the education that was now within reach for their sons.
A decent home meant the small income they earned needn't be spent on essential and urgent house repairs. It would be enough to pay school fees and buy education materials such as books and pencils. Even the long-term investment of a university education and a brighter future.
After moving into their Habitat home, Dung's dream of a stable and prosperous life for his family has gradually been fulfilled. Tien has completed his Diploma in Automobile Engineering.  He is now serving an apprenticeship in an established car garage in Ho Chi Minh City. Then late last year, Toan graduated college with a bachelor's degree in Geography.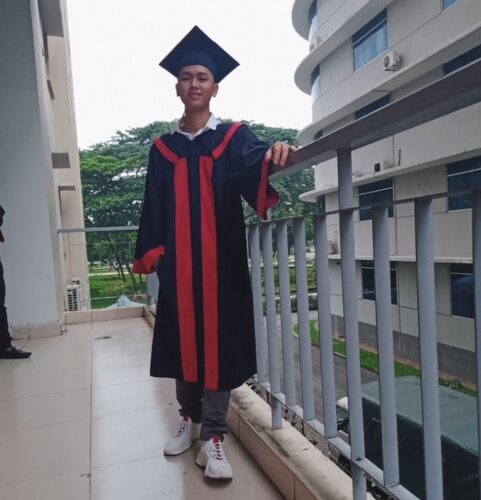 Tien on his graduation day after receiving his Diploma in Automobile Engineering.
"It was a good thing that we were able to move to a new, safe shelters. With no worries on housing, we now focus on livelihood, job opportunities and daily care of the family," Toan says joyfully.

[su_button url="https://www.habitatforhumanity.org.uk/online-donation/" target="blank" background="#00b7d7″ color="#ffffff" size="4″ icon="icon: handshake-o"]Donate Today[/su_button]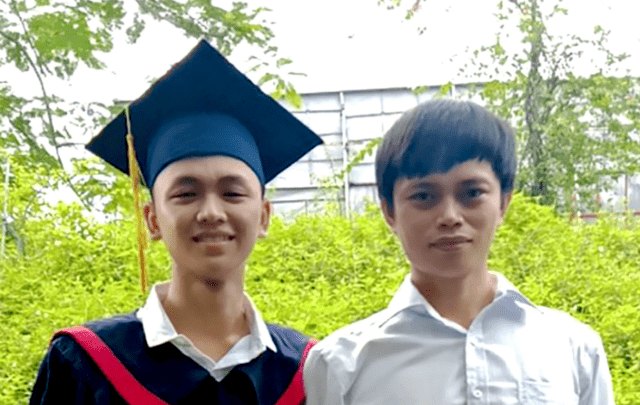 Tien and Toan on graduation day.
Tien and Toan are the first generation in their family to graduate from college. The potential that your gift today can unlock for families and future generations is truly an amazing and powerful thing.
We believe that with a decent home, parents no longer need to worry about spending money on constant repairs, paying expensive rent, or be burdened with the threat of forcible eviction. Instead, they can focus on giving their children an education and a world of new possibilities.
A safe home means a clean, dry, and well-lit place for children to do their homework, and less illness so fewer school days are missed. A stable place to call home provides a secure environment and adequate space to study and think. Better lighting, room for a small desk, a parent's ability to devote time to helping with homework — all of these can lead to improved academic outcomes.
With your support today, we really can help free families from the trap of housing poverty, and onwards towards a world of new possibilities. Thank you.
[su_button url="https://www.habitatforhumanity.org.uk/online-donation/" target="blank" background="#00b7d7″ color="#ffffff" size="4″ icon="icon: handshake-o"]Donate Today[/su_button]
Related
Comments