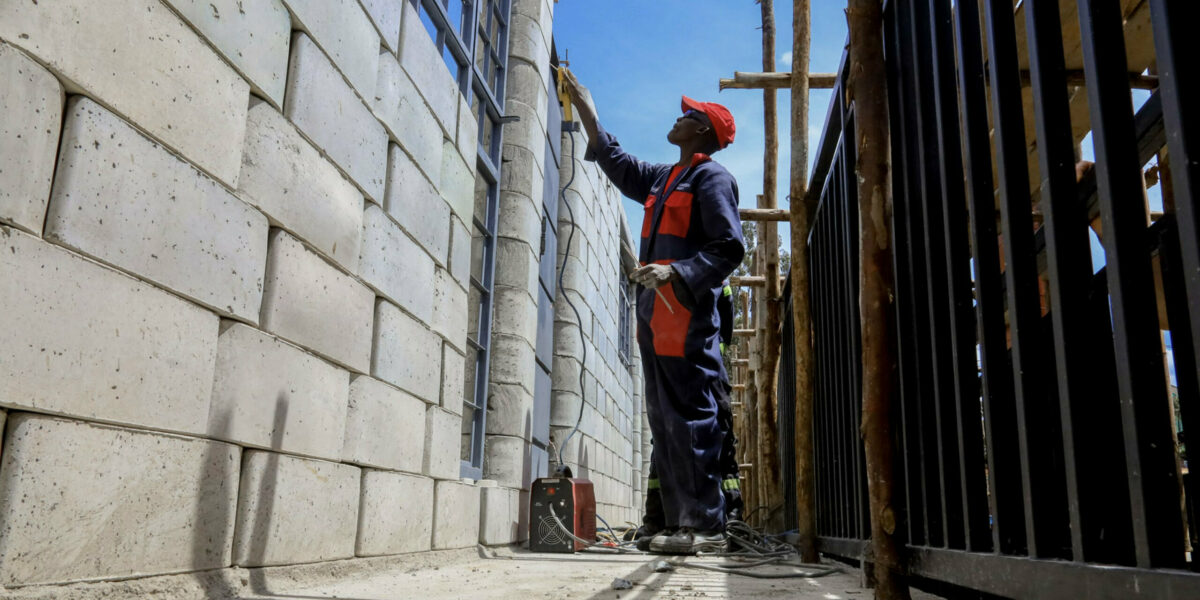 TwistBlocks in Kibera
Life In Kibera 
Located in southwest Nairobi, Kibera is one of the world's largest informal settlements. Most of Kibera's roughly 250,000 residents live in densely packed homes constructed from mud and sheet metal. The majority of houses are built on unstable ground and lack adequate access to clean water and sanitation services. Many families do not own the land they live on and face the ongoing threat of eviction or displacement. But despite these challenges, Kibera is vibrant and entrepreneurial, full of people working to make their community safer and more secure.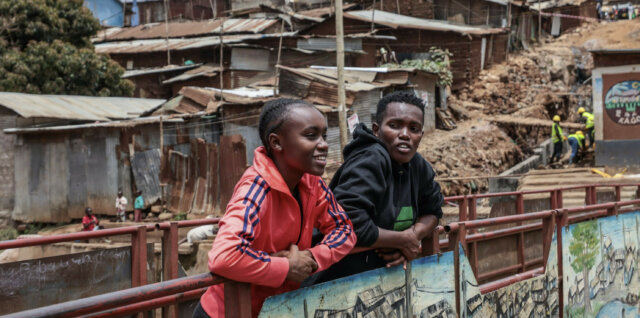 Milka Achieng Ogutu (right), 31, was born and raised in Kibera, where she's now raising her 16-year-old daughter. Milka knows first-hand the threats facing families in Kibera. Houses perched precariously on steep hills are at risk of collapsing during heavy rains. Power lines, a common cause of fires in Kibera, hang haphazardly across the road. But Milka is undaunted. She's determined to make changes so that the people of Kibera don't fear losing a home to fire or floods.
An African proverb says, "Tomorrow belongs to the people who prepare for it today." Milka is preparing for not only her own future, but also her daughter's. In 2019, Milka was hired by Start Somewhere, an innovative brick-making company started with the people of Kibera. She now heads a six-person production team. Her success is a testament to the potential that resides in informal settlements like Kibera – and the transformation residents can achieve to make life better for all.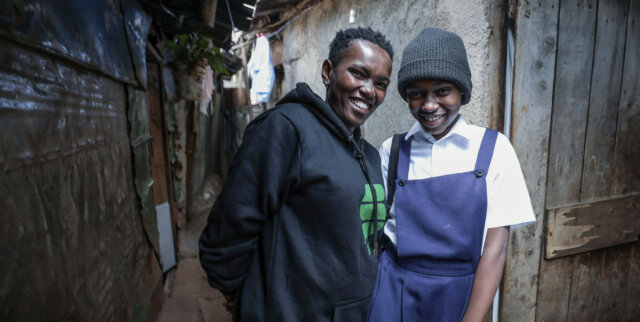 TwistBlock Production in Kibera
At the Start Somewhere facility in Kibera, Milka oversees the production of TwistBlocks, which are hollow, pre-cast concrete blocks that interlock together when stacked with no need for mortar. A home built with TwistBlocks can be completed up to ten times faster than one using standard masonry techniques, and the construction process is also less expensive.
"Bring Change from Inside" is printed on the wall of the TwistBlock production facility – a visible reminder that the workers are all from Kibera. Milka and her team measure and mix the materials, mold and de-mold the TwistBlocks, then cure and store them in neat stacks ready for sale. "I am not a man," says Milka, "but I am strong. I am thriving in the industry. The opportunity to transform Kibera and make a difference inspires me. I believe a new Kibera can be a reality."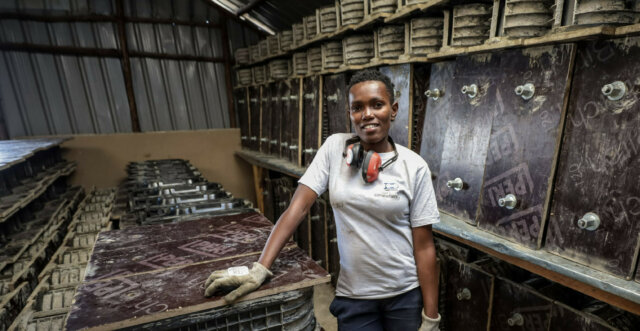 TwistBlocks are fire-resistant — critical in Kibera where fire is an ongoing risk due to the tangled web of electrical wires and use of flammable construction materials like plywood. The air inside the hollow blocks has strong insulating properties, helping keep the interior of buildings cooler in the hot months and warmer when the temperature dips in the dry season.
Community Participation
Community participation is crucial to the innovation process. Kibera's residents are involved at every step of the design process, providing feedback on the size and portability of the blocks, which types of concrete are readily available and more. Recently, Start Somewhere began producing coloured TwistBlocks. "[The community] gave us the idea of making the coloured blocks. We took the idea, and we are still employing it," Milka explains.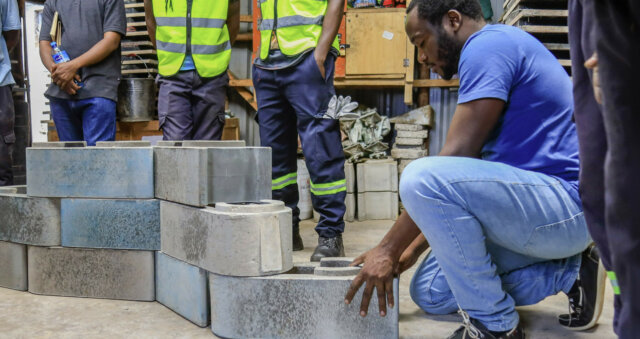 In informal settlements, plots are often irregularly shaped and land rights are insecure. The design flexibility of TwistBlocks makes it easier to maximise space within an oddly shaped or less-accessible plot. And if a family moves, they can take apart their home – block by block – and rebuild in a new site without losing their investment in the building materials. Just as the blocks are transferable, so are the construction skills that Kibera's residents learn — another life-changing benefit of the initiative.
TwistBlocks are used to build safer, more affordable homes as well as other community buildings. Start Somewhere donated a two-story extension with a staffroom and library to a local school. "The library offers a conducive learning environment for the students," Milka explains. "It impacts them positively and motivates them to study, as it offers a completely different environment from what they encounter at home."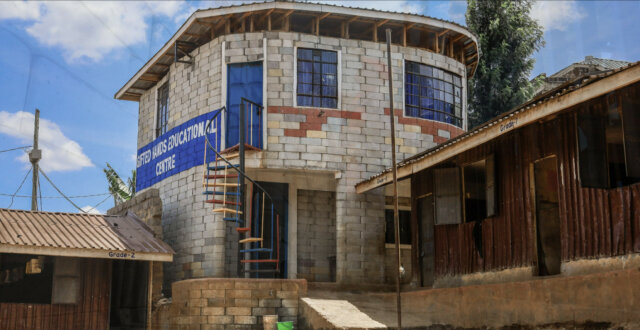 Colourful steps lead students to the top floor of the new school wing built with TwistBlocks. The school's name, Gifted Hands, could also describe the skilled construction workers from Start Somewhere. Here in Kibera, as in other informal settlements around the world, training and hard work deliver lasting improvements.
Kibera's future is looking up. "Kibera is my home," says Milka. "I want to see Kibera transformed from mud and iron sheet housing to beautiful permanent housing." With every new home that's built with TwistBlocks, Milka and her team help vulnerable families ensure a more secure future — and when policy change supports innovative solutions like these, that transformation is within reach.
Support our global projects
The impact of new products and technologies in places like Kibera can scale even further with support from policymakers. When governments listen to residents of informal settlements, those ideas can become actions that benefit entire communities. With coordinated efforts at all levels, we can advance policies and level the playing field so everyone has an equal shot at a decent home.
Follow our impact – Sign Up & Support our Charity's Work on Global Poverty: Join Our E-Newsletter (habitatforhumanity.org.uk)
Donate to Habitat for Humanity GB – Give to Charity: Your Donations Help Break the Cycle of Poverty. For Good. (habitatforhumanity.org.uk)
Related
Comments