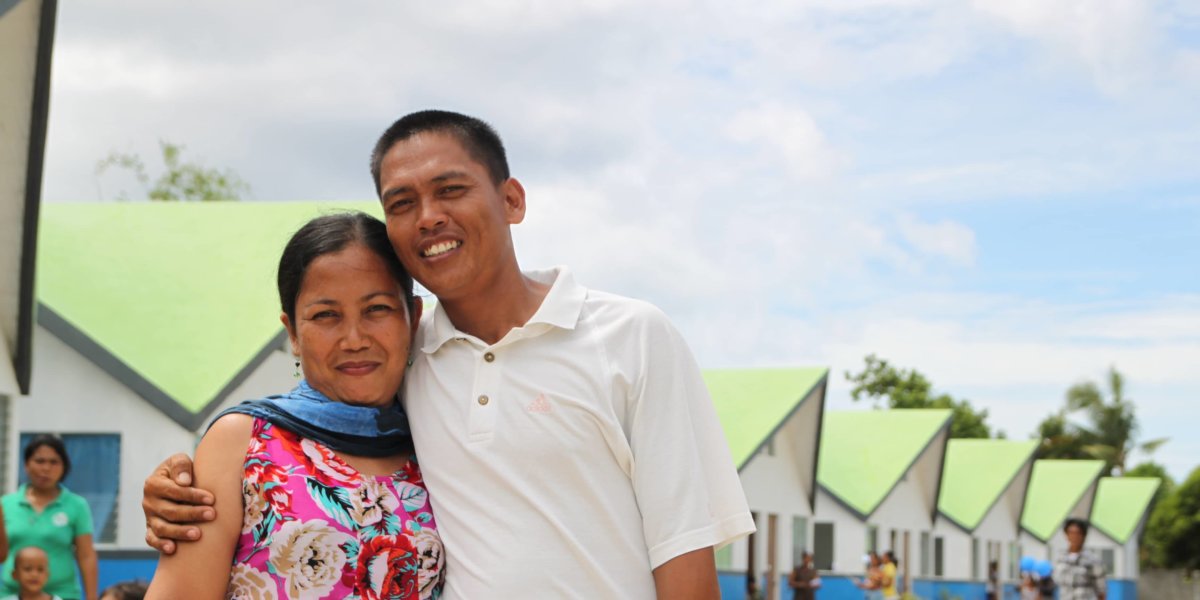 Haiyan survivor two years on – Analyn Bañal
Analyn Bañal is a native of Daanbantayan, Cebu in the Philippines. She and her husband of 10 years, have gone through  the worst of times, most especially when the province was left in shambles by Typhoon Yolanda (international name: Haiyan) two years ago.  "The place we were renting didn't give us the peace of mind that we needed, especially when there are strong rains. The frequent flooding would always force us to evacuate," Analyn explains. "Often, we're left with nothing but prayer."
Two years have gone by, and their lives unexpectedly took a turn for the better: Analyn and her husband were chosen as one of the 76 recipients of a new Habitat for Humanity disaster-resilient home in Daanbantayan, Cebu. The uniquely-designed "hypar" house is meant to withstand winds of up to 270kmh, a far cry from their rented shack. Situated in a plot of land farther away from the no-build zones, their new community is safer, more secure, and a better place to raise a family than where they used to live.
"The moment we found out, we jumped for joy as if there was no tomorrow," she exclaims. "We no longer have to run for our lives now that we have our own home. The feeling was unexplainable."
The couple believes that this is just the start. They hope more blessings will follow after their new home: Her husband would be able to bring in more income, Analyn would be able to find a good-paying job, and they wouldn't have to worry about their health anymore.
And perhaps the best hope they're holding onto — the best blessing they could ever receive after this — is something that they think will surely complete their lives and bring them endless joy.
"We've been trying to conceive for quite a while, but we've never been successful," she says. "We've always dreamed of having a child to take care of and share our precious moments with." Analyn says nothing else would make their happiness — and their new home — complete than to have a child of their own.
"In my mind, I could see my future child running and playing around the house, waving me goodbye before going to school. I could see myself even feeding him or her," she says, holding back tears. Analyn believes that this may all be part of God's plans, and maybe it's in this new house that they'll be able to start a family.
So great is her hope that Analyn already started making plans for their new season, and that includes setting up an additional source of income. "I also would like to put up a sari-sari store in the community to support the needs of our soon-to-be family. This would also take some of the burden off from my husband," she says. "It's also a way for me to mingle and bond with our neighbours."
On November 6, 2015, two days before the second anniversary of Yolanda's landfall, Analyn and her husband, along with 75 other families in Agujo, moved into their new homes in what is now called the Habitat French Village.
Habitat has built permanent houses for 1,351 families across Yolanda-affected areas in Cebu and Leyte, and has given shelter repair assistance to 23,129 families. Finally, these families do not have to worry about their security anymore. They can already start dreaming big.
For Analyn and her husband, the thought of having a new house — and a new home — brings so much promise, and they are all the more looking forward to what life has to offer them. For them, this is just the beginning.
Comments