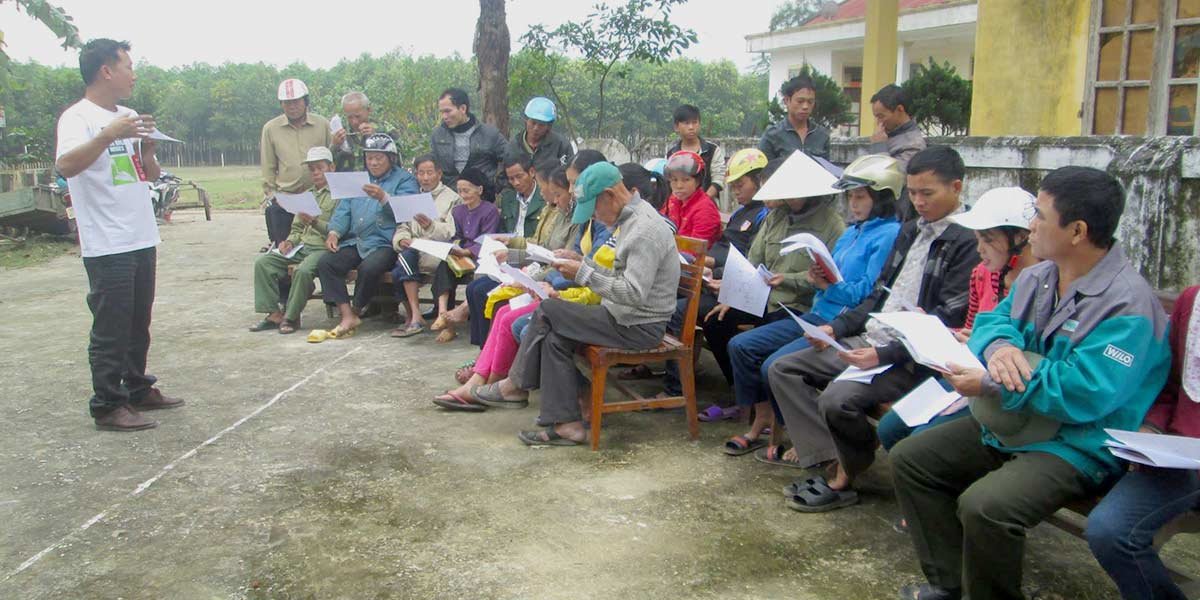 Response to Flooding in Huong Khe, Vietnam
Summary
Flooding is a regular occurrence in Vietnam, but 2010 brought more severe flooding than usual with water levels reaching six metres in some areas. More than 100 people died in September and October, and more than 600,000 people in seven provinces were affected. Habitat for Humanity Vietnam responded to the need for housing repairs by providing better roofs and floors. Training in disaster-resilient construction techniques was also provided to limit damage from more flooding.
Timeline
Early December 2010 — Three-person assessment team visited affected areas.
Dec. 10-15, 2010 — Home partner families identified.
Early January 2011 — Roof and floor repair work started.
January 2011 — Training on disaster-resilient construction techniques started.
June 30, 2011 — Project completed.
Background
Vietnam's flat topography and its long, low-lying coastline make it particularly susceptible to flooding. Vietnam has more than 2,860 rivers, with the Red and Mekong rivers the most significant. The river network is about 25,000 kilometres long, and the majority of Vietnam's population lives near rivers. Vietnam is extremely vulnerable to natural disasters and extreme weather. Many of the families affected by the flooding in Huong Khe were from low income families and could not afford to repair or rebuild their homes. Recognising this need, Habitat for Humanity Vietnam cooperated with local authorities to support families with housing assistance.
Project Overview
HFH Vietnam focused its disaster response and early recovery activities in Huong Khe district in Ha Tinh province because it was one of the worst hit areas.
Because funding that was promised did not materialise, HFH Vietnam was not able to meet all the project targets, but still worked in 79 villages in 10 communes in Huong Khe. HFH Vietnam assisted 186 families with safer roofs and floors, which were constructed using disaster-resilient techniques, and built two new homes. Members of 188 families were trained in disaster-resilient construction techniques and 14 local government staff (at least one from each commune) also benefited from similar training.
HFH Vietnam focused on slightly longer-term support of more substantive upgrading and repair work because many families had already patched up their houses as best as possible immediately after the flooding. This meant that the repair and upgrading work could incorporate disaster-resilient features and protect families against future flooding.
Implementation
HFH Vietnam worked in liaison with Huong Khe district's People's Committee, a local state management entity set up to mobilise the district's resources to develop social economy and to respond to and mitigate against natural disasters.
HFH Vietnam staff from northern and central areas of Vietnam conducted the program, with HFH Vietnam construction supervisors handling the disaster-resilient construction technique training sessions.
All 188 families that HFH Vietnam worked with either to rebuild, repair or upgrade homes benefitted from the training sessions. Clay tiles and cement were used to construct safer roofs and floors. Home partner families were shown how to repair or replace roofing firmly, to reduce the likelihood of leaking during heavy rain or being blown away in strong winds. Home partners were also trained in how to strengthen house frames so that roofs are better supported.
Lessons & Promising Practices
Because of decreased funding, the scale of the project had to be reduced. Despite this, 188 families were supported to rebuild, repair or upgrade their homes with safer roofs and floors, while also being trained in disaster-resilient construction techniques to better protect themselves against future disasters. These families can share these skills with neighbours and relatives who live in disaster-prone areas.
The 17 local government staff and construction workers trained in disaster resilient construction techniques are now able to inform and support the wider community so that more people are better prepared when disaster strikes.