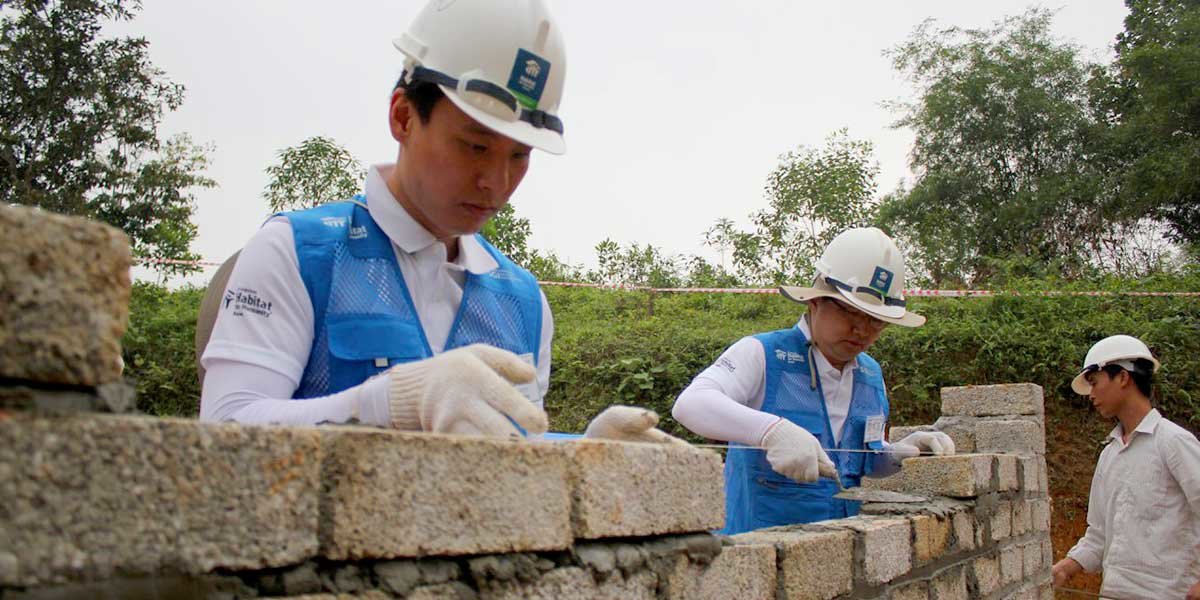 Response to Typhoon Ketsana in Vietnam
in the Tien Phuc and Hiep Duc districts of Quang Nam
Summary
Typhoon Ketsana struck Vietnam's central and highland provinces on Sept. 29, 2009, killing more than 150 people and affecting 14 of Vietnam's 58 provinces. Quang Nam province in the south-central coast region was hit hardest, with damage estimated at US$177 million.
Habitat for Humanity Vietnam supported 662 families in the Tien Phuoc district by distributing roof sheeting, ridge caps, screws and wire. The team also provided technical assistance on safe house repair, replacement and reinforcement. In addition, five new homes were built and 270 people were trained in disaster-resilient construction techniques.
We also worked in the Hiep Duc District and aimed to support about 200 families with rebuilding or housing renovations by June 2012, to provide construction training for 600 people, community based disaster risk management training for 600 residents, and to conduct information, education and communication activities befitting more than 15,000 people.
Timeline
Tien Phuc:
• Early October 2009 — Four members of an assessment visited affected areas.
• Nov. 1, 2009 — Volunteers trained in construction techniques.
• Nov. 6-13, 2009 — Home partner families selected.
• Nov. 9, 2009 — Roof sheeting distribution began and technical assistance provided.
• Dec. 24, 2009 – Project completed.
Hiep Duc:
• November 2010 — Construction training began.
• December 2010 — Home partner families identified.
• December 2010 — Rebuilding and renovation started.
• December 2010 — CBDRM training.
• March 2011 — IEC activities.
• June 2012 — Project completed.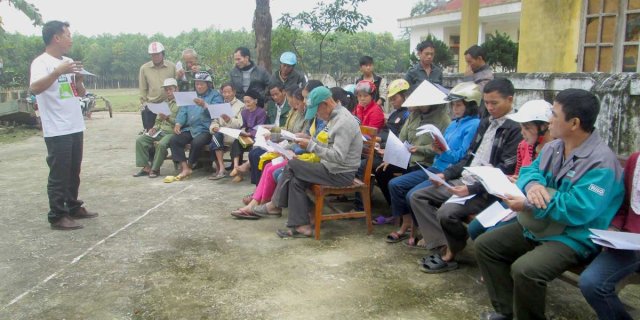 Background
Vietnam is a disaster-prone country because of its long, low-lying coastline as well as its location in the western Pacific which is one of the biggest storm centres in the world. Every year, Vietnam experiences six to 10 storms or tropical depressions of varying intensities, usually between June and November.
Most of the families affected by Ketsana were already marginalised and could not afford to repair or rebuild their homes. Recognising this need, our team cooperated with local authorities to assist.
Project Overview
We chose Tien Phuoc district because it was one of the most affected district in Quang Nam province, which was hit the hardest of all Vietnam's provinces. We worked in 49 villages in six communes in Tien Phuoc to support 662 families.
Through the assessment process, we realised that roof sheeting was an overriding priority. In almost all the areas visited during the assessment, large numbers of houses, in some cases 80% to 100%, had collapsed and were missing their roofs.
For example, in village 1 of Tien Phong commune, all but two of the 53 houses had lost their roofs after Ketsana. Residents and local authorities emphasised the need for steel sheeting as a priority. That prompted us to focus our response effort on providing roof sheeting, building five new homes and training 270 volunteers in disaster-resilient construction techniques.
We also chose to work in Hiep Duc because it was the area was also very badly affected by Ketsana in Vietnam. Local government units in Hiep Duc were amenable to volunteer participation in reconstruction.
Habitat for Humanity worked in 59 villages in 10 communes in Hiep Duc district. We chose a holistic long-term disaster response and preparedness project that spanned two years. We wanted not only to help those affected after Ketsana but to assist communities to prepare for and mitigate against future disasters. The project included housing renovation and rebuilding, CBDRM and disaster-resilient construction training and awareness raising for high-risk communities.
We worked with the Hiep Duc District People's Committee, the Vietnam Red Cross' Hiep Duc chapter and Quang Nam Province's Foreign Affairs department. Three of our staff ran the project from an office in Hiep Duc, supervised by a project manager.

Implementation
In the Tien Phuc district, our team collaborated with the local government and residents on the project while taking a lead role in providing materials, technical assistance, supervision and training.
Home partner families were selected based on income, the extent of roof damage and financial need as well as attempted roof repair that did not meet construction standards. Our partners at the community or district level collected information about potential family partners and we conducted random assessments to verify the information. If incorrect information was found, partners had to submit another list.
Home partners were involved with the delivery, supervision and evaluation of the project, and provided sweat equity. Construction materials and house designs followed local traditions and customs, based on requests of residents.
In the Hiep Duc region, fifteen families were supported in rebuilding their houses and 145 families helped to upgrade or repair their homes. Families took on microloans secured by Habitat and managed by HDDPC. House building costs were subsidised for families who had lost their homes. Repayments go into a revolving fund and are used to help more families. All families will have paid off their microloans by June 2014.
In order to increase knowledge of disasters and efforts to mitigate their effects, our project staff worked with a CBDRM expert to devise and construct awareness-raising activities. As of May 2012, 606 construction workers had attended 15 training sessions on disaster-resilient building techniques and 920 students and teachers in five primary schools had participated in awareness-raising activities, including an art contest.
We designed and produced a video on disaster-resilient construction techniques that was broadcast on the Quang Nam Provincial Radio and Television station. More than 5,000 leaflets on disaster preparedness and safe housing construction techniques were distributed.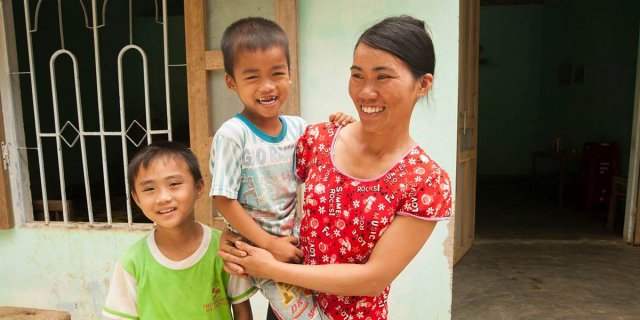 Lessons & Promising Practices
It was important for Habitat for Humanity Vietnam to conduct its own assessment after Typhoon Ketsana, because government figures did not provide information on specific housing needs and the most vulnerable groups. This required the team to be well coordinated, to quickly mobilise staff and finances, and develop expertise in rapid needs assessments.
Many of the residents had limited access to information and were illiterate, so explaining project criteria and requirements took longer than originally expected.
HFH Vietnam learned how important it was to have home partner families involved at every stage of the project, because that led to greater understanding and appreciation of how to protect their homes and removed dependence on others.
Families and communities accepted the houses because HFH ensured that construction materials and housing designs met local traditions and customs and met the needs of home partners.
Hiep Duc was inaccessible after the typhoon, making it difficult to find and transport material. This made it difficult to meet usual standards and requirements of construction.
Some training sessions that took place in Hiep Duc were not well attended because men and young adults were busy working and earning money, so the sessions were attended predominantly by women and the elderly. Furthermore, without incentives of money or visible support, villagers were reluctant to attend training sessions because they did not recognise the benefits.
It takes time to change mindsets and routines, but CBDRM training was a step in the process to achieving this and ensuring people are better prepared when disaster strikes.