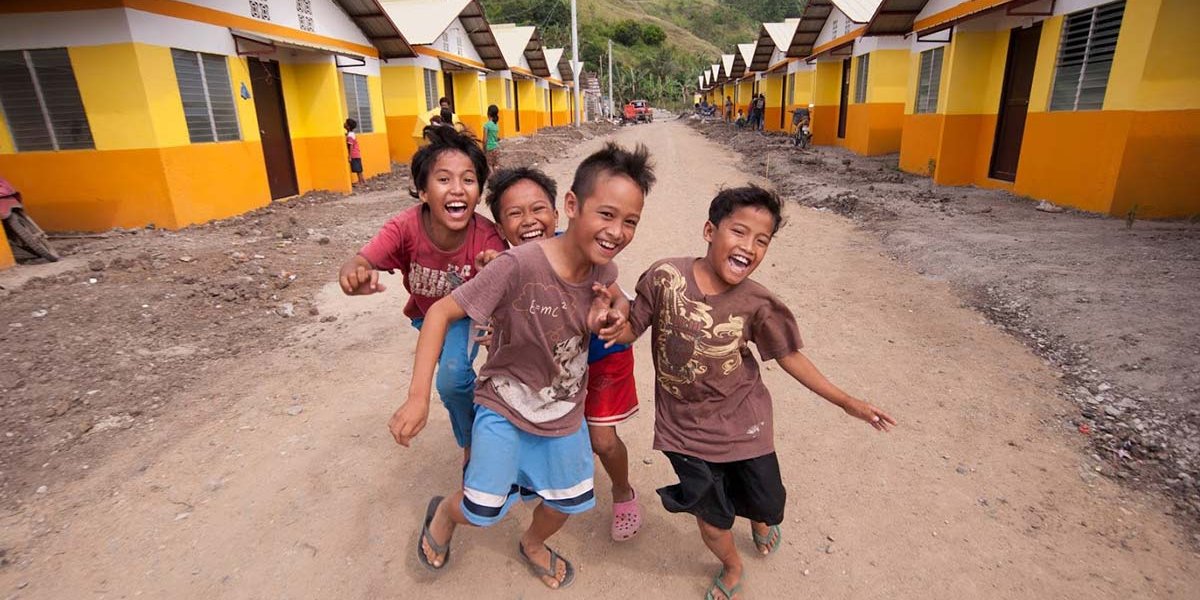 Response to Typhoons in the Philippines
Summary
In 2009 the Philippines experienced its worst Pacific typhoon season in decades. The deadliest of the typhoons occurred within a month of one another when typhoons Ketsana, Parma and Mirinae struck in quick succession. Habitat for Humanity Philippines responded to the multiple disasters. The team helped more than 15,000 affected families by providing home repair kits, supporting Food for Work plans, rehabilitating homes, constructing toilets and bathing units in evacuation centres, as well as building new homes.
Timeline
September 2009 — Assessment done.
September-November 2009 — Food for Work program conducted.
October 2009-May 2010 — Home repair kits distributed.
November 2009-January 2010 — Toilet and bathing stations built.
November 2009-April 2010 —Homes rehabilitated.
February-April 2010 — New houses built.
April 2010 — Project completed.
Background
The Philippines straddles the typhoon belt, an area in the western Pacific Ocean where nearly one-third of the world's tropical cyclones form. This area is not only the most active in the world, but also has the most intense storms globally. Approximately 19 typhoons enter the Philippines area each year, and six to nine make landfall annually. Of the islands that make up the Philippines, northern Luzon and eastern Visayas are most commonly affected. Ketsana and Mirinae affected areas in the centre and south of Luzon Island, whereas Parma struck northern Luzon.
Project Overview
Typhoon Ketsana struck on Sept. 26, 2009, making landfall on the border between Aurora and Quezon province, and moved over metro Manila. A state of calamity was declared in metro Manila and 25 other provinces. More than 450 people died, many from severe flooding and landslides. The team immediately started its disaster response operation.
Then Typhoon Parma struck on Oct. 1, sparing the capital but crossing northern Luzon Island twice, making it the costliest Philippines typhoon and killing 450 people. Just three weeks later, Typhoon Mirinae struck the same areas as Ketsana, rapidly passing over the island. About 1,000 people were killed in total and hundreds of thousands affected.
Our disaster response operation involved working with partners in the relief, repair and rehabilitation and resettlement stages.
Implementation
Our first disaster response after Ketsana and Parma was to build toilet and bathing units for evacuation centres because facilities could not handle the number of people in need of shelter. In partnership with Save the Children, the Philippines Red Cross and others, we built 312 toilet and bathing units at 25 evacuation centres by January 2010.
In the repair stage, the team distributed home repair kits to 10,000 families in four of the cities of metro Manila (Marikina, Quezon, Pasig and Valenzuela) as well as five neighbouring provinces (Pangasinan, Bulacan, Rizal, La Union and Benguet). Each home repair kit cost US$153 and included roofing material, lumber, plywood sheeting, nails, sealant, and bags of cement. The team also worked with The Charitable Trust of Australia to distribute Food for Work items, including rice, canned goods and bottled water.
In the rehabilitation and resettlement stages, we worked with ABS-CBN Foundation to help relocate 4,000 families to Laguna, a province south of Manila. We refurbished 4,095 homes and built 693 new housing units.
Lessons & Promising Practices
Habitat for Humanity Philippines learned that being a facilitator in the disaster response operation, and empowering affected communities help find solutions to the housing need, worked best. Local government support provided the environment to do this, expediting the process for receiving materials and allowing construction to start.
Local governments do not often have available land for resettlement. Our team brought together several partners, including media organisations and national government, to secure land and develop the sites.