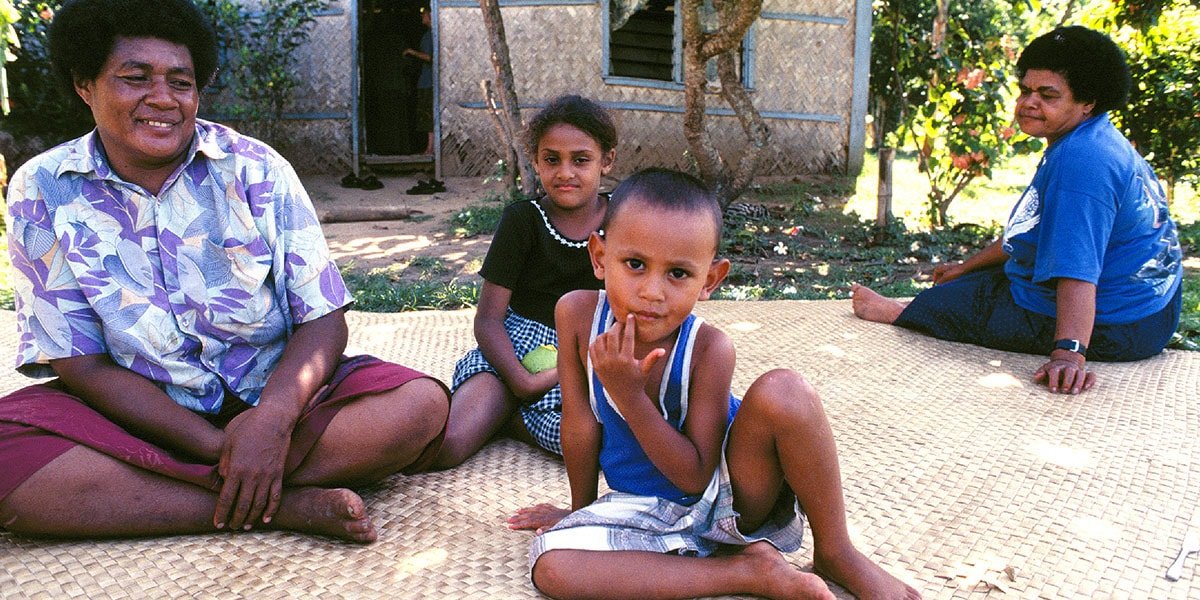 Fiji Hurricane Winston News:
Rebuilding After the Cyclone
The category 5 hurricane Winston that hit Fiji in February 2016 was the worst disaster in recorded history.
According to the United Nations Organization for Coordination of Humanitarian Affairs:
44 people were killed by the storm
40% of the population (350,000 people) were affected
The massive disaster left more than 31,000 houses damaged or destroyed across Fiji
Post-hurricane Winston news: Fiji, 6 months on
As Habitat for Humanity has supported programmes in Fiji since 1991, work on the disaster response began immediately through its local office in the capital of Suva.
A Habitat team began assessing damaged communities, while staff in Suva began coordinating with government agencies and the shelter cluster, a grouping of various humanitarian organisations that coordinate shelter support for those affected by disasters. With assistance from donors and other Habitat offices in the Asia-Pacific region, emergency programmes were quickly planned and implemented.
As programmes began, contributions and support from donors were key in completing the distribution of shelter-related kits.
737 shelter repair kits
666 individual family tool kits
1,335 community tool kits, with each community tool kit used by multiple families, were distributed
6,483 families, totalling approximately 32,415 people, received support through emergency phase programmes
This surpassed the initial target of 5,000 families, or 25,000 people. Overall 294 communities in 28 districts received aid from Habitat and its local partners.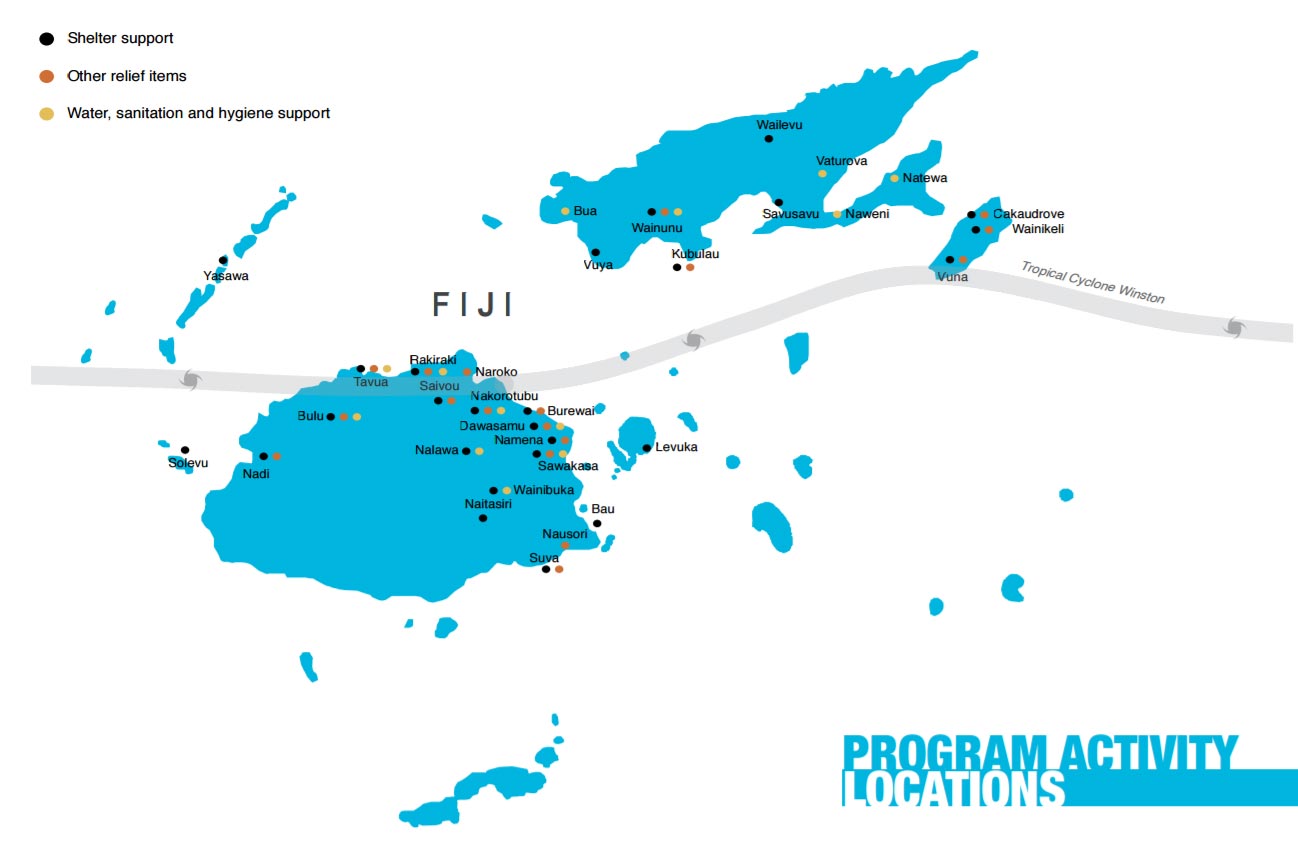 Delivering aid in Fiji: disaster relief after hurricane Winston
The Habitat Fiji team faced many challenges during the response to this disaster. Local emergency resources were overwhelmed and communication was difficult in the weeks after the storm. As electricity and phone networks were down, communication with damaged communities was especially difficult.
As an island country in the South Pacific Ocean, Fiji has a high reliance on imported goods and this created delays with logistics and procurement. Shortly after the disaster struck, our local team developed a two-year response plan to Tropical Cyclone Winston, involving emergency relief, recovery and rehabilitation phases.
Beginning the recovery and rehabilitation phases
The emergency phase has now ended, and recovery and rehabilitation programmes have begun. In the recovery phase, programmes include community training for water, sanitation and hygiene, cyclone retrofitting for homes, house repairs, WASH repairs and 'Build Back Safer' training.
For the rehabilitation phase, programmes include construction of new houses and major WASH repairs for communities. Current programming is planned until September 2017 and may continue beyond, pending the availability of additional funding.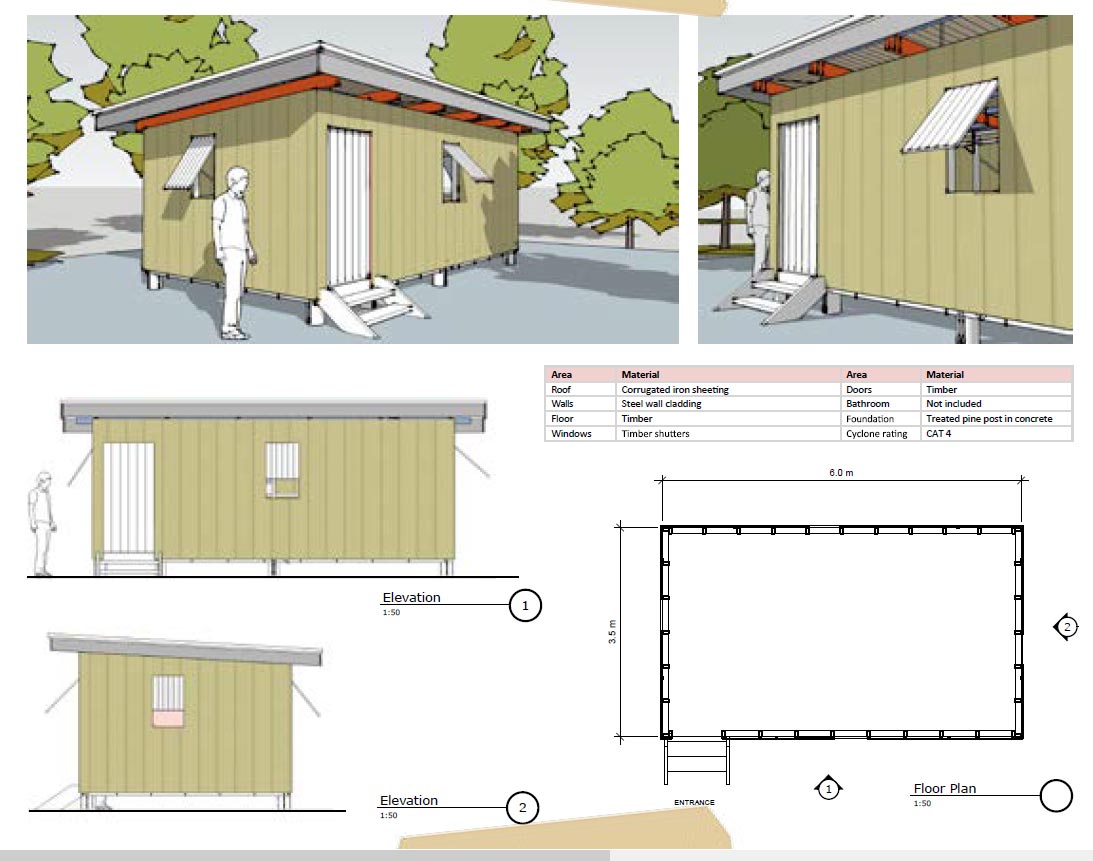 Plan for the 21sqm temporary shelters deployed in Fiji
Challenges: delivering humanitarian aid in Fiji
The Habitat Fiji team faced some challenges in implementing relief programmes. As typically happens after a natural disaster, the electricity and phone systems went down. This severely reduced communications, making it difficult to contact community leaders and obtain accurate information for distributions.
Local resources were overwhelmed by demand, so relief items needed for the response had to be imported. This delayed distributions, and staff worked hard to overcome logistical difficulties.
Delivering aid locally: lessons learned
The response team drew on the Habitat for Humanity network to utilise contacts and experience from previous disaster work. This network included our very Pacific Task Force, which had been established for this type of response. The PTF will build on this response for future programmes.
We also joined together with partner organisations to maximise the ability to reach more communities. This benefitted more villages, but also added a period of transition, as different organisations had to merge procedures. A lesson learnt is to have a better local network in place in Fiji, prior to a disaster situation.
Accessing detailed beneficiary information was not always viable for conducting distributions for the disaster response. In order to provide a cross section of beneficiaries on the ground, the Fiji team employed a new software data collection system to collect snapshot data in select communities from March.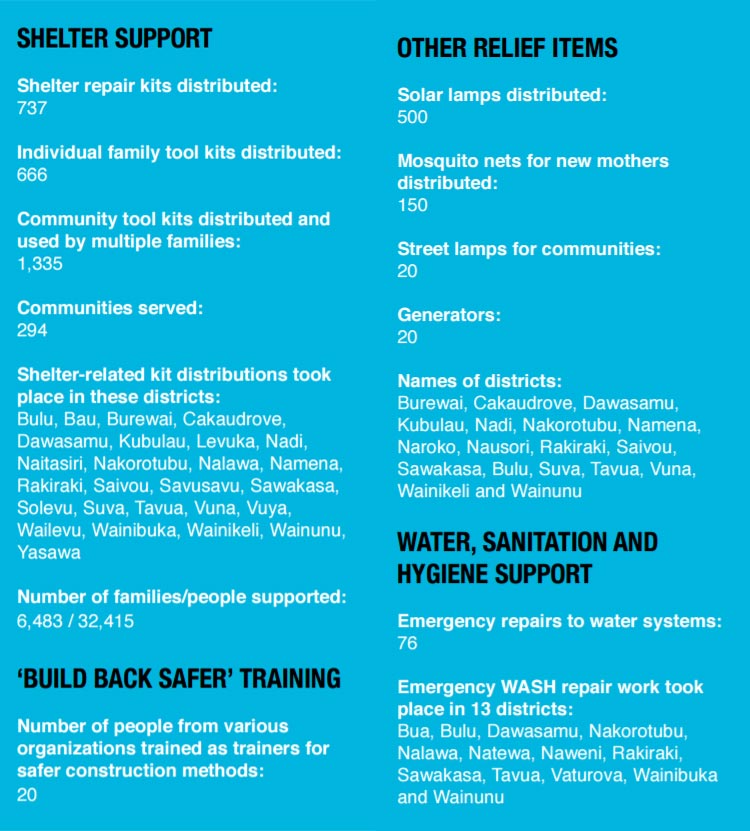 Recovery phase
House repairs
Many homes are still standing but have lost their rooftops or walls to the disaster. The local operation will select 200 of the most affected families whose homes need these types of repairs to make their homes liveable again through cyclone retrofitting.
Repairs and retrofitting will consist mostly of corrugated iron roofing sheets, timber, strappings and fixings.
Waste management retrofits
Alongside house repairs, we will conduct repairs to 250 existing flush toilet systems with added installations of basic privacy booths around existing flush toilets where walls collapsed
WASH training
The Fiji team will train 15 affected communities in improved water, sanitation and hygiene to help them better prepare against outbreaks of disease that usually follow natural disasters.
'Build Back Safer'
It is clear that the storm damage to homes in Fiji was caused by fundamentally flawed structural building techniques. Most rural builders and homeowners that self-build are not aware of simple yet vital structural techniques that are so important for disaster mitigation.
We will equip 90 construction champions from 15 communities with 'Build Back Safer' training. This training focuses on learning key structural components to build a storm resistant home, including foundations, cyclone strapping and bracing, roof fixing and strong joints.
'Build Back Safer' training will continue in the rehabilitation phase as well.
Rehabilitation phase
Construction of 500 transitional shelters
We will construct simple transitional disaster resilient shelters that can later be upgraded into permanent homes. It will take a four-person team three to five days to build a transitional shelter.
200 more homes planned with a goal of 500
Major water supply system and latrine repairs
Reports indicate that many villages in affected communities are still without clean water. The local team aims to complete major water system repairs for 20 rural community supply systems that are not serviced by the government.
Habitat for Humanity is seeking an additional US$1 million to make these plans a reality, and restore homes and communities for thousands of Fijians.
Take Action
Related
Comments