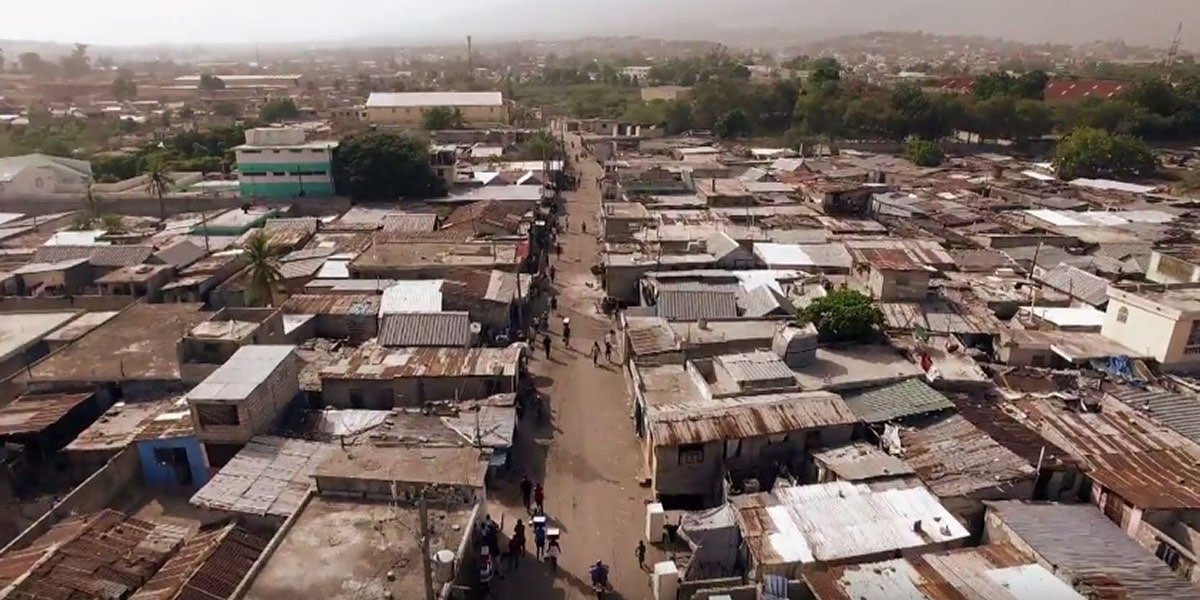 Aid in Haiti:
Infrastructure Projects in Simon-Pelé, Port-Au-Prince
This humanitarian aid project in Haiti focused on improving and renovating infrastructure in Simon-Pelé, a neighbourhood of Port-Au-Prince home to nearly 8,000 families, or 30,000 individuals, living in 1 square kilometer.
We have worked with 32 representatives from 16 community-based organisations (CBOs) who have helped:
Train and hire people within the community to work on the projects
Install two electrical transformers in the community
Rehabilitate several roads and alleyways (known as corridors in Haiti)
Expand a health centre within the neighbourhood of Simon-Pele in Port-Au-Prince
The combined effects of earthquakes and hurricanes in Haiti
A community left behind
Simon-Pelé, located in the commune of Delmas, is characterised by inadequate infrastructure, high unemployment, significant gang activity and violence. The January 12th 2010 earthquake in Haiti severely affected this urban center.
Many families lost their homes and livelihood. The community of Simon Pelé had a history of being under-served by both the government and NGOs. The earthquake's impact on the infrastructure was devastating and left it even more exposed to future disasters, including hurricanes like Matthew in 2016 which caused major floods and further destruction.


Before / After the renovation of corridors. They are now able to drain waste and are safe to use.
Rebuilding infrastructure
Habitat for Humanity has been actively present in the neighborhood since 2011, serving families through a series of community revitalisation programmes implemented with both local and international partners. Our local team has repaired over 600 homes, and provided vocational and non-vocational training for over 6,000 residents in this community.
Renewing our commitment to help improve the living conditions of men, women and children living in Simon-Pelé, this autumn, we worked in partnership with the communities to undertake 10 infrastructure improvement projects.
Habitat Haiti used an unusual 'community contracting' model under which self-motivated community groups were awarded grants with which they could hire local contractors to implement these projects to benefit the whole community, managed by the community themselves.
In 2016, we combined our long-term humanitarian aid plan with emergency assistance for the community in the wake of Hurricane Matthew.
Training workers
To help community members interested in bidding for these contracts, our colleagues in Haiti organised a training session at the Habitat Resource Center in Simon-Pelé.
These projects helped expand MOTAKFA, a local health center, rehabilitate several roads and corridors (alleyways) within the area, install electrical trans-formers and repair water kiosks, which will provide clean water for many people in the community.


Before / After: rebuilding walkways
Sign up to receive inspirational stories of strength and resilience, straight in your inbox
Sign-up
Impact of the earthquake on life in Simon-Pelé
Marie-Ange
Marie-Ange Dieudoné, 58, who recently lost her husband, is one of the beneficiaries of these projects. The corridor where she resides was rehabilitated by Habitat. Dieudoné has been living in this area of Port-Au-Prince since she was a teenager.
Today, she lives there lives with her 4 children and 3 grandchildren. Dieudoné shared her satisfaction with us: "Before, it was very unpleasant to live in this corridor. There was always muddy and stinking water in front of my house."
"This water came from a factory up the street, and given that there was no canal, it remained for days in front of my house. Also, the neighbours up the street usually dumped their waste in it."
"The water flooded my house whenever it rained. It was impossible for my children to close their eyes during rainy nights because they sleep on the floor. For me, it is a miracle that Habitat has rehabilitated this corridor."
"It looks very nice, and there is even a canal for the water to come down. The corridor does not smell horrible anymore, and thanks to Habitat, my children and I will sleep in peace during rainy nights. I thank God and I thank Habitat for Humanity."
Grégory Renard
Simon-Pelé is the only home that Grégory Renard has ever known. He now lives in corridor Charité with his wife and kid, where he owns a convenient store.
"A few years ago, I started this small business. But this corridor is always full of muddy and smelling water. My customers usually play hopscotch to get to my store."
"Since it's inconvenient for them to get here, they go to other stores on the main road. That used to be bad for business. But now, my customers will not have so much difficulty to get to my boutique. So, I am happy and grateful to Habitat for paving the road."
Marie Carmelle Duclos
Marie Carmelle Duclos is a community council member and the coordinator of Mouvman Tet Ansanm pou Kore Fanm (MOTAKFA), an organisation that works on health care, sanitation and to promote hygiene in Simon-Pelé.
"I think the community will tremendously benefit from the services of the expansion of the health center. Since we didn't have enough space to serve everyone in the community, people usually traveled long distances to find a clinic.
"Plus, the treatments are expensive so now we will be able to offer better services to people in the community. I truly appreciate the work that Habitat is doing here."
This post was produced with the financial support of the European Union. Its contents are the sole responsibility of Habitat for Humanity GB and do not necessarily reflect the views of the European Union.
Take Action
Related
Comments