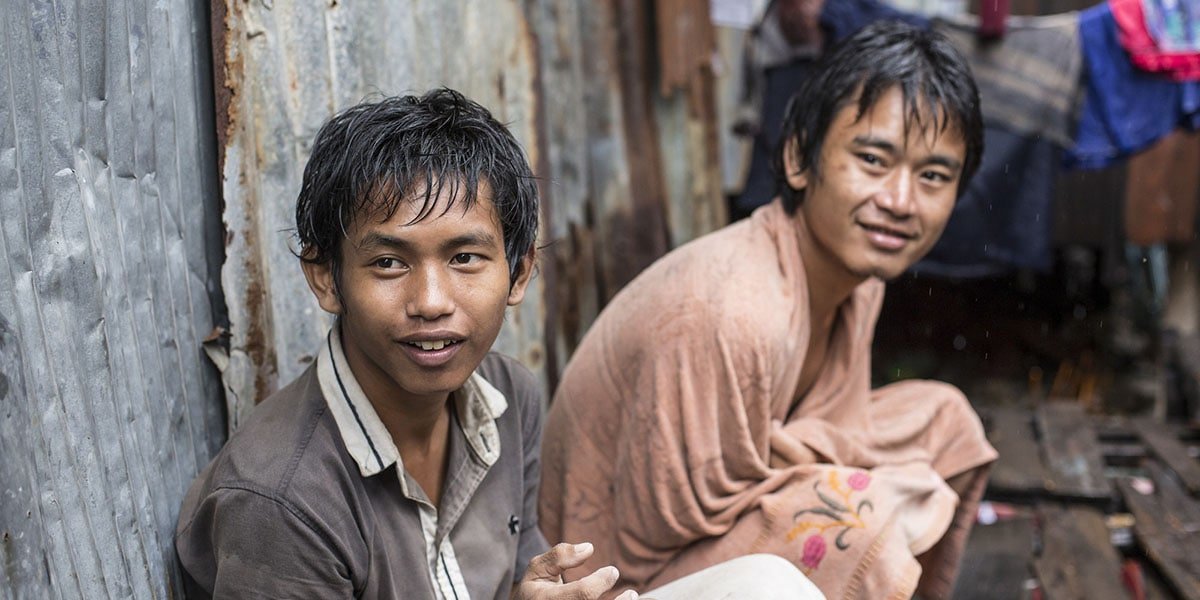 Responding to Major Floods in Vietnam:
Fighting Water Contamination
This is an extract from our final report on a disaster response project regarding recent floods in Vietnam which caused water contamination and therefore water shortages along with extensive damages. Habitat for Humanity assisted in fighting the
water contamination by providing "WASH" kits for clean, potable water.
We would like to thank the Jersey Overseas Aid Commission for their financial support in this project.
The extent of the damage
From 13 – 18 October 2016, heavy rains associated with Tropical Depression 7 resulted in flooding in Central Vietnam, particularly affecting the provinces of Thanh Hoa, Nghe An, Ha Tinh, Quang Binh, Quang Tri, and Thua Thien Hue. The average total rainfall is between 300mm to 800mm (12 to 31 inches) and higher in some places, particularly Ha Tinh (where up to 872mm) and Quang Binh (817mm) have been recorded.
As of 18 October, 35 people were reported dead or missing and 30 were injured. The Disaster Management Center reported that around 131,878 houses were flooded across the affected provinces: Nghe An (8,225), Ha Tinh (30,111), Quang Binh (92,509) houses, Quang Tri (1,033). At least 1,054 houses have been severely damaged or completely destroyed, 13, in Nghe An, 75 in Quang Binh, 340 in Hue and 626 in Quang Tri.
International NGOs join the disaster relief efforts
On behalf of the Vietnam Government, the People's Aid Coordinating Committee (PACCOM) issued a call for support for which it urged the donor community and international NGOs to promptly provide relief support to the affected communities so that they will be able to rapidly get back to normal life.
Habitat for Humanity Vietnam sent its rapid assessment team to Quang Binh province to identify the needs and gaps and appropriate interventions on October 24-26. Joining with our local team was also Save the Children and the Vietnam Red Cross Society, who had begun preliminary support for deliveries of food and household kits in some of the worst hit areas.
In the meantime, the Disaster Management Working Group (DMWG) sent a joint need assessment team led by our local operation to Ha Tinh province. Oxfam, Care and UN agencies were also making efforts to seek and coordinate resources for the crisis.


Distributing "WASH" kits in Vietnam for those affected by water contamination
By the time of the assessment, flood water was completely withdrawn. Roads were cleared and were accessible to every household. The relief work has been implemented in most localities.
The key items delivered to all affected households included:
Chloramine B
Rice
Noodle
Drinking water
Clothes
Mosquito net
Cooking set
Cash (200,000 to 1,000,000 VND or £7 to 35 per family)
The Central Committee for Natural Disaster Prevention and Control reported that there were 122,620 households affected by flood in both Quang Binh and Ha Tinh and most of the families which the assessment teams visited were using polluted and unhygienic water:
1/3 of those didn't have a water container
98% didn't have a water filter
Therefore, most of the families used well water which was contaminated by untreated flood water to wash, cook and drink.This resulted in skin conditions, rashes and other illnesses. Nevertheless, most of responders had been focusing on provision of food and household kits.
None of the other responders had the capacity to provide support to the areas for "WASH" projects (Water, Sanitation & Hygiene). CARE and Oxfam shared that they may provide a limited amount of WASH kits in Ha Tinh and Quang Binh provinces. This therefore became our main focus in order to prevent widespread health problems related to water contamination.
Fighting water contamination
A joint damage and needs assessment was made by our local team and the Disaster Management Working Group a week after the last flooding in Central Vietnam in October 2016. A decision was made to select the hardest hit areas of Ha Tinh Province. Floodwaters rose to 2-3 meters, almost at the same height of the 2010 flooding.
The rushing silt laden waters washed away their possessions and contaminated their wells, aggravating the water shortages. Habitat Vietnam distributed 280 WASH kits composed of stainless steel water tanks, plastic buckets, PVC water pipes, chloramine B tablets and water filters.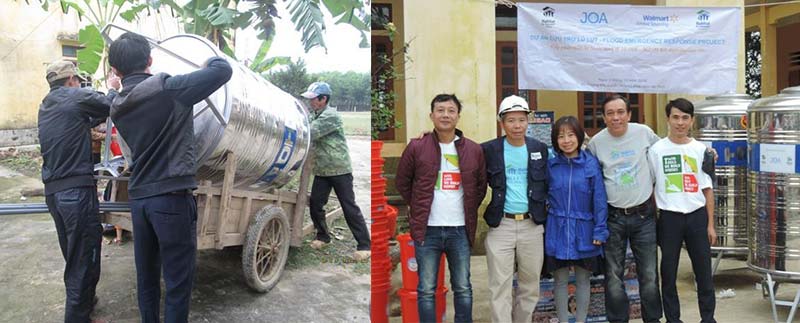 Distributing stainless steel safe water tanks
This was done in five communes in Huong Khe District, Ha Tinh Province in a period of three days in early December 2016. The kits were delivered in time to ensure a steady supply of clean, potable water. This exceeds the number originally planned by 40 kits.
This was possible for two reasons:
Through the adjustment of kit contents in response to beneficiaries' feedback at the selection stage;
Additional support from Walmart's GIK donation of 280 water filters (valued at $4,315 USD).
In addition, community materials posters were created and printed to the communes with the aim that the broader community can access information about how to protect family health through proper WASH practices.
These posters were distributed to project communities in February 2017 for posting in the village centres, which will remind them about practical yet simple ways to ensure their health by protecting and cleaning their wells, washing hands frequently, boiling drinking water, eating cooked food, disposing trash appropriately and using and maintaining latrines properly.
Identifying the victims
The primary beneficiaries are families who were considered poor by the standards set by the Ministry of Labour, Invalid and Social Affairs and were affected in the following ways:
Households whose utilities and utensils were lost or damaged during the flood
Households whose well or water sources were contaminated by the flood
As well as those who did not receive the same kits from other organisations particularly the water tank, pipes and water filter.
The beneficiaries were shortlisted by the village leaders and their committee members.
Helping the most vulnerable
Instructions were given in advance to the commune to ensure that households with many children, members with disabilities, pregnancy, elders and sickness were included in their list.
After the commune presented their certified list, names were randomly selected in different villages and visited by our local Disaster Response Manager and the Asia Pacific Specialist on disaster response. The team visited 10% of the targeted number of beneficiaries and all showed evidence of being qualified according to the set criteria enumerated above.
Meet Thi Hai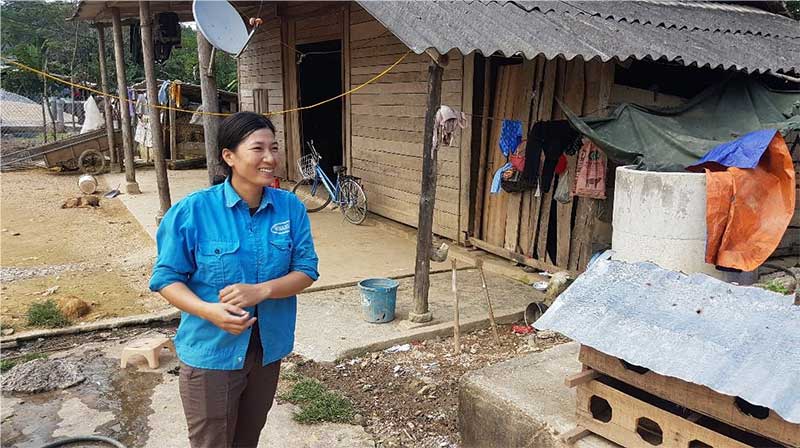 Ms. Nguyen Thi Hai from Village 8, Hoa Hai Commune, Huong Khe District
Our Vietnam team visited the family of Nguyen Thi Hai in Huong Khe District when we were visiting the commune's proposed beneficiary list.
Hai is part of a family of 4 people including her two sons; of which, one is 8 years old and the other is 5; and her husband's brother who suffers from mental illness. Since her husband passed away a few years ago, Hai has been the supporter of the family while still paying off a heavy debt due to hospitalisation of her husband.
The house where they live is a modest rural home consisting of untreated wooden walls and clay tiled roof. The house was not built to withstand natural disasters. They had a well and a small concrete ring for water storage beside their home. These quickly filled up with flood water containing silt and other debris.
When the flood attacked Central Vietnam in October, her house was inundated up to her head. As the water rose, she carried her children, dogs and their meagre possessions with a bamboo ladder and transferred them to a makeshift shelter supported by the roof's rafters and beams.
Being worried that her youngest son might fall into the rushing water, Hai tied her ankle to his with a short piece of rope. They stayed there for six days and ate plain noodles provided by responders passing by on boats.
During that time her two kids frequently had diarrhoea and stomach problems. The well and concrete water tank were not cleaned properly. The tank had no proper cover. The well's water level had settled but the water was still cloudy. The house had minor damage during the flood with most small items washed away.
Repairs were done by Hai herself. Now that they obtained the WASH kits from Habitat for Humanity, they could access potable water and their family resilience increased. Moreover, the kits are practical and useful not only for the rainy season but also the whole year round which allows for continued positive health conditions for Hai's family. For Hai, as well as her neighbours, the WASH kits "are as valuable as precious gold."
Take Action
Related
Comments