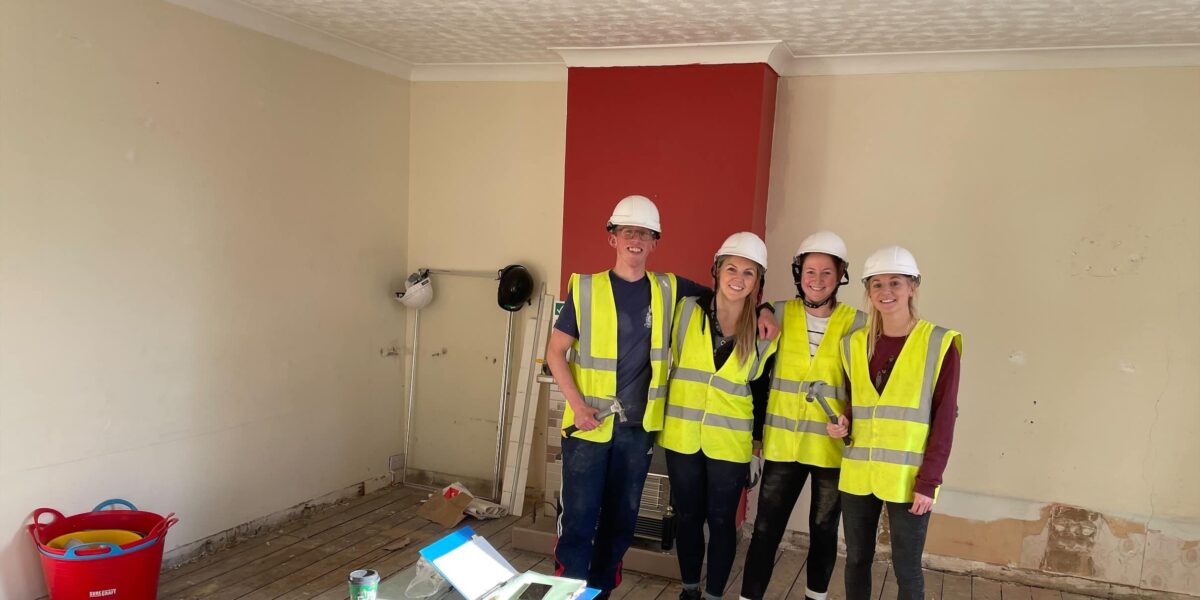 Press Release: Blackstone Real Estate
Habitat for Humanity GB partners with Blackstone Real Estate to deliver social housing in London
Habitat for Humanity Great Britain (GB), a charity focused on long-term poverty alleviation through the provision of social housing, has partnered with Blackstone Real Estate, the largest owner of real estate globally, to support the charity's ongoing Empty Spaces projects in London's Borough of Barking and Dagenham.
Empty Spaces converts empty commercial spaces into affordable homes for vulnerable groups facing homelessness. Blackstone Real Estate's first commitment is to support the redevelopment of a vacant unit in the London Borough of Barking and Dagenham. The property has been empty for two years, and will be converted into four generous sized bedsit rooms with ensuite bathrooms and a large, shared living, dining, and kitchen area. It is well located near local transport links to help support access to training and jobs, and Becontree Shopping Centre.
In addition to providing funds that will help sustain such vital projects, Blackstone will share its expertise and deep sector knowledge with Habitat for Humanity GB to help them tackle the undersupply of social housing in London. This partnership builds on Blackstone's long-standing commitment to support the sector through its portfolio company, Sage Housing, the largest provider of affordable homes across England.
Tum Kazunga, CEO at Habitat for Humanity Great Britain said: "This exciting partnership between Habitat for Humanity GB and Blackstone Real Estate is a great step towards unlocking further social housing stock. By doing so, we can provide the stability those leaving care need to unlock their potential. We believe this is a key step in addressing homelessness and boosting the overall economy by reducing social exclusion."
Farhad Karim, COO of Blackstone Europe said: "We are honoured to partner with Habitat for Humanity to provide people with safe and affordable places to call home, and to foster thriving local communities across the UK."
Over 25% of young adults who have previously spent time in the care system, experience homelessness within two years, while over 30,000 homes lie long-term empty in London according to Action on Empty Homes. These projects will unlock much needed social housing for young care leavers, providing safety and stability for vulnerable young people, and boosting the local economy.
Through this partnership, Blackstone's Real Estate professionals will contribute to urban regeneration and support the communities they live and work in. Housing security is essential to supporting disadvantaged communities and with this partnership, Habitat for Humanity GB and Blackstone Real Estate hope to indirectly tackle issues such as unemployment and access to education.
In addition to onsite volunteering over the course of the new partnership, Blackstone's employees will take part in various charitable initiatives such as The Gingerbread House challenge during the holiday season and a month-long fundraiser in association with World Habitat Day.
About Blackstone
Blackstone is the world's largest alternative asset manager. We seek to create positive economic impact and long-term value for our investors, the companies we invest in, and the communities in which we work. We do this by using extraordinary people, investing capital, and providing expertise to help companies solve problems. Further information is available at www.blackstone.com. Follow Blackstone on Twitter @Blackstone.
Related
Comments