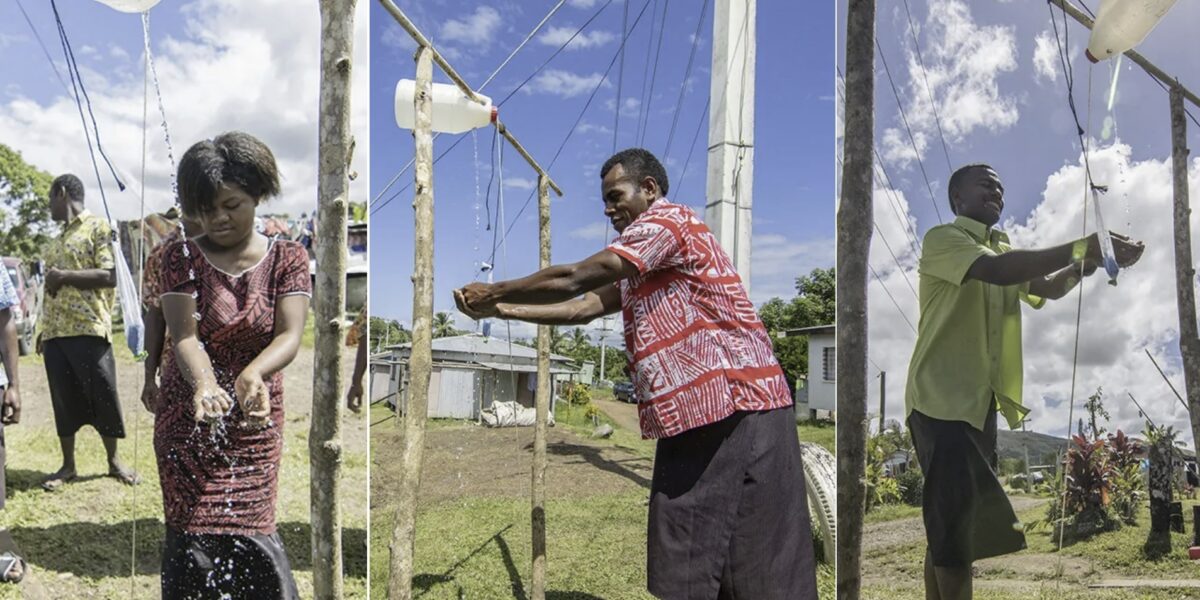 Tippy Taps in Fiji
What is a Tippy Tap?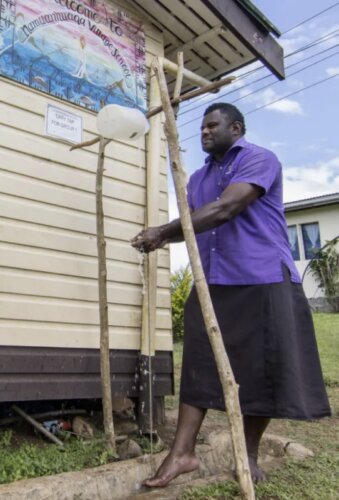 Tippy Taps are an inexpensive and simple devices that people can use to wash their hands. It works by placing one foot on a pedal or lever which in turn tips water from a container. The water that is dispensed can then be used by people to wash their hands without the need for anyone to touch the device. By enabling people to wash their hands without touching the Tippy Tap, there is no spread of bacteria from touching the same surface.
Aside from the benefit of lessening the spread of illness, Tippy Taps are also an excellent way of reducing water waste – especially in communities that suffer with water shortages. They are also very cheap to create, and do not use as much water as a running tap. This means that community members can invest their income in other areas such as food and medicine. Another benefit of is that they can be built anywhere which makes it makes washing a more convenient and frequent activity.
Training and Implementation
Tippy Taps were introduced to the village of Navitilevu as one of 18 communities that Habitat for Humanity Fiji are working with through their Water for Women programme. This programme was created to strengthen community resilience and inclusion through Water, Sanitation, and Hygiene (WaSH) services.
Usually, when introducing communities to new projects, we expect the process to take a long time to implement. However, since the community's first introduction to the devices, the village were very quick to embrace them. Initially, Habitat for Humanity demonstrated how they can be used, and the team quickly found that the community began erecting Tippy Taps of their own accord and immediately starting to use them.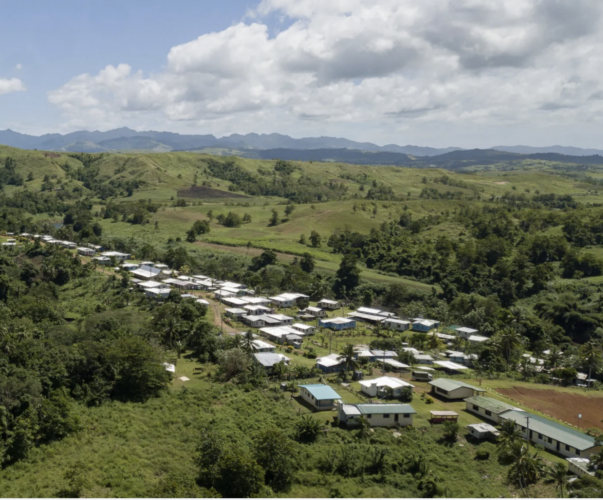 Navitilevu Village faces water shortages, and so water conservation was already part of daily life for the community. The introduction of Tippy Taps has provided another useful way for the community to further conserve the water that they have.
Osea Suka's Experience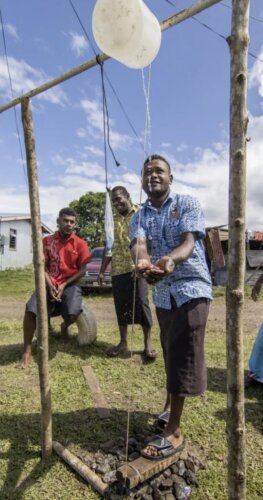 "We've been facing a lot of water shortage as the school is the last place to receive water from the village water catchment. That was the motivation for me to come and engrave in the students the importance of washing their hands and at the same time conserving water." – Master Nawalu
Master Nawalu also mentioned how the kids enjoy using the Tippy Taps and are always asking him to set it up for them. For some villages, common areas like halls and meeting spaces may not have taps nearby. Tippy Taps have become a solution for these situations.
The Community health worker of Navitilevu Village – Rasilivia Navo says:
"It's easy for people to use and even for us women, we've asked our youths to install tippy taps for our homes. For me, our bathroom and sanitation facilities is located quite a distance, so I find that the tippy tap helps and encourages frequent hand washing." – Rasilivia Navo
The first version of the Tippy Tap was created by Dr. Jim Watt of the Salvation Army in Chiweshe, Zimbabwe. Habitat for Humanity Fiji continue to work with communities in need of improved access to Water, Sanitation, and Hygiene facilities to train community members on the benefits of using Tippy Taps for improved water usage and hygiene.
Related
Comments