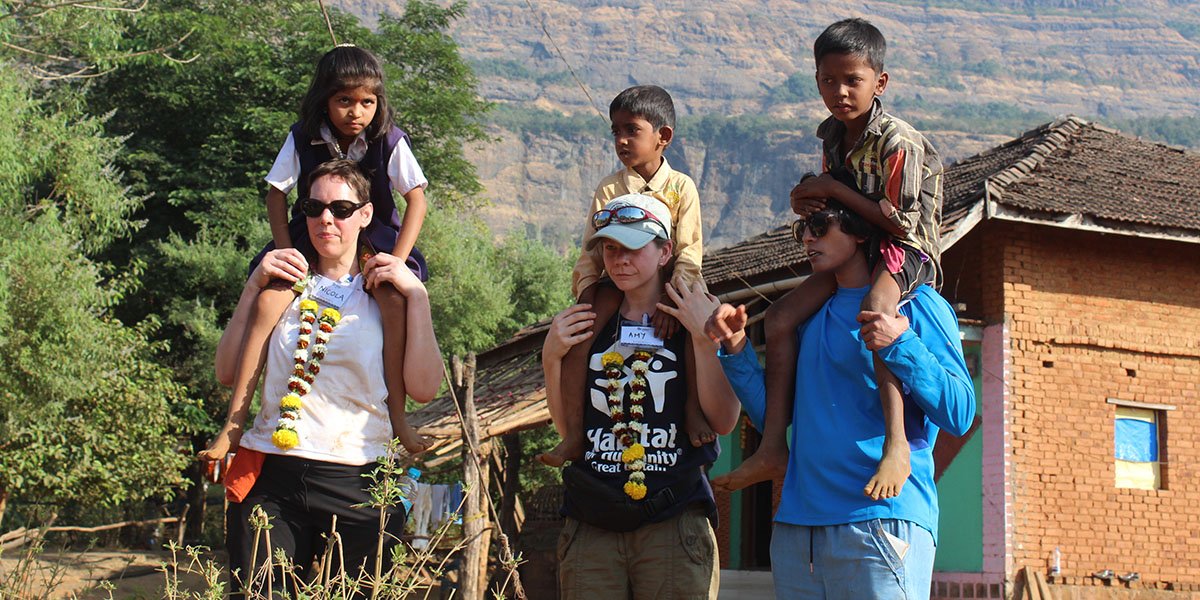 Women Build:
Volunteer Opportunities & Training Leaders Worldwide
Women Build engages volunteers abroad and future community leaders to address economic challenges that women face because they lack opportunity, training or education.
Women from all walks of life advocate for affordable housing and safer, stronger communities, particularly in areas where women are at risk for physical harm while performing daily chores.  
Some women have to travel long distances to collect water or to go to the bathroom, and that creates a risk for their safety. Women are also vulnerable when living in unsafe, insecure homes that can be broken into.
2/3 of the labour force are women, but women earn only 10 percent of the world's income (Global Fund for Women)
43% of the agricultural labour force in developing countries are women (Food and Agricultural Organization of the U.N.)
<20% of landholders are women (U.N. Women)
Take action
Why Women Build?
Why create women-only volunteer opportunities abroad?
Globally, the Women Build programme equips female heads of household with business skills, helping to stabilise their finances and ensuring they have decent, safe, healthier homes in which to live.
In the United States alone, there are about 450 Women Build projects a year where 40,000 women learn construction and leadership skills while supporting other women with decent, affordable housing.
More than 1.3 billion women don't have an account at a formal financial institution (includes banks, cooperatives, credit unions or microfinance institutions). Access to affordable financial services is linked to overcoming poverty, reducing income disparities and increasing economic growth.
Building blocks of the international programme
Knowledge sharing: on land tenure, access to subsidies, government programmes, skills training
Business training for home-based business owners
Financial inclusion: through access to microcredit and savings groups.
Incremental home improvements: For healthier, safer homes (includes clean-cook stoves, etc.).
Water and sanitation: Access to potable water and sanitary bathrooms.

Access to water and toilets
Water and sanitation
Working Women: future community leaders
In many regions of the world, water is crucial to the health and security of women and families. Women in dry regions walk an average of 3½ miles every day to fetch water for their homes. Often this is part of a daily routine where they cook breakfast, get their kids ready for school, and head to their own job before coming home and preparing dinner. Their day begins and ends with fetching water.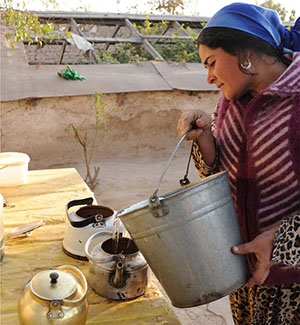 Young girls and women without toilets are forced to go outside. In the daytime, they feel embarrassed and at night they risk assault. The longer they have to walk, the more vulnerable they are.
Every day, almost 2,000 children around the world die of preventable intestinal diseases because they lack access to clean water and toilets.  In Kyrgyzstan,  Tamara lived with her husband and five children in two rooms of an unfinished home that lacked indoor plumbing. A Women Build-supported team completed the house and built a working bathroom onto the home. 
Tamara's son, Aziz, who has cerebral palsy and uses a wheelchair, no longer needs to make his way to an outhouse.
Small loans
Small loans make a huge difference
Women Build works with low-income women who run small, home-based businesses, teaching them about financial principles, market strategies, business plans, diversification of product offerings, disaster risk prevention, and incremental building.
Habitat for Humanity partners with financial institutions to give these women access to credit — often for the first time — with small, low-interest, short-term loans that allow them to enhance their businesses and gradually improve their homes. The average income of participants is less than US$300 a month.
Kenia sells ice pops and phone cards out of her home, which was more like a stall, in Esteli, Nicaragua. Using a Habitat-backed microloan, she was able to engage local contractors — under Habitat for Humanity's guidance and oversight — to build brick walls and put a new roof on her home to keep the rain out.
This allowed her to expand and diversify her business, increase her income, pay off her loan early, and make plans to further improve her home and business.
"So I enter the programme again and I finish my dream," she says. "I feel happy – satisfied – because it was something I wouldn't have been able to do on my own."
Leadership
Training future community leadersWomen Build volunteer opportunities abroad
Habitat for Humanity International's Women Build department engaged the Center for Applied Research at the University of Southern Indiana to research the impact of homeownership.
We learned that women wanted more influence in decisions that affect their neighbourhoods and that they are seeking a higher level of engagement in their communities. 
While Habitat for Humanity 's homeowners rated their experience above 90%, they indicated lower levels of engagement with their neighbourhood, and many cited a strong desire for community improvements. This suggests that homeownership alone is not enough to create strong bonds and ties with their community.
To help Habitat for Humanity 's women homeowners find their voice and begin to bring about change in their communities, Women Build has developed a training programme called "Voice of Women."
The workshop series is designed to bring together a group of like-minded Habitat for Humanity homeowners who are invested in changing their neighbourhoods but lack the experience or knowledge to initiate change. Workshop participants receive training in how to conduct effective neighbourhood meetings, along with techniques for public speaking, leader presentation skills and project management.