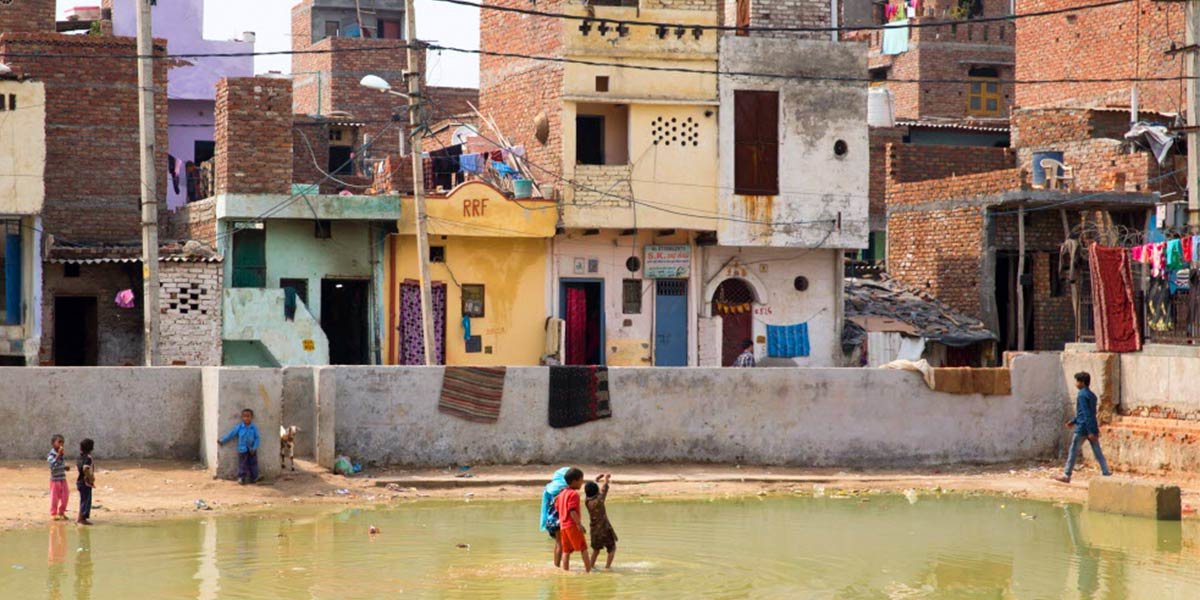 Response to Kosi Floods in India
Summary
The Kosi River runs through Nepal and into India, passing through Bihar state. On Aug. 18, 2008, Kosi breached its man-made embankments and diverted to an old channel. More than 2.3 million people were affected, and 250 were killed. Habitat for Humanity India supported 72 families to build new homes and 280 other people through the construction of a community hall and livelihood restoration program.
Timeline
June 2009 — Location selected and partners secured.
June 2009 — Housing construction started.
May 2010 — Livelihood restoration started.
November 2011 — Community centre construction started.
December 2012 — Expected project completion date.

Background
Bihar is India's most flood-prone state, with more than two-thirds of the population living with the recurring threat of floods. The floods in 2008 were the most disastrous in the state's history, affecting the districts of Supaul, Araria, Saharsa, Madhepura, Bhagalpur and West Chaparan in northern Bihar. More than 3 million people were forced from their homes, with 300,000 houses destroyed and hundreds of thousands of hectares of crop damaged. When Kosi changed its course, it inundated areas that hadn't experienced floods in many decades and were largely unprepared.
Project Overview
Our team worked in partnership with Church of North India to develop a disaster response project that included building disaster-resilient houses for 72 families, constructing a community hall and implementing a livelihood program for 280 people. Jorgama village, in Madhepura district, was selected as the location for Project Ashreya. (Ashreya means shelter or refuge in Hindi.)
CNI had already started working in Jorgama, providing immediate relief after the flooding, and approached us for its support in building shelter for affected families. The Kosi floods struck Madhepura district the hardest, and the entire Jorgama village was submerged, with residents fleeing to save their lives.
The goal of the livelihood project was to set up alternatives opportunities for residents of Jorgama village. Because the floods ruined farming opportunities, this project focused on training in tailoring, spice making, masonry and other professions.
The multipurpose community hall was designed to act as a shelter during disasters and for social networking and gatherings, including being used as a training space.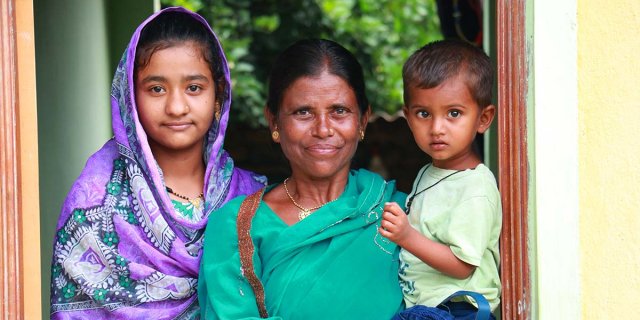 Implementation
The team ran the program through their Habitat Resource Centre in Delhi, providing project and technical management assistance, including monitoring, time management, project reporting and transfer of funds. We also developed procedures for regular financial, technical and social reporting to ensure that houses were built on time.
CNI developed selection criteria in consultation with us to ensure that assistance was provided to families most in need of support. Community leaders were consulted and the entire community involved in the selection process. All families that were selected participated in an orientation session that explained housing design, the construction process and flood-resistant features.
Houses were built on elevated concrete columns, with traditional lightweight concrete bricks and reinforced cement concrete slab roofs. Houses were built as twin units for two families, comprised of two rooms and two toilets, with enough space for a kitchen. CNI helped organize self-help groups among the residents of Jorgama and presented a number of different livelihood opportunities. CNI then found experts to conduct training sessions at the request of the self-help groups, who now independently manage these income-generating activities.
Lessons & Promising Practices
Community participation increased the effectiveness of the program.
Good health and sanitation practices were missing in the village, and this should have been addressed as part of the project. Initially, beneficiary families used their new bathrooms as storage space, so community meetings on the benefits of using toilets took place, leading to changes in behaviour.
Empowering women was a key component of the project, and this led to positive changes in the socioeconomic status of the village.