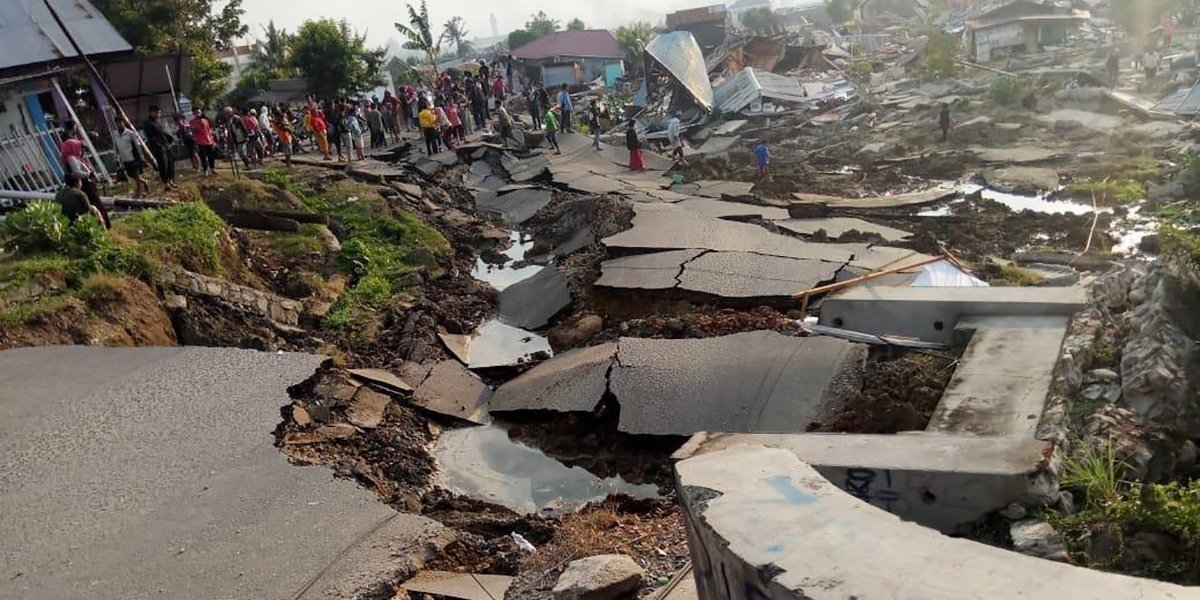 Earthquake Response in Indonesia
Summary
On May 27, 2006, a 5.9-magnitude earthquake struck just off the southern coastline of the Indonesian island of Java. More than 5,700 people were killed and more than 45,000 people injured. The sultanate province of Yogyakarta Special Region was closest to the epicentre, and Bantul regency was the worst affected region. Habitat for Humanity Indonesia supported people during the immediate relief operation and the recovery phase.
Timeline
May 2006 — House design completed.
June 2006 — Relief items distributed, first houses started.
May 2007 — Cotomu was assembled and started operations.
April 2008 — Project was completed.

Background
Java is one of the most densely populated places in the world and is home to 60 percent of Indonesia's population. Combined with the earthquake's shallow depth and poor building standards, this led to high casualty rates from the Yogyakarta earthquake. More than 350,000 families lost their homes in central Java and 1.5 million people were affected.
Project Overview
During the immediate relief operation, Habitat for Humanity Indonesia distributed food, tarpaulins, blankets, medicine and other non-food items to meet daily needs. In the recovery phase, when designing the disaster response operation, we knew that the program must be well-planned and sustainable It had to involve affected communities as partners, not subjects; and must involve outside parties, whether individuals or groups, to not only assist financially, but to physically support communities and help in the healing process.
We focused on the regencies of Bantul and Klaten because they were the areas hit hardest. The villages were selected after a series of meetings with non-governmental organisations, local government and community-based organisations.
The house design was influenced by many considerations. With Java's propensity for earthquakes, houses needed to be strong and earthquake-resistant; easy to build, because many people were living in tents; and as economic as possible to ensure the maximum number of people could be helped without compromising standards. Because residents would be involved in the construction, skill levels had be taken into account. The final house design was for a core house, allowing partner families to expand their home as their circumstances changed.
Implementation
HFH Indonesia distributed food and non-food items in the weeks after the earthquake, with the International Organization for Migration, Atlas Logistic and Handicap International providing transportation.
Many residents lacked the skills needed for house construction, so training sessions were held to build capacity. Besides theoretical learning, practical training took place as houses were built.
Houses were built using a reinforced concrete structure, with foundations of reinforced concrete foot plates and roofs made of non-asbestos fibre cement material, commonly used in central Java. Following the concept of gotong royon (mutual aid), residents worked together on each other's homes, reusing materials they already had or were able to salvage after the earthquake, and transferred construction knowledge among themselves.
Our colleagues also set up a construction tools mobile unit (Cotomu), consisting of carpentry tools, a generator, electric saw
and drill machine. Cotomu travelled to communities where reconstruction was taking place, even in areas where Habitat was not active, to aid the recovery process.
The program was managed by a project coordinator based in Yogyakarta and reporting to an independent board.

Lessons & Promising Practices
• The earthquake left many people with long-term physical disabilities, largely caused by houses collapsing on them. Often these were the primary income earners in families, leading to a drastic change in a family's financial situation. The needs of these injured people were largely overlooked in the aftermath of the earthquake, so our team made a conscious decision to support these families in particular.
• In communities where there was an abundance of people with construction knowledge, the gotong royong concept worked well, but not as well in others as differing levels of knowledge meant varying levels of support, which could potentially affect the quality of a house. Thus, we hired skilled labourers when expertise was required.
• Different communities had different agreements to ensure adherence to the gotong royong concept. Some instigated a daily fine system; others a substitution system requiring the employment of a skilled labourer when a family couldn't participate. To support the arrangements decided by each community, Habitat for Humanity Indonesia delivered materials in stages so that if one resident did not comply with the arrangements, supplies for another group were postponed and social pressure ensured the situation was resolved quickly.