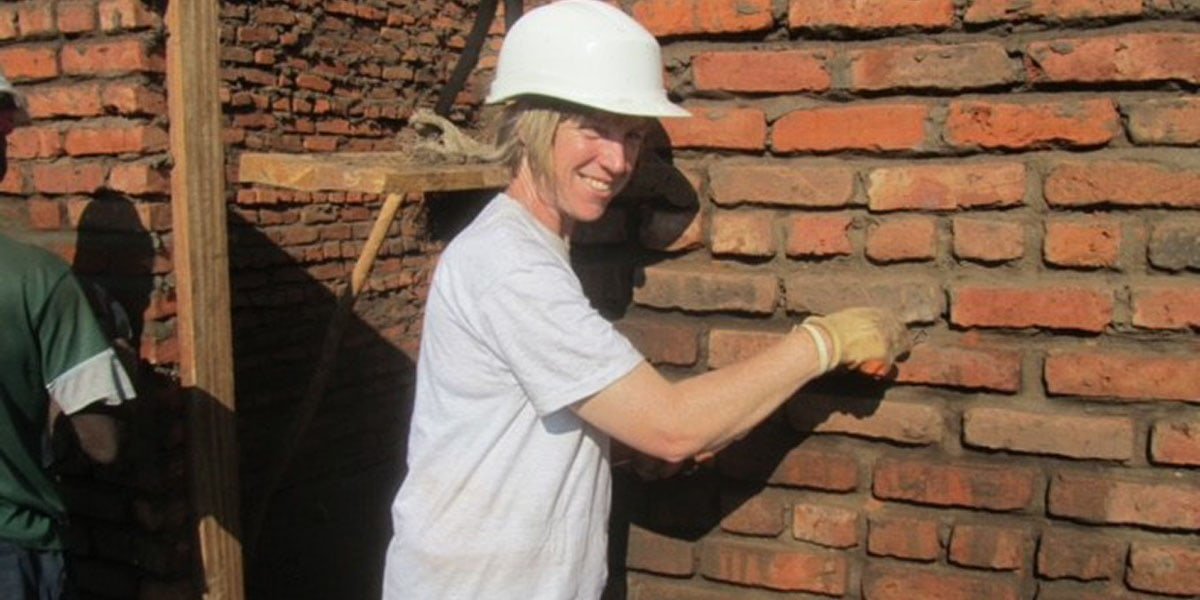 Why I lead Global Village Builds
Team Leading with Habitat for Humanity Great Britain
Liz Cotton has built homes all over the world with Habitat for Humanity Great Britain. In this inspiring blog, she shares her passion for volunteering abroad and Team Leading and encourages others to join in…
"Now we have this house, we have no more challenges." is the animated response from a woman who's just been asked what having the new home means to her family. An aged grandmother is sitting on the ground outside surrounded by children of various ages and states of dress. But all with huge grins. It is she who is moving into the new home with her orphaned grandchildren.
When we are invited inside there is not a dry eye amongst the team. When the only possessions we see are a Manchester United duvet cover acting as a curtain and a mat rolled up in the corner of one of the three small rooms. I wonder how challenged we would feel moving into a home with no running water, electricity or possessions. What different worlds we inhabit.
I am volunteering in Malawi with a team from various parts of the UK. All having given up time and holidays and raised or donated a large sum of money to come to make a difference.
Not one will go back the same person who left the UK. All will be affected by the experience in some way.
These are the reasons I keep leading teams:
I lead because Isee firsthand the huge needs that there are in countries like Malawi. Where 90% of the population are living on less than $2 a day and I am able to do something practical to be part of the solution.
I volunteer so that I can learn a lot about another culture. Also, I experience a different way of life to what we are used to. Returning home challenged to change my own lifestyle, to be less wasteful and more grateful for our many opportunities.
Taking part because it is a privilege to share the above with a group of motivated people who never fail to bring new insights.
Volunteering enables me to learn so much about what is important in life.
I am able to share the stories about Habitat for Humanity and the amazing work it does.
Above all I am impressed by the ethos and integrity of Habitat for Humanity and the way it works – the 'power' is in the hands of the local communities and we are visitors who are invited to serve the community in whatever way we are asked.
I would encourage anyone to consider taking part in a Global Village Build as it will change your life! 
Liz
Related
Comments