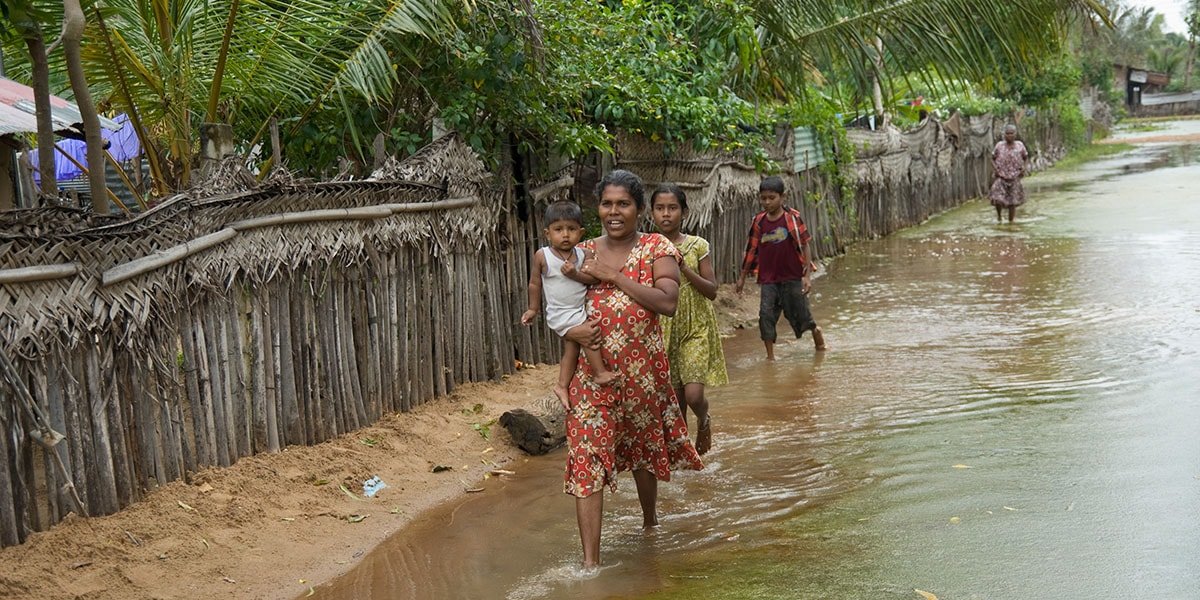 Typhoon Haiyan Response:
Rebuilding in the Philippines
Natural disasters are no stranger to the Philippines. But super-typhoon Haiyan, which struck on Nov. 8, 2013, was different. Known locally as typhoon Yolanda, it was a monster, packing sustained winds of 195 mph and storm surges of nearly 20 feet.
Death toll & damage from the typhoon
More than 6,000 people died, and an estimated 1 million homes were destroyed or severely damaged.
Six months later, recovery has been complicated by many factors, including widespread poverty in the Philippines, bad weather, the epic scope of the damage, vastly underresourced local government units, and simple logistics.
The Philippines is made up of more than 7,000 islands, most accessible only by boat. The challenges of rebuilding have been daunting, but they are not insurmountable, said Jef Calomarde, resource development manager at Habitat for Humanity Philippines.
"We believe that nothing is impossible when it comes to helping people," he said. "We believe that things can always be done and improved upon."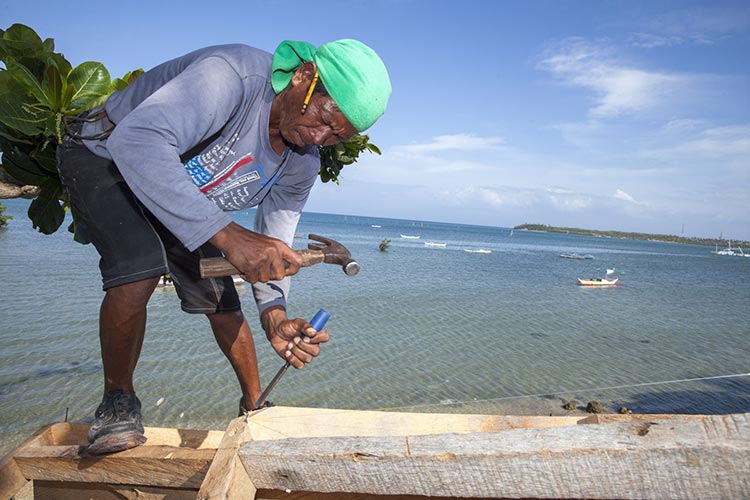 Carpenter Renato Lebertas helps replace a roof using materials from a shelter repair kit delivered by Habitat for Humanity Philippines. 78 fishing families in the village of Daan Bantayan received basic tools and building materials funded by Lutheran World Relief. ©Habitat for Humanity International/Jason Asteros
One of the strongest typhoons in the Philippines' history
Within a few days of the super-storm, Habitat Philippines staff had begun distributing emergency shelter kits in small motorboats to the more remote islands. Lucilla Gilbuena was one of 50 families on the islet of Panangatang that received kits, funded by Habitat Great Britain and UK Aid.
"We had nothing," Gilbuena said. "With the tarp, we can live here and still have some income. We can start again." The emergency shelter kit allowed Gilbuena to keep her family safe and dry, and also to reopen her small sundries shop and start earning income again.
Now, almost all 50 families on Panangatang have resumed their lives, fishing the deepblue waters and harvesting neon-green seaweed. The sounds of motorboats, coming and going from the rocky landing area, are punctuated by the sound of dozens of hammers.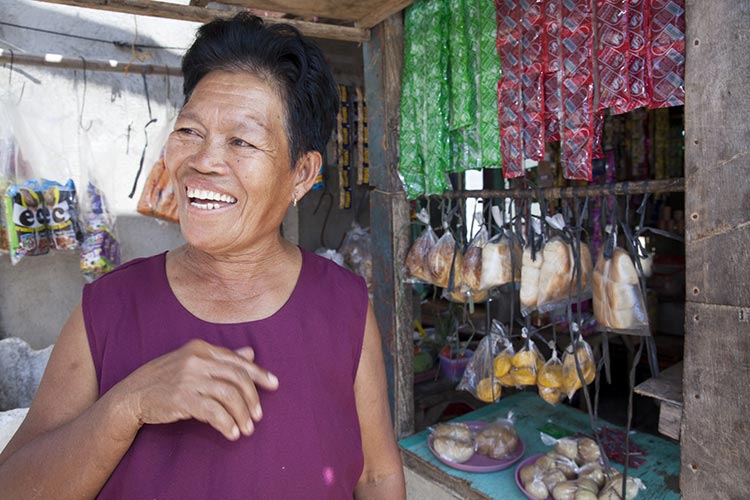 Lucilla Gilbuena's family has lived for generations on Panangatang, an islet in the province of Cebu that was virtually flattened by Typhoon Haiyan in November 2013. An emergency shelter kit from Habitat Philippines allowed her to keep her family safe and dry, and also to reopen her small sundries shop. © Habitat for Humanity International/Jason Asteros
Emergency shelter repair kits
Within a few weeks of the cyclone, Habitat Philippines had switched from delivering tarps to the more comprehensive shelter repair kits, which include more permanent construction materials such as coconut lumber and galvanized iron roofing.
So far, about 21,000 kits have been distributed, toward a goal of 30,000, as funding allows. And on Feb. 10, 2014 — barely three months after one of the most powerful typhoons in modern history — Habitat Philippines laid the first bricks at a reconstruction site in Santa Fe, a municipality of Bantayan Island, in northern Cebu province.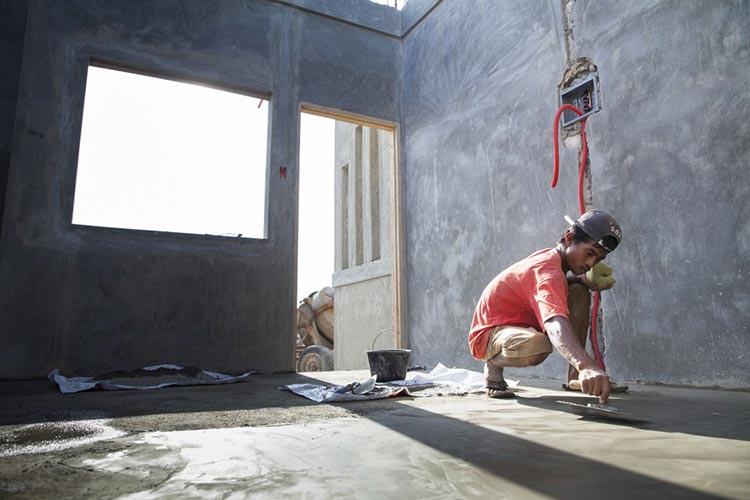 Local laborer Jongzx Bentoldo uses a trowel to smooth a concrete floor. Habitat Philippines is building 108 duplexes and two single-family homes on an unused parcel of land in Santa Fe area that was nearly destroyed by Typhoon Haiyan in November 2013. ©Habitat for Humanity International/Jason Asteros
Breaking the cycle of repairs with typhoon-resistant homes
The groundbreaking marked the start of reconstruction efforts by Habitat for Humanity Philippines in the affected area, with a project funded by Christian Aid Ministries that will include homes for 215 families. Another rebuilding project is underway in Tacloban that will result in more than 600 core houses on land donated by the municipal government.
In Daan Bantayan, 75 core houses are planned, and in Javier, on the island of Leyte, more than 300 houses will be built. In addition to helping families affected by the typhoon, Habitat Philippines has begun building the first of 8,083 homes in Bohol for families affected by a devastating earthquake that struck less than a month before Haiyan.
On the long road to recovery after any disaster, a safe, decent shelter is the first critical step.
Help us rebuild and prepare for the next typhoon
There are still tens of thousands of homes in the Philippines that have to be rebuilt every year because of typhoons. We are aiming to rebuild 5,000 per year but we know that the next super-typhoon isn't far away as their frequency increases year on year due to climate change.
Take Action
Related
Comments