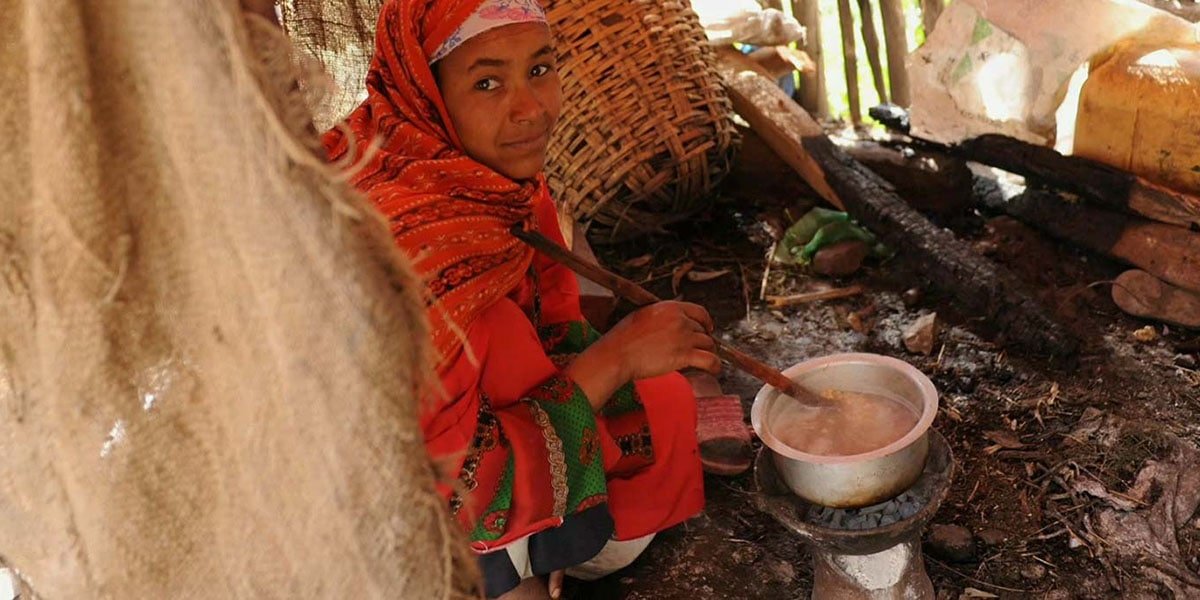 Slum Housing in Ethiopia:
How to rebuild a capital city
The current housing crisis in Addis Ababa, Ethiopia's capital, is largely due to an escalation of the rural exodus (to urban places).
The challenge now, is to create a symbiosis between new districts and poor areas – in particular developing new programmes to rehabilitate informal settlements in Ethiopia. With 80% of the population in Addis Ababa still living in slums, and urbanisation at a rate of 8% per annum, this is a problem that will intensify if it isn't tackled quickly.
A social mix like no other
Today, Addis Ababa is characterised by a 'mixity', basically people of different socio-economic backgrounds living side by side in far closer proximity than any other African city can boast.
This legacy can be traced back to the founding of the city in 1880 by the great Emperor, who had his servants, military, and gentry live in a clustered community around him. When the city grew, this original mixity expanded.
Why is this relevant today?
Protecting this diversity is a key challenge in the current plan to modernise the city – a much needed upgrade given the population pressure on the capital. Today's government policy focus on turning Addis Ababa into a 'modern metropolis' that the country can be proud of – and that is no small task.
In a bid to tackle the growth of slums, a development strategy in 1986 prohibited the maintenance of houses without foundations (mostly slum and informal housing). Consequently, parts of the city were modernised, but some other parts weren't rehabilitated. That's why today much of our work in Ethiopia consists in bringing essential services such as clean water and toilets to informal settlements in Ethiopia – as well as upgrading these very slums.
Privatisation and inequalities
The 1986 plan was around the time that free-market ideas were widely promoted to African countries by international institutions such as the IMF (International Monetary Fund) and the World Bank. When the 'Ethiopian People's Revolutionary Democratic Force' came to power, it was hoped that the market (with the nudge of a few subsides) would step in and solve the housing shortage.
Alas, the private sector failed to deliver affordable housing on the scale required, and inflation left property prices beyond the reach of even professionals. Business districts grew, and created a widening segregation between the rich and poor. As affordable housing is often offered below market rate, we've all since then learned that governments, NGOs and social businesses need to step in and guarantee a certain amount for its poorest people.
Fighting the housing crisis in Addis Ababa
The 'Grand Plan' was implemented in 2004 with the objective of fighting the shortage. But extending an entire city, building new neighbourhoods, transport links, local jobs etc, requires the participation of experts from a huge variety of fields. The lack of experience in coordinating everything meant that the government found it challenging to build enough houses.
The poorest families still couldn't afford the down payment on these new condominiums and those living in the city centre had to be evicted in order to build new homes, business districts and get rid of the slums. The approach to upgrade slums wasn't very common back then, and at Habitat for Humanity, we have always promoted rehabilitation to prevent eviction. However, when rebuilding an entire city to upgrade the general infrastructure (especially in the city centre), slums have often had to go – even in Paris in the 1860s.
Many reports today do suggest a better standard of living for residents living in condominiums, even if others highlight a 'chronic lack of infrastructure' away from the city centre.
Sign up to receive inspirational stories of strength and resilience, straight in your inbox
Read more
Slums in Addis Ababa: the road ahead

Only 7% of houses are connected to any kind of sewer system, and nearly a quarter of residents have no access to a toilet. Many properties, around 35%, only have one room. This causes widespread overcrowding and with lack of sanitation, disease is rife.
More cooperation with the government, local communities and businesses is needed to create a long term plan to provide basic services (clean water, electricity, public transport) to the residents of the growing outskirts of Addis Ababa. Many families are also at risk of eviction and many teams on the ground work hard to secure their land rights.
As always, there isn't one silver bullet to tackle these complex issues. But upgrading slums and investing in communities is an increasingly common approach which we've demonstrated time and again is very successful. Secondly, ensuring that if people are relocated when necessary, their needs must be integral to the process.
Sources:
This post was produced with the financial support of the European Union. Its contents are the sole responsibility of Habitat for Humanity GB and do not necessarily reflect the views of the European Union.
Take Action
Related
Comments