In November 2017, volunteers from CALA Homes arrived in Cambodia to take part in the annual 'Big Build' project. During these 10 days, hundreds of Habitat for Humanity volunteers from around the globe joined forces to build 29 houses.
In Cambodia, over ¼ of the population lives in poverty, and the housing situation is made worse by the lack of water and sanitation facilities, and growing informal settlements. The aim of last year's Big Build was to tackle these problems head-on, giving vulnerable families a fresh start.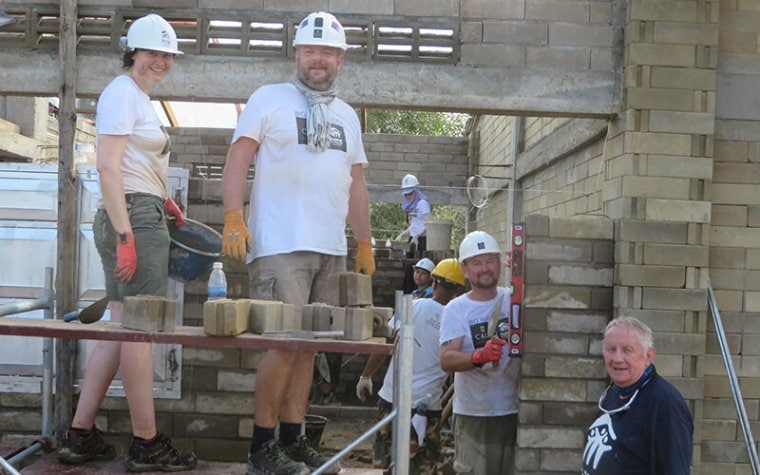 CALA Homes accepts the challenge
Our partnership with CALA began in 2017, and this was their first project with us.
Throughout the week the weather was not on their side. But, the tropical downpours, sweltering heat and uncomfortable humidity didn't stop them. They proved themselves a team to beat, and one we thoroughly look forward to working with again in the future.
Building affordable homes in Cambodia: what to expect
The following interviews have been adapted from a series of video interviews filmed whilst in Cambodia…
"The hardest day I've worked in 34 years."
Craig:  "Day four complete, I want to say it was probably the hardest day I've worked in 34 years in construction, be that physical or mental. Think it was a bit of both combined. 95 degrees humidity, we've all drunk about 9 bottles of water.
Being involved in this project in 2017 has been one of the shining points of my life. It's a great pleasure to do it through CALA. It's something that I'll hold in my memories for the rest of my life. Made loads of new friends, met all the lovely people in Cambodia, who were the nicest people I've met in my life. It certainly brings it home.
When I go home I'll evaluate my own life. Thinking about what I've got and what the people here haven't got. Friends, colleagues, if anyone else gets an opportunity to do this – it will make you feel like a better person."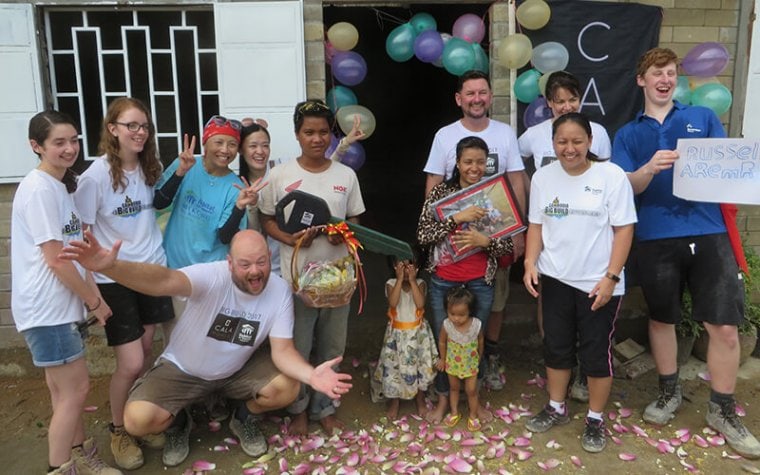 All about the legacy
Andrew: "It's amazing to be part of this. Wandering around here you see the deprivation that families are living in. No running water, very basic electricity, you can see their average wage is very low indeed. The children are wandering around with no shoes on, no toys but they've always got a smile on their faces.
"The legacy of giving someone secure accommodation in which they can build their lives from is just amazing."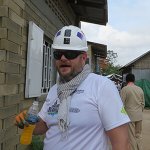 The skills I've learnt: bricklaying, actually working on site which I've never done. Laying concrete in terms of the floor, general hard labouring when you're in temperatures up to 35 degrees and 95% humidity. The sweat that's come out of my body and everyone else's – must be my bodyweight! It's been incredibly tough, but enjoyable.
I'm incredibly proud to have been chosen out of CALA homes, to represent the company, and to do something as brilliant as this. Helping children and families who live in extremely deprived circumstances and making a real difference to their lives."
Making a physical, tangible impact
Rachel: "When you see the legacy of what we're leaving behind, you realise it's a home for somebody, I know that does sound like a cliché. But you can actually now because there are other houses on site that are finished you can see enough into the door to see it's somebody's home. Although on video and in photos it might just look like one tiny room, and for many, it is, for these people, this is an absolute transformation.
You can see the family, you can see tangibly the difference this makes in someone's life. The basics of sanitation and shelter, protection from the rain and sun because it's harsh conditions and a harsh climate here. The change it's going to have on someone's life is transformational. To even have laid one brick in this person's house is very powerful."
Watch the full video:
Read more about the housebuilders' life-changing experience on their blog, which they kept up to date whilst in Cambodia.
Take Action
Related
Comments