Housing poverty in Brazil: a centuries long battle
When you arrive in Recife you're met with spectacular views of modern high-rise buildings, long sandy beaches and crystal blue waters; what some would describe as paradise.
What you can't always see are the many forgotten communities and thousands of displaced families who have suffered to make those views so 'spectacular'.
Today, there are over 30 million homeless people in Brazil and another 75 million live in terrible housing conditions, but why is the situation so bad?
Living on the streets of Recife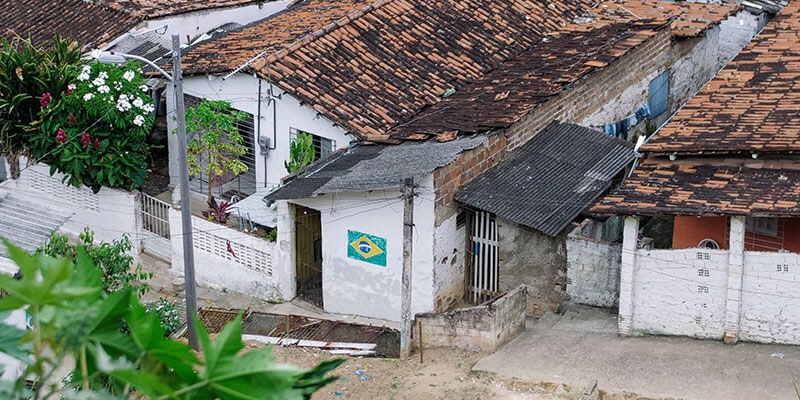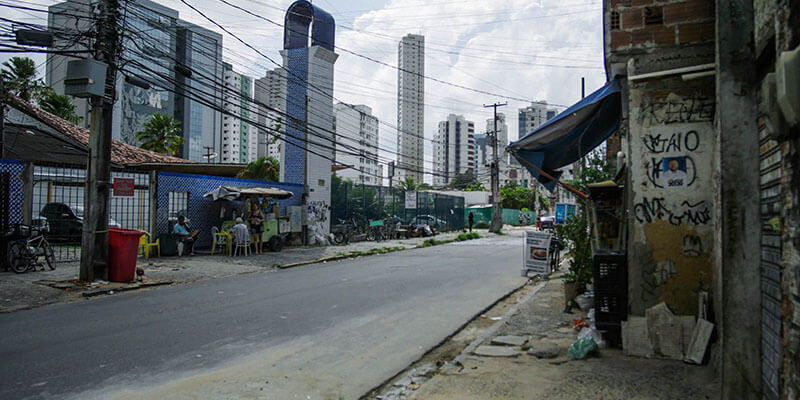 Vibrant and urban, Recife prides itself on its sense of culture and carnaval roots. It was one of the first colonial cities in Brazil, founded in 1537 by the Portuguese and it quickly expanded to become a region with the largest sugarcane production in the country. Like other colonies around the world, the Portuguese needed workers to do the heavy work on the plantations, so the Pernambuco region received around 1 million African slaves to help with sugar production.
Poverty, race and informal settlements in Brazil
Slavery was abolished in Brazil in 1888, but the country gave no thought to where these people would live or go. With no plan or infrastructure in place, millions of people were left homeless and this is the root cause of housing and poverty problems in Brazil today.
"Brazil was the last country in the world to free the slaves. When the slaves were freed, they were just on the streets. From one day to another, they lost everything. They lost their houses. It was an awful situation like being a slave but in a very short period they were without everything and put on the streets." (Patricia Samora) 
Many years later, former slave families who had been working in the countryside started to move into big cities like São Paolo and Recife in search of better employment opportunities and improved living conditions.
One of the richest cities in the world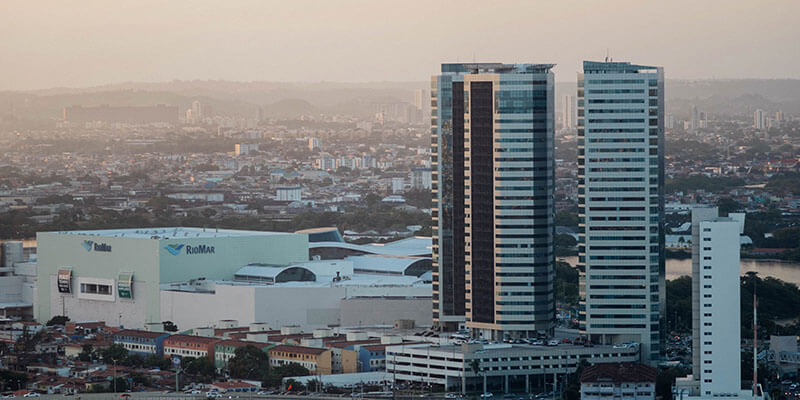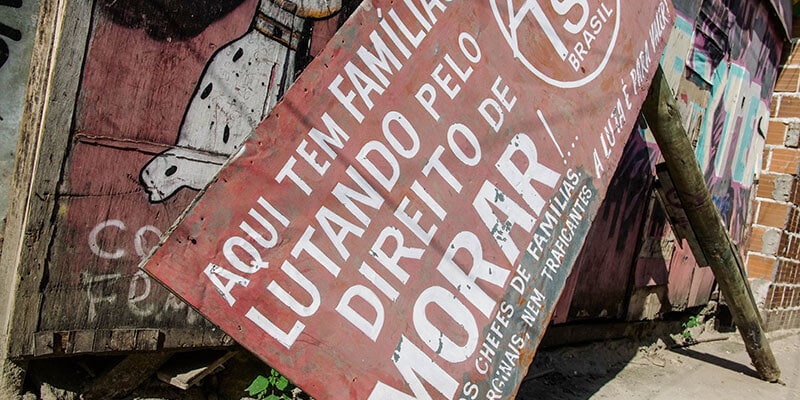 Now, Recife is the 4th most densely populated city in Brazil (behind São Paulo, Rio and Belo Horizonte). There are roughly 60 thousand families in Recife who don't have a house to live in or live in unsafe and precarious conditions. Although the North-East region of Brazil is one of the poorest in the country, Recife is set to be one of the richest cities in the world.
Broken homes and broken housing policies
Minimum wage in Brazil is BRL 940 (about £180). For a low-income family, this will be their entire monthly income, for everything. Renting a small house in a favela costs about £60, which is almost half of the monthly minimum wage. Many families can't face paying that, so they end up squatting on a patch of empty land and building their own house.
These houses are built terribly as the families don't have the money or proper tools to built adequate housing. In the past the Brazilian government developed several housing programmes and policies. These programmes did help over 10.5 million people, however, with the country's new political context, these programs have now been "frozen".
"We are in a fiscal crisis, a budget crisis, a political crisis, everything. So, everything is stopped. We are anxiously waiting for the new president, but we know that the situation is quite difficult to figure out what will be the future of these lands and the housing policy in Brazil." (Patricia Samora)
What does housing poverty in Recife look like?
Cities aren't always what they seem
Like many other cities around the world, unplanned urbanisation, pollution, and a lack of correct infrastructure in place to support the growing populations and needs of all the people in the city, has caused a situation where there are more and more people living on the streets or in poor housing conditions in Recife.
"In Brazil we have around 13 million unemployed people and every time unemployment increases, homes in slum areas also increase. The conditions in slum areas are becoming worse because of overcrowding so we're facing a bad situation. No money for anything and an increase in the size of favelas." (Patricia Samora)
Although your first impression of Recife might be that it appears wealthy and 'developed', this is a far cry from reality, especially for the residents of the city's favelas, let's take a closer look at some of the biggest communities in the city…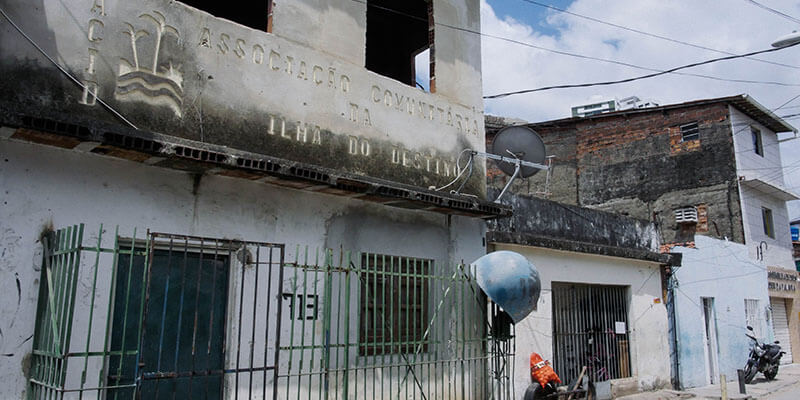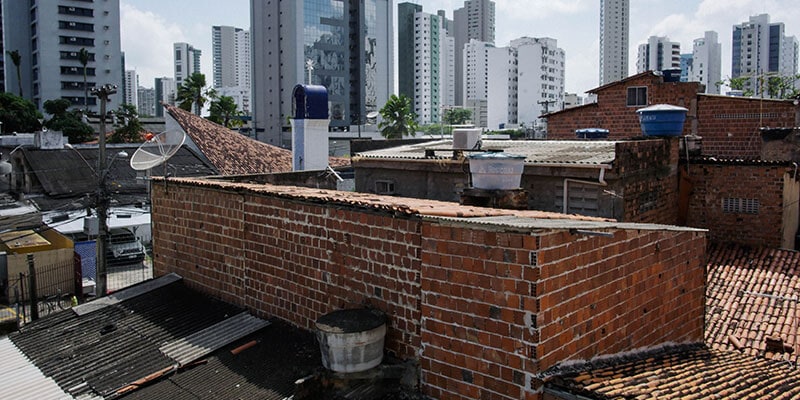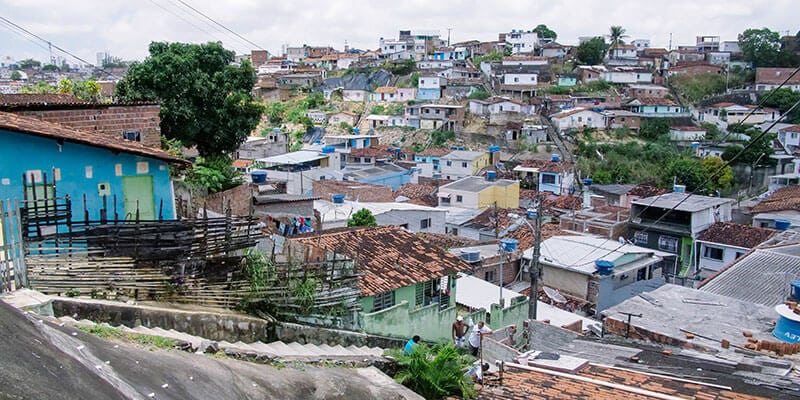 lha do Destino: Destiny Island
This is one of the original communities of the city, living in what is today the luxurious neighbourhood of Boa Viagem. The families in this community are slowly being evicted, whether it's through payouts or intimidation, so that new luxury properties can be built. They're fighting for their right to land, their right to live, but the construction happening around them is weakening their homes and causing cracks in their walls.
Alto Santa Terezinha
This area began as an informal settlement, founded by local workers and fishermen, who had been pushed out of the city by urban developers who wanted to profit from the city's coastline. But as more and more people moved there from the city, the area gradually became more established and the government eventually granted the residents the right to live there.
Like most favelas in Brazil, Alto Santa Terezinha is built at the top of a hill on uneven and undesirable land. This means that most of the houses are constructed on dodgy foundations
"Sanitation and environmental risks, especially flooding and other landslides. Those are the kind of situations that we are facing in growing urban areas." (Patricia Samora)
Palafitas: Brazil's houses on stilts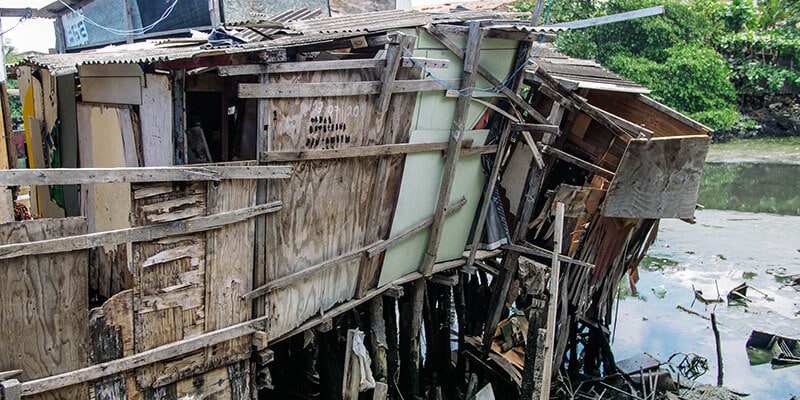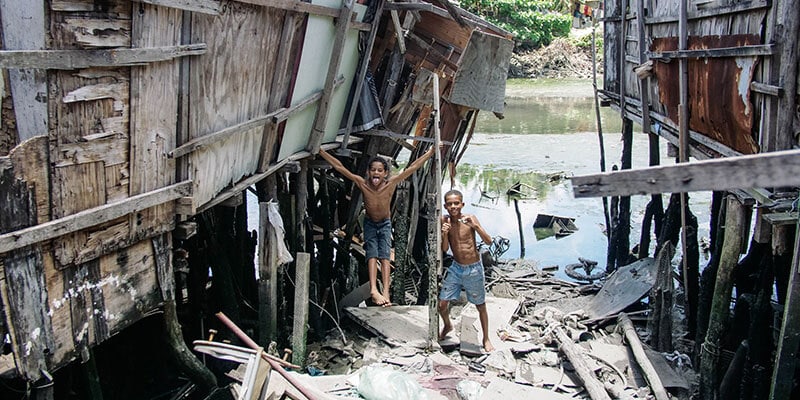 The Palafitas areas follow the edge of the Beberibe and Capibaribe rivers as they flow into the sea; winding around the city in the shadows of the urban landscape they're easily masked and forgotten.
Traditionally these settlements were formed by the fishermen who lived amongst the natural mangrove habitat to be as close to the sea as possible. However, over the years property developers have built on top of the mangrove covered land and pollution from the urban landscape has destroyed what was left.
"Our Constitution says that the cities are responsible for human policy, housing policy, and so on, but on the other side they cannot rely on constant money coming to face these challenges. So, that's a contradiction in our political framework at the end." (Patricia Samora)
The palafitas located in the centre of the city are occupied by the MTST: movimento dos trabalhadores sem teto, which translated, means the homeless workers' movement. Trapped in a world where they have to pay taxes but can't be found on a map, the residents of these areas are fighting a hard battle against the government to simply exist.
The future of housing poverty in Brazil
Professors like Patricia Samora work full time to develop research into housing policy, social housing, slums and urban development. Her knowledge helps local NGO's like Habitat for Humanity Brazil advocate for improved housing policies and land rights for those living in informal settlements.
We'd like to thank Patricia for her support of Build Solid Ground, this project has led us to explore issues surrounding the SDG 11 'Building Sustainable Cities', and take us to cities like Recife to see Habitat Brazil's work on the ground and visit some truly inspiring communities.
So what can you do?
You can support our work by;
This post was produced with the financial support of the European Union. Its contents are the sole responsibility of Habitat for Humanity GB and do not necessarily reflect the views of the European Union.