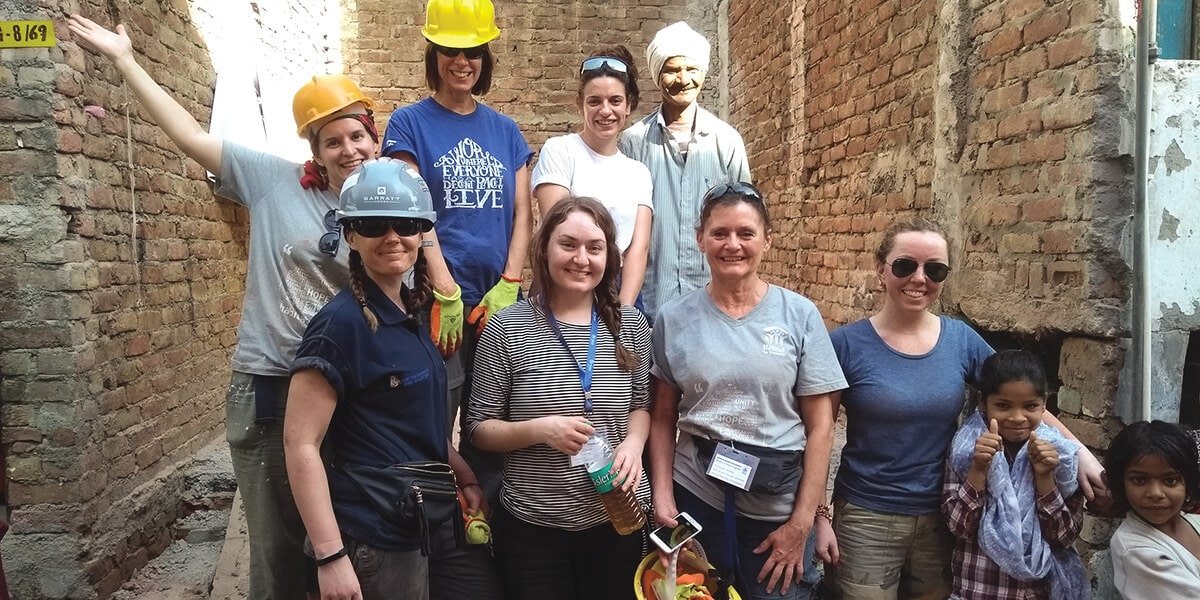 Why volunteer with Habitat for Humanity:
Hilary's Story
It's Volunteers' Week and our theme for this year is Habitat Heroes! To celebrate, we asked a few of our top return volunteers why they love volunteering with us and why they keep on coming back. This story is by Hilary…let's find out about her Habitat volunteering experience. 
Would you say you're addicted to building?
It's a privilege play a small part in Habitats great work. I continue to be blown away by the amazing work Habitat do on the ground every day and the fact that volunteers like me really get stuck with the local building effort meaning that more homes can be built more quickly ultimately enabling more families to have a safe place to live.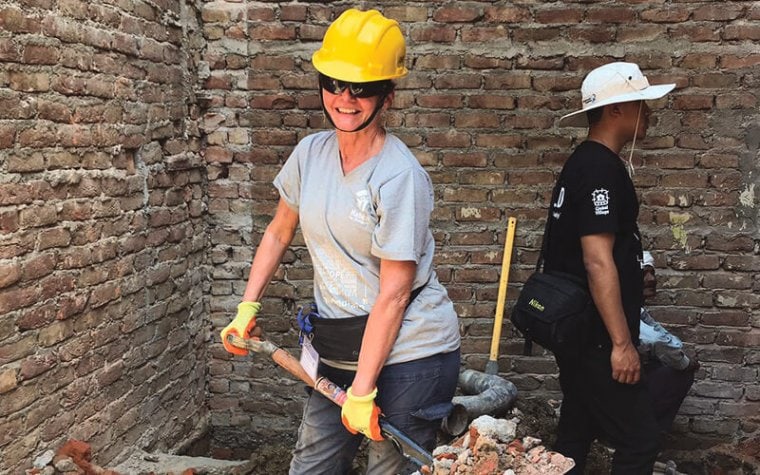 The impact of that work changes lives. I'm now officially a Habitat addict – I have completed 2 builds in India one in a rural village and one in a Delhi slum and am now counting the days to join my third build in Honduras. I also get involved in the UK whether that be participating in team leader training or helping to increase awareness of the great work Habitat do both in the UK and abroad.
What was your first Women Build experience like?
Based on a friend's recommendation I signed up for a Habitat Women's build in rural India but I really didn't know what to expect…. what would the other volunteers be like? and how difficult will the actual build be? Having a common desire to make a difference the women build volunteers bonded immediately despite being quite a diverse group of women.
We made our way by small coach to the small mountain village up a dirt track passing women in, brightly coloured saris who were walking several kilometres uphill whilst elegantly carrying 4 or more water pots on their heads. Others were washing clothes in the river and cattle drawn carts seemed to be the main form of transport. I felt like I had been transported back to storybooks from my childhood.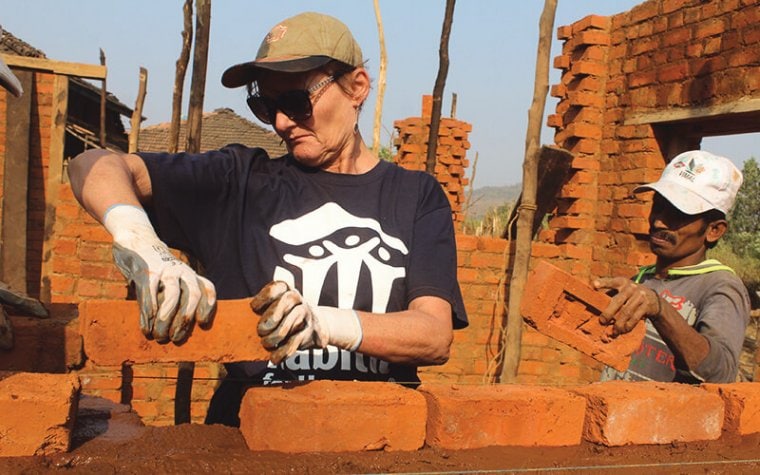 Life in the village was very simple no power or running water with only one toilet for the whole village located at the back of a cowshed. We were staggered to find that the family were building a home for were living under a piece of corrugated roofing leaned against a relative's house with no protection from snakes or the monsoon.
Girl power in action!
Initially I don't think the local men thought this group of women who had descended on them would achieve much. However, we passionately wanted to give this family a home, so we set to work and surprised everyone, not least ourselves, and built a home within 4.5 days! Girl Power in action!
The biggest part of this journey was the relationships we built with the family and villagers. Despite the language barrier we learned a lot from each other, sharing a lot of laughs and sadly also a few tears when we finally had to say goodbye.
What none of the volunteers planned for was the impact of the experience would have on ourselves A quote on the wall at the village school seem to capture it 'when you shine a light for others a light also shines on you'. I know a bit of my heart will always remain in that village.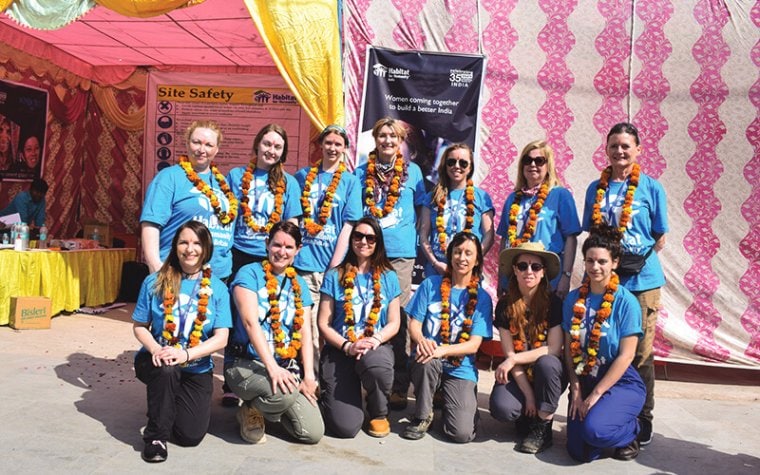 Your next Build is in Honduras Women Build, what are you most excited about?
I am really excited about so many things. Firstly, I can't wait to role my sleeves and work alongside local families and get to know the real Honduras and not the one real we see and hear about in the news. I am also excited to meet another group of amazing women builders
What advice would Hilary give to a first-time volunteer with Habitat for Humanity?
Dispel any self-doubt. I was very sceptical about the impact I could make given I've never done anything remotely like it before and I'm also 'more mature' with various health niggles etc. However, when you get to the build you quickly realise that the volunteer group are all ages and capabilities and there are a vast range of tasks that need doing so everyone can be involved and contribute to the build. I actually think volunteers surprise themselves in terms of what they are capable of – I certainly did!
What are your most powerful fundraising tools?
Social media, particularly Facebook and LinkedIn, have been my most powerful fundraising tools. I think it is very important not to overdo it. I communicate at four key time points:
I'm volunteering –signed up to a build and a few facts about the countries housing challenges and what we are trying to achieve
2. Counting down to the build – I have used photos of my building boots next to my business shoes to highlight that I am I am about to embark on something very different that will have an impact by creating a safe space for women and their children
3. The build as it happens– regular posts from me leaving my home to daily updates on the impact we are making (availability of wifi permitting
4. We did it ! – post a few weeks after the build to highlight what was achieved If you could volunteer anywhere in the world, where would it be and why?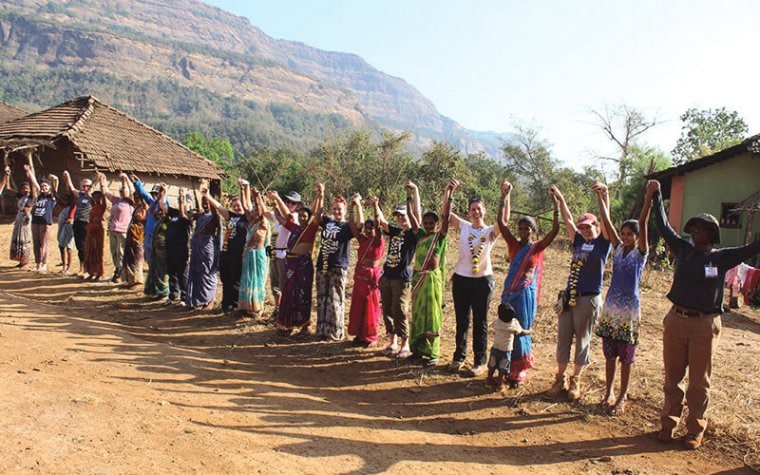 What has been your highlight whilst being involved with Habitat for Humanity?
Having the privilege to participate in an international women's day event organised for Habitat for Humanity India in the Bawanna slum on the outskirts of New Delhi. The event was attended by hundreds of local women and children, presumably they were all keen to see our group of women builder's unique version of 'superwomen'… not!
On a more serious note a group of actors engaged the audience with 3 amusing short plays cleverly interwoven with hard-hitting messages on female infanticide, child marriage and improving sanitation particularly for women. At one point the entire audience were chanting together 'save the girl child let her grow!'
Whilst so much progress has been made for women this statement brutally highlights how much more work needs to be done and how proud I am to support Habitat for Humanity work to drive further change. – Hilary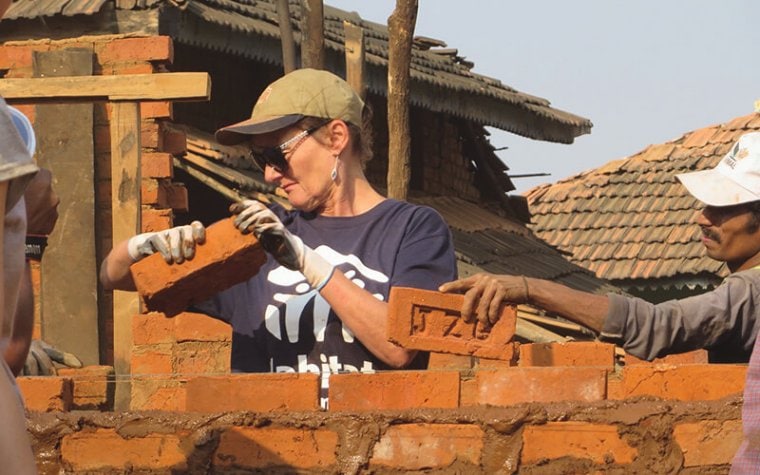 Thank you Hilary!
Check out the other return volunteers' blog posts and follow us on social media for more updates throughout Volunteers' Week.
Take Action
Related
Comments