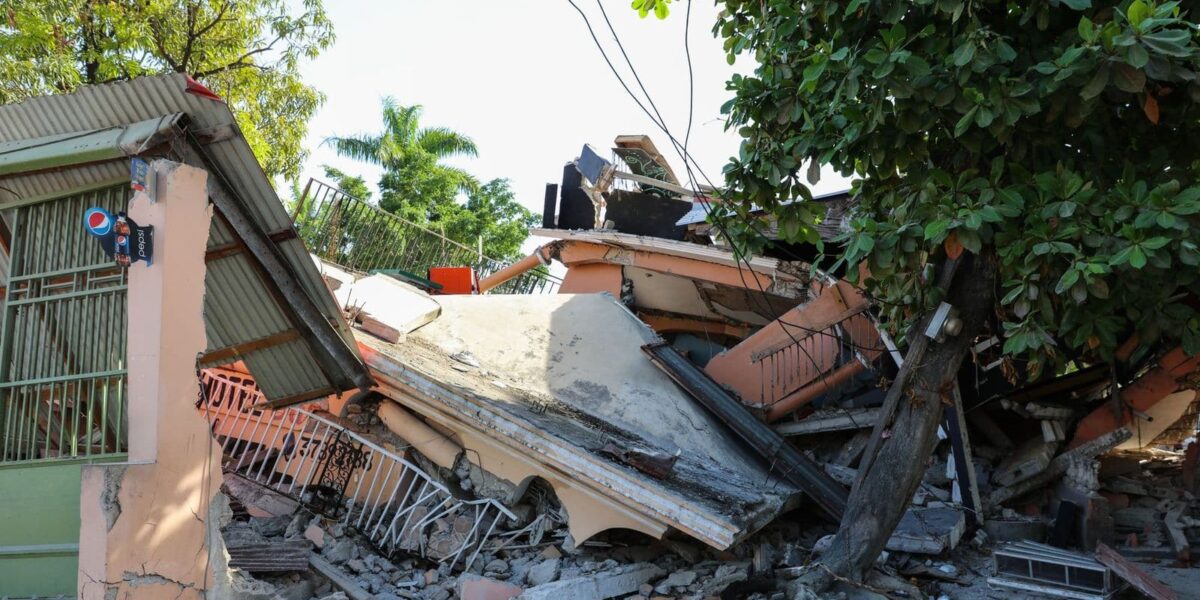 Haiti Earthquake: Emergency Response
How our teams are responding on the ground.
*Featured image by ©Habitat for Humanity International / Nadia Todres
Summary:
At 8:30 am local time on August 14th, a magnitude 7.2 earthquake hit Haiti's southwestern peninsula, causing significant damage in the region, including the cities of Les Cayes, Jeremie and Anse à Veaux.
The latest figures depict that at least 1,419 people are known to have died in the 7.2-magnitude quake so far, more than 6,900 were injured, and an unknown number are still missing. Devastatingly, it is estimated that around 30,000 families have been rendered homeless so far.
Two days after the earthquake, Haiti's suffering was exacerbated, due to Tropical Storm Grace which swept Haiti with drenching rains, causing further damage through mud slides, and flooding up to 15 inches in some areas.
Most recently, a Level 2 Emergency has been declared, and Habitat for Humanity are working internationally to provide aid for Haiti.
Background:
The earthquake has devastated towns and villages, and officials have documented more than 12,000 homes destroyed or damaged so far. This figure is expected to rise significantly as more areas are surveyed, and search and rescue crews continue to extract people trapped under the rubble, with hospitals struggling to cope with the surge of injured people.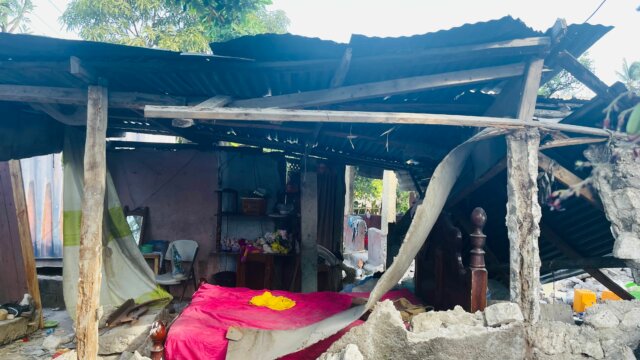 Pictured above: ©Habitat for Humanity International / Nadia Todres – August 2021 earthquake
The construction in southwestern Haiti, particularly in urban areas is very similar to what was in place in Port-au-Prince before the devastating 2010 earthquake. This consists of concrete structures with "soft" stories, marked by large openings on the ground floor. These homes often lack proper steel and masonry reinforcements, and as a result, these weak structures are more susceptible to damage when a strong earthquake hits.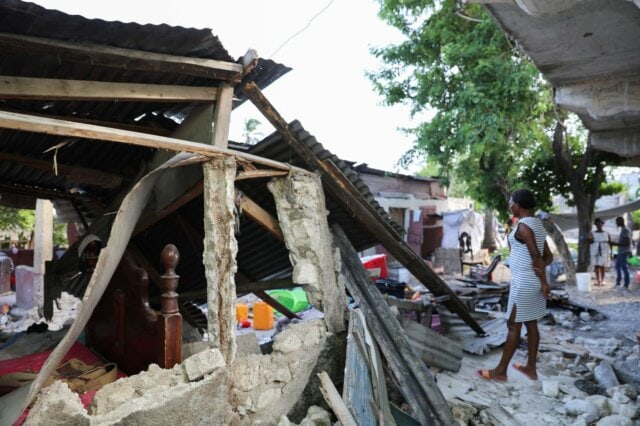 Pictured above: ©Habitat for Humanity International / Nadia Todres – August 2021 earthquake
Furthermore, the frequent aftershocks are leading many frightened residents to sleep outside in fear of these structures collapsing, with those who have lost their homes to the earthquake taking refuge in Haiti's refugee camp in Les Cayes, to shelter from Tropical Storm Grace. At Habitat, we are continuing to closely track this storm, which is on a track to potentially bring high winds and heavy rains to some of the earthquake-impacted area on Tuesday.
Habitat's presence in Haiti: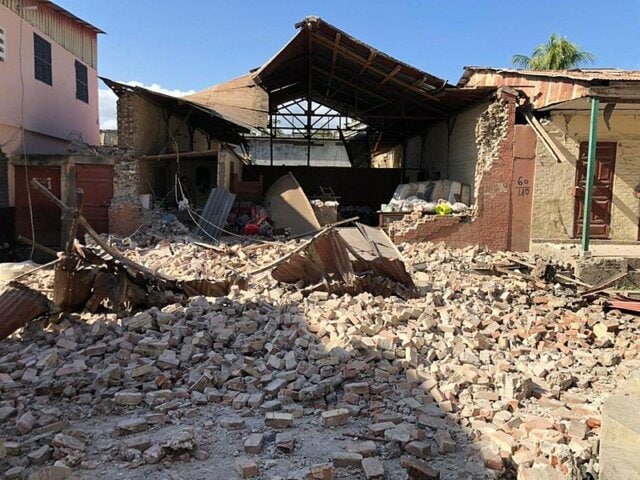 Pictured: ©USAID – August 2021 earthquake
Habitat for Humanity, which has worked in Haiti since 1984, has a strong, ongoing presence in the region impacted most by the earthquake. Habitat was a part of the response to the 2010 earthquake that devasted Port-au-Prince and the surrounding area. We distributed more than 25,000 emergency shelter kits and helped build more than 5,000 transitional shelters and 300 new homes and repairs, and our teams worked with families to help rehabilitate communities such as Simon Pele, an informal urban settlement.
Moreover, in the last four years we have partnered with families to complete 1,200 homes, in response to Hurricane Matthew in 2016. We have also helped to construct latrines and water points in the region while also supporting programs designed to make communities more resilient to disasters. Current Habitat projects in the region focus on resilient housing construction, including homes for elderly residents, as well as water, sanitation, and hygiene (WASH).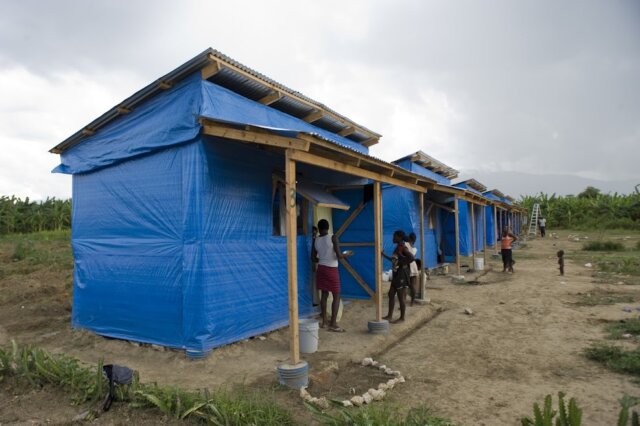 Pictured: Habitat's work post-earthquake in 2010 to reconstruct homes and provide shelter.
Our response to aid long-term recovery:
Our teams are currently assessing the shelter needs in the impacted area in Haiti and developing response options for early recovery and reconstruction phases. Habitat staff in Les Cayes and Jeremie have started surveying neighbourhoods to help assess damage to homes, in coordination with the government and humanitarian agencies. We are also a part of the regional coordination platform for disaster preparedness and response in Latin America and the Caribbean (called OCHA-REDLAC), positioning us to engage in the early recovery phase.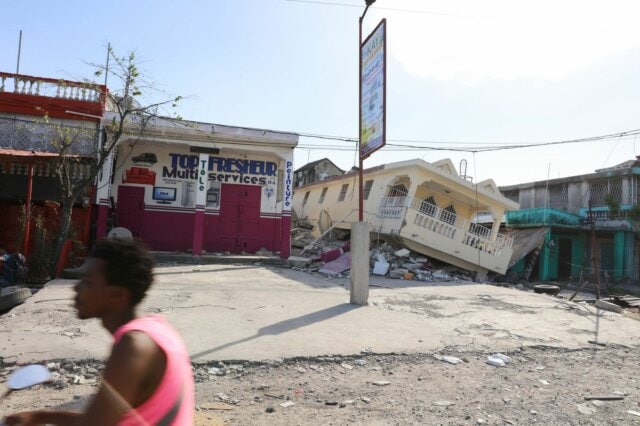 Pictured: ©Habitat for Humanity International / Nadia Todres – August 2021 earthquake
With any disaster response, there are challenges, and we are faced with barriers to completing damage assessments, as our communication networks have been down. Sending staff reinforcements is also challenging because of security concerns related to gang activity on the main route from Port-au-Prince. At the moment, authorities are working to establish a humanitarian corridor between Port-au-Prince and the impacted areas.
As a humanitarian organisation, Habitat is laser focused on the needs of the people, particularly their immediate, early recovery and long-term housing needs. We are working with all levels of government and local organisations to deliver relief and aid recovery for those who need it most. There are many barriers in this response and recovery effort, but at Habitat we are committed to working with officials at the international, national, and local levels on a coordinated response.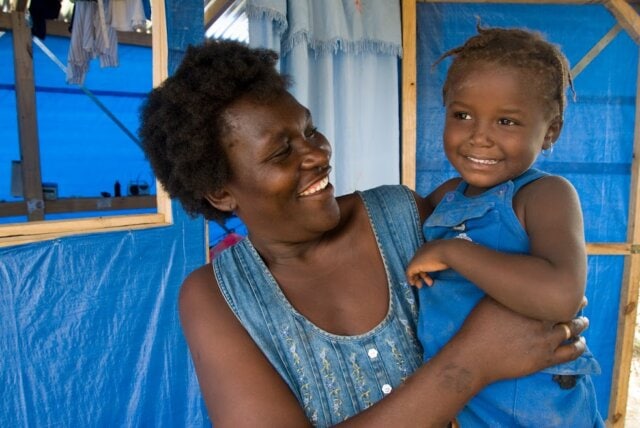 Pictured: One of the many families we were able to provide shelter to, following the 2010 earthquake.
"The trauma of the 2010 earthquake is etched in the memory of the Haitian people. Habitat is already working in some of Haiti's most vulnerable and marginalised communities in the South West where August 2021's deadly quake has destroyed lives, homes and infrastructure. Our team on the ground is assessing the damage and developing response plans to ensure Habitat helps those most in need immediately and longer term." – National Director: Jean Frenel Tham.
Related
Comments