Following this, Svetlana told us that her son remained in Ukraine. Though this deeply saddens her, she is happy that she is able to stay in touch with him via phone. Her parents also remained in Ukraine, wanting to stay in their village even though fighting had drawn very close.
After receiving an emergency pack from the Romania team she told us that her family want to go to Germany, where her daughter lives. Asked about her next steps, Svetlana replied with a smile and said, "To live."
"Ukraine and supporting countries are now like a big family."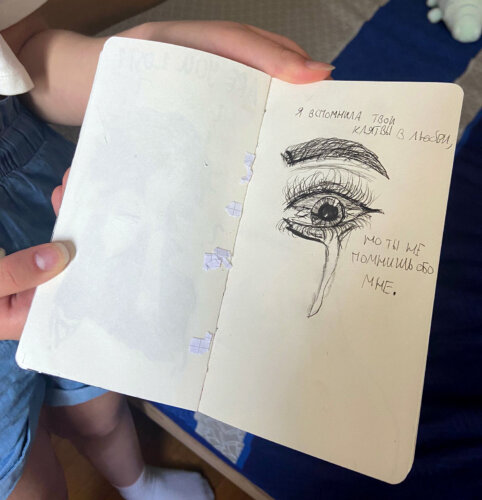 Milena aged 13, has a talent for drawing. She drew the image on the left in her notepad. Since the conflict began in her country, she finds the only way she can express her painful feelings is to draw.
The family left the Ukrainian city of Vasylkiv on March 2. After a few days spent on the road, they arrived in Romania, where they are planning to stay until the end of the war. They are now living in Bucharest in an apartment rented by Habitat for Humanity Romania, for an indefinite period.
The family has had to lean on each other, as this is the first time they have been separated from their father for so long.