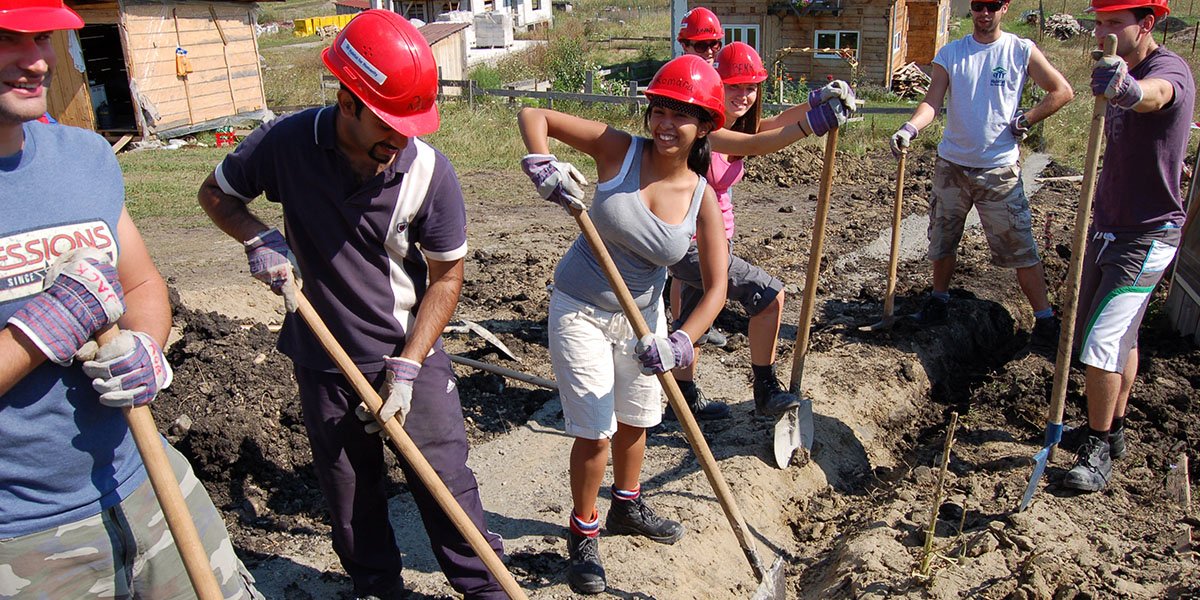 Corporate volunteering
Global Village is our short-term, international volunteering programme
Welcome to Global Village
Throw job titles and positions aside, immerse yourself in another culture, and unite employees together as a collective force to lift families out of poverty.
Giving back to communities
Stand with one of the world's leading housing charities to build homes for the world's most vulnerable people.
Take a team of up to 20 employees
Work with the local community and Habitat for Humanity country staff
Be led and guided by an experienced Team Leader
Put your company values into action
Global Village adds a narrative and personality to your organisation. How? The programme's key benefits include:
Improving staff retention and engagement
Aligning your organisation as socially responsible and globally aware
Connecting you to your clients, customers and community
To find out more, email Lilian, our Corporate Partnerships Officer: lmonfard@habitatforhumanity.org.uk
One of our homeowners was at a loss for words when given an opportunity to speak to the room; the other was eager to share her gratitude. In their own ways, each was clearly and profoundly happy.

Kirsty, Wells Fargo
Volunteer Build Types

Women Build
Build homes with women and children while exploring a new country.

Vulnerable Populations
Bring stability and opportunity to orphans, vulnerable children and other people experiencing extreme difficulties.

Home Construction
Help build new homes with those in need.

Healthy Homes
Upgrade existing houses with smokeless stoves, water filtration systems, new bathrooms and more.

Green Building
Help build energy-efficient homes with those in need.

Disaster Recovery
Build back stronger after a disaster and learn about Habitat's work to increase stability and reduce risks.

Critical Home Improvement
Improve existing shelters to make them safe, decent places to live.

Community Development
Volunteer with a holistic development project that builds decent housing as well as economic growth and communal resources.

Build Louder: Advocate & Build
Build with partner families and advocate for policies and systems to advance affordable housing.
Put your values in action
To get started on your own company Global Village trip, contact Lilian, our Corporate Partnerships Officer, to find out more: