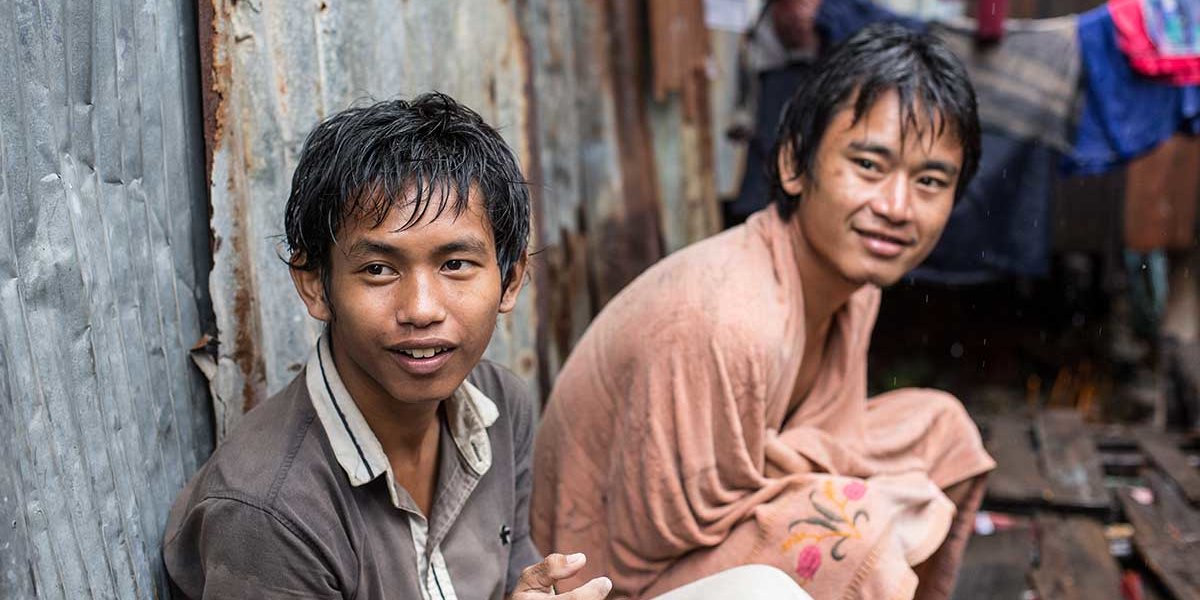 Effects of poverty on health, children & society
The impact of a safe & decent home
Home is the absolute foundation through which we can tackle the effects of poverty on society and its vicious cycle. Home is the key to living a life of dignity and opportunity, free from exclusion, fear or neglect.
With your help, we have been able to demonstrate time and time again that the home is vital in helping families break the cycle of poverty for good. It gives families a stable foundation with a sense of dignity and pride. A home leads to improved:
Health  – the lack of windows or proper ventilation cause respiratory diseases, while the lack of proper toilets help the spread of diseases such as cholera or typhoid
Safety – from the rain, storms, earthquakes
Security – imagine not having a door in your home (tent or shelter); anything you own is at risk of theft.
Education opportunities – children who live in unsafe shelters have much lower school attendance and completion rates. Their homes often leak in various places, ruining school material and increasing their chance of becoming ill.
Employment opportunities – having a registered address is often essential to find work. A safe, decent home is also key to guarantee good health, which is key to keep a job and perform properly.
Let's dig deeper into the main impact of poverty on health, children, education as well as communities – and how safe, decent homes can become the essential foundation for people to build happy, prosperous lives.
1. Effects of poverty on health
Over 10,000 children die every day because they live in poor housing.
Without effective sanitation in their home, children are especially vulnerable to life-threatening diarrhoea and intestinal infections. And in houses where there's insufficient ventilation, people are especially vulnerable to respiratory diseases.
Clean, warm homes provide protection from the elements and help improve a family's health by preventing illness and diseases such as tuberculosis, diarrhoea, and malaria.
Families who live in a properly constructed home are less likely to fall prey to such diseases and are better equipped to recover from any illnesses they may contract. It goes without saying that the mental health of individuals and families is greatly improved when physical health concerns are taken away.
Seventy-year-old Girma Mihiretu and his wife Yeshi Ali, can testify to this. The couple live with their three-year-old grandson, Zehirun Asefa, in Dessie, Ethiopia, but for a long time they and their six children had just a single plastic sheet to call home.
With no sanitation or proper protection from the weather, the family were at the mercy of the elements.
As Mihiretu recalls,
"I lived in a small and dirty house. We didn't have a toilet. We couldn't help our children with money. Our children's health suffered every day."
To make matters even worse the couple used to suffer with leprosy, and even today bear the scars of this debilitating disease. Life was desperate, until just two years ago when the couple became our homepartners and began to hope for a healthier future.
The couple's only money used to come from begging, but now they have a garden to cultivate crops that they sell to supplement their income.
"Today, we see our new house and know it's good for our children. It has a toilet and a garden. I feel blessed."(Mihiretu)
2. Effects of poverty on education and schooling
Home gives children opportunity for the future by providing a stable foundation where they can study and do as well as they can at school.
Children are also able to develop into responsible adults as they experience security and see their own parents taking care of the home. For adults, home is key to maintaining employment and provides opportunities for income generation by the creation of home-based small businesses.
Yonah Njobvu and his wife Loina have experienced first hand how a good home can help a small business burst into life. The couple live in Lusaka, Zambia with their seven children. They were staying in a neighbour's hut after flooding destroyed their own home and the cramped conditions were far from adequate.
Since moving in February 2008 to a Habitat home, every aspect of the family's life has gone from strength to strength. The additional space has allowed Yonah to start his own business making waterproof underpants for children.
Through this business Yonah can now support his family much better. In his previous home, there simply wasn't the space or security to start a business. Now business is thriving, life is good and the family can get a good night's sleep.
3. Effects of poverty on children and families
Home is indeed where the heart is and a stable, well constructed home is at the centre of family life.
When families have a home where they feel safe and secure they will draw together as a family unit to love and support one another. There is also an added sense of pride and dignity that comes with a decent home which translates to a hopefulness for the future well being and success of the family.
There is plenty enough research showing that growing up in an unsafe environment not only affects children's health seriously but also as a result of this their attendance at school (and ability to get a degree or diploma).
Reducing child mortality, improving school attendance
Ana Maria and Rodrel live with their three small children, Shanely, Marlon and Alan in a neighbourhood nestled in the centre of Chichicastenango, Guatemala. The couple were married seven years ago and have moved home almost every year since. As a nursery nurse and a truck driver, their income doesn't stretch very far.
For the past year their rented house was so cold and damp that their youngest son, just nine months old, suffered with bronchitis. The family also had to share a bathroom and outdoor kitchen leading to restricted use of the facilities and conflict with other families.
Some years ago the couple had purchased a small piece of land but never dreamt they would be able to secure a loan to build a house on it.
When Rodrel's brother introduced them to Habitat for Humanity for the first time the family began to hope that they would have a place of their own. After visiting our office the couple soon had an interest-free loan approved and began constructing their home.
In just a month their brand new home, consisting of four rooms, was completed. It was twice the size of their rented accommodation, and with loan repayments less than their rental payments, the family can even start saving for the future.
"The children have plenty of room to play," says Ana Maria surveying her beautiful home with pride. They now also perform much better at school, having room to do their homework and not falling sick nearly as often as before.
Sign up to our e-newsletter and receive inspirational stories of strength and resilience, straight in your inbox
Read more
4. Effects of poverty on community: the impact of decent homes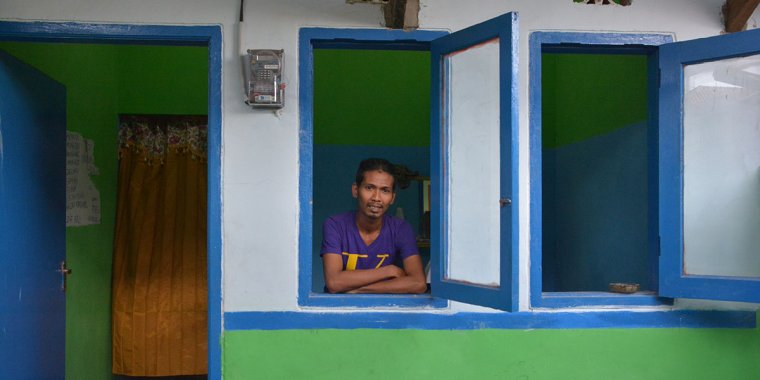 "Mi casa es su casa," they say in South America and the sentiment that, "my house is your house," certainly reflects the notion that good housing helps healthy relationships to thrive. Good communities are built on good housing. It contributes to thriving school systems and communities. It is a catalyst for civic activism and a stimulus for community-based organisations.
This is why one of our main priorities and challenges for the next decade is to tackle the growth of slums across the world. Safe homes and neighbourhoods, in which residents are satisfied with housing conditions and public services, help to build social stability and security.
"When I saw my house, I wanted to move in immediately and start living there," was mother-of-two Rosily's enthusiastic response to her newly rehabilitated house in Tamil Nadu, India.
"Physically it was hard work, but mentally I was very happy because my house was being built." (Rosily)
5. The impact of natural disasters
Halfway across the world, when the Boxing Day tsunami struck Southeast Asia in 2004, Rosily and her children were away, but when the family  returned to the devastated region two weeks later they discovered that the walls of their brick house had cracked and steel beams were protruding from the roof.
Rosily's husband had lost his two catamarans in the tsunami and had no other source of income to pay for the repairs. The family simply didn't know where to  turn, but when we arrived in the village to assess the needs of the community, they had a glimmer of hope.
Coming together to build disaster-resistant homes
In no time at all that hope was becoming a reality as Rosily found herself working alongside others to remove the debris, make the bricks and even build the homes. The community, who supported each other so closely in the wake of the disaster, has built a strong and hopeful future together. Their unity is now infiltrating through every generation.
Rosily's 13-year-old son Sujih certainly wants to help continue to strengthen the community that supports one another through thick and thin. "I want to be a doctor," he says proudly. "I want to help others and take care of my parents when I grow up. I want to treat my parents when they fall ill and I will treat the village for free."
Disclaimer:
This post was produced with the financial support of the European Union. Its contents are the sole responsibility of Habitat for Humanity GB and do not necessarily reflect the views of the European Union.
Take Action
Related posts