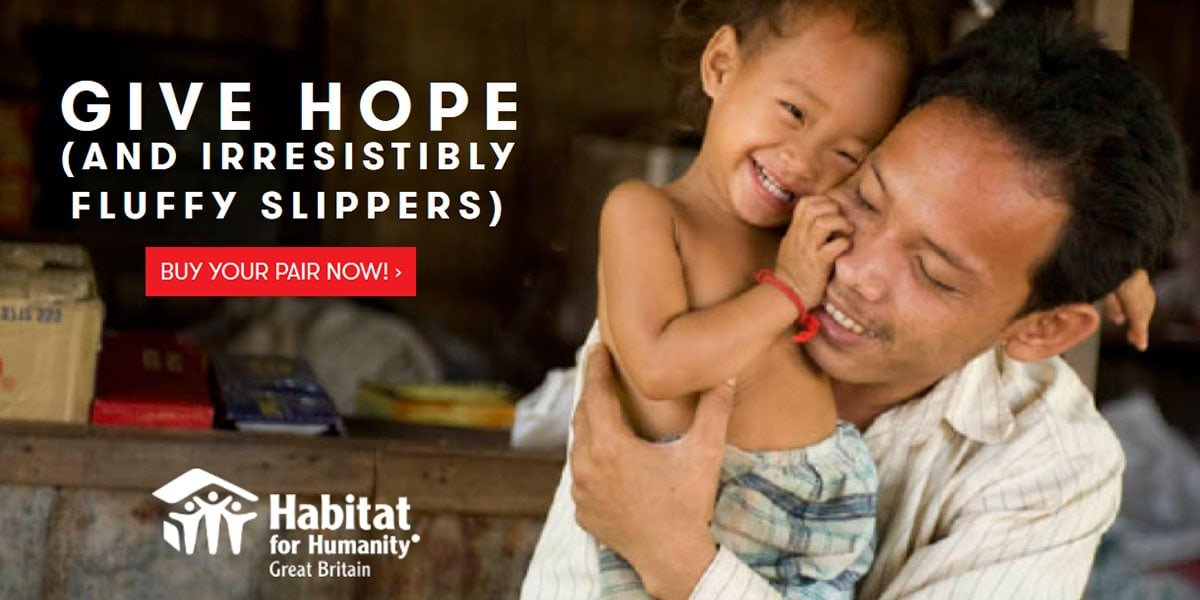 Habitat for Humanity GB partners with FitFlop
This Christmas, FitFlop has been inspired by Habitat for Humanity Great Britain (HFHGB) to create the shearling HOUSE™ slipper. The slipper is built on FitFlop's Microwobbleboard™ midsoles. They are partnering with us because their share a vision of a world where everyone has a safe place to call home.
From Friday 20 November, FitFlop's HOUSE™ slippers will be available in two versions on fitflop.co.uk. Version 1 is with pom poms (in Charcoal/Purple). Version 2 has 'au naturel' (in Timberwolf).  For each pair sold (£80 without pom poms and £85 with pom poms), they will donate £15 to Habitat for Humanity.*
Marcia Kilgore, Founder of FitFlop, says: "At FitFlop, people put their hearts and souls into making the world's best ergonomic footwear, because they believe that if you want to live an inspired life, you've got to start with a great foundation.  And while a great pair of shoes can change your life, a safe, decent home is the ultimate foundation."
Naomi Rothwell, HFHGB Corporate Partnerships Manager, replies: "We're really excited to be partnering on this venture.  Both of our organisations are passionate about making a sustainable difference. FitFlop's vision for solid foundations aligns perfectly with ours."
*FitFlop are committed to donating a minimum of $100,000 to Habitat for Humanity before Jan 31, 2017.
Interested in our partnerships?
If you would like information on how to partner with us visit – Partner With Us – Habitat for Humanity GB
If you are interested in viewing who our current partners are visit – Charity Partners: Corporates & Institutions Fighting Poverty Housing
To learn more about our projects and upcoming opportunities subscribe to our newsletter – Sign Up & Support our Charity's Work on Global Poverty: Join Our E-Newsletter 
Related
Comments