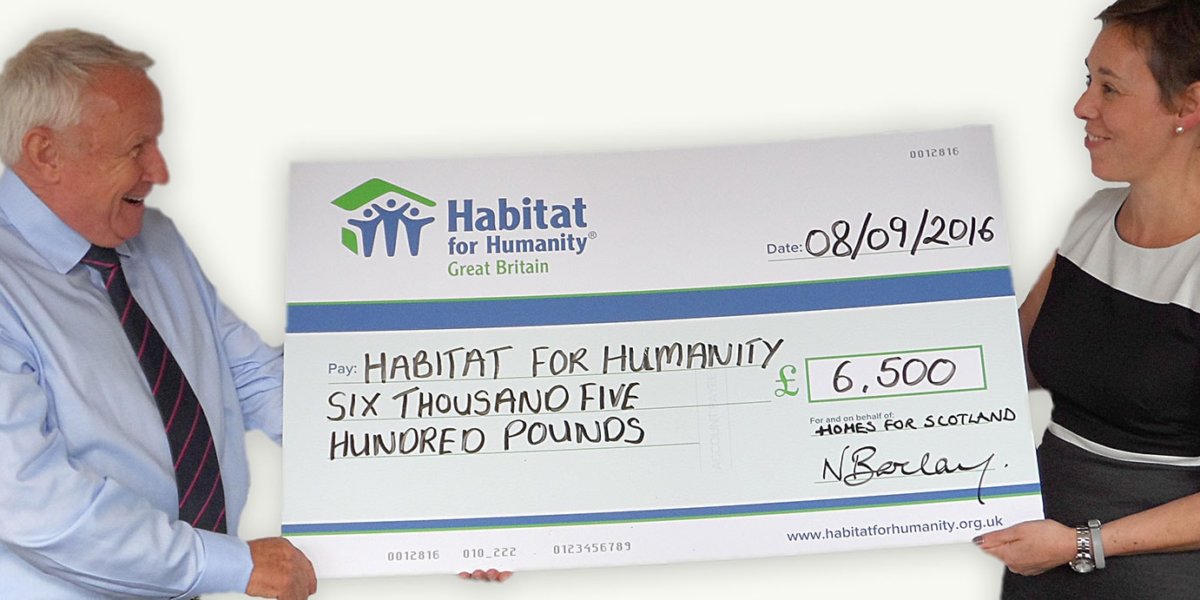 Home Building Industry in Scotland Supports Habitat for Humanity
Habitat for Humanity's work supporting some of the poorest people around the world received a generous boost on Thursday September 8th, when the Chief Executive of Homes for Scotland Nicola Barclay presented a cheque worth £6,500 on behalf of the home building industry in Scotland.
The donation marks the start of a new partnership between the two organisations and was raised at Homes for Scotland's Annual Lunch in Edinburgh earlier this year, attended by a record 1,100 guests.  The event raised £13,000 in total, which was shared equally between charity partners Habitat for Humanity and the PAS Foundation.
Habitat for Humanity work to provide the most vulnerable in over 70 countries with a decent place to call home and the opportunity of a life built on strength, stability and self-reliance. The £6,500 charitable donation will allow us to increase our impact around the world.  Chief Executive of Homes for Scotland Nicola Barclay said,
"I am delighted to present this donation on behalf of those industry representatives who gave so generously as guests of our 2016 Annual Lunch in Edinburgh.
"This is a reflection of the home building industry in Scotland coming together to support the vital work undertaken by Habitat for Humanity as it strives towards its vision of a world where everyone has a decent place to call home.  We are therefore encouraged that this donation could allow the charity to build two safe and secure homes for families that have never had that opportunity before.
"I am equally delighted that Homes for Scotland has adopted Habitat for Humanity as our charity partner and we look forward to mobilising the generosity of our members to help the charity in its vital work around the world. "
Today, 1.6 billion people around the world currently live in substandard housing and over 100 million don't have a place to live at all. The scale of this problem can only be addressed by all of us coming together and this donation is just another example of the relationship that has built up between the house building industry and Habitat for Humanity;
Meryl Davies, CEO, Habitat for Humanity GB said,
"As an industry that works every day to provide people in the UK with access to homes that are built with care, quality and professionalism, the values that drive home builders in the UK reflect the commitment Habitat for Humanity has to provide shelter to the millions around the world who currently lack a place to call home.
This donation from some 1,100 guests, incidentally the largest ever such gathering of industry representatives in Scotland, is a powerful demonstration of that partnership. Habitat for Humanity are grateful to Homes for Scotland for their support and are proud to work with home builders across Scotland."
Habitat for Humanity and Homes for Scotland will be announcing a number of events and activities over the coming months to provide their members with ample opportunity to get involved, including a Women Build in India, January 2017.
Related
Comments