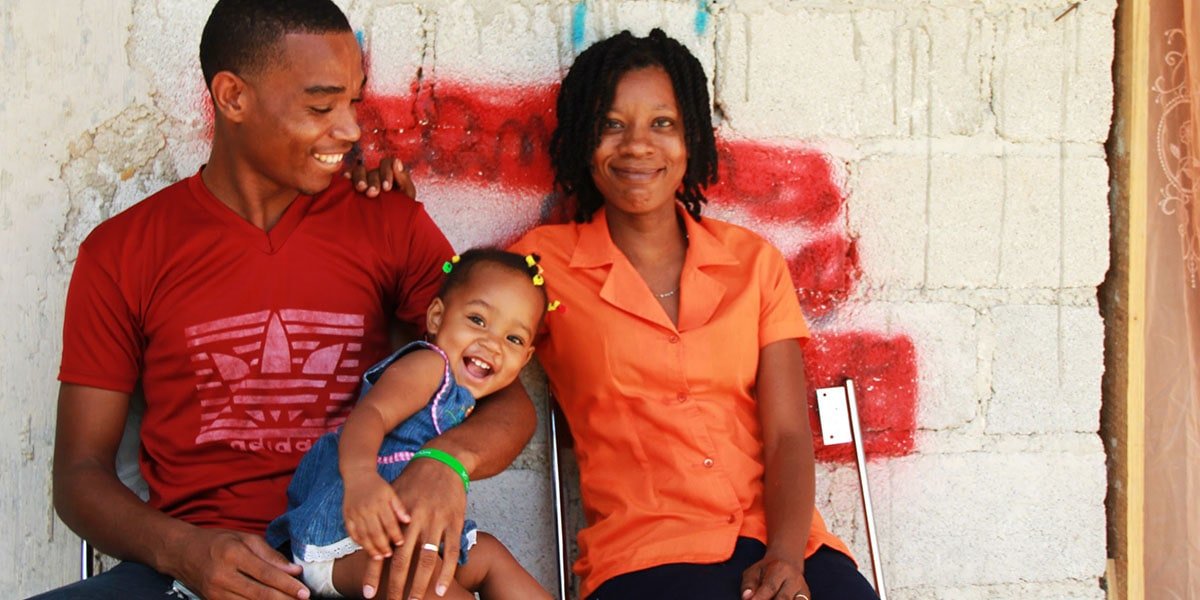 Life After Hurricane Matthew:
Stories from Haiti
Hurricane Matthew in Haiti
The devastation caused in Haiti by Hurricane Matthew in October 2016 has left many in desperate circumstances and getting the needed financial resources into the affected region has been a challenge.
Seven months later slow and steady progress is being made To help families in the Nippes, South, and Grande Anse departments of Haiti pick up the pieces. Our planned interventions include:
Technical assistance and valuable construction training
Shelter recovery kit distribution
House repair and reconstruction
Recent heavy rainfall continues to impact vulnerable communities during Haiti's rainy season. Habitat for Humanity, along with their partners are gearing up to implement kit distributions next month in order to support communities as trainings roll out in under served areas.
In our last update we told you about the safe training workshops implemented in several departments of Haiti. Today we wanted to tell you about new programmes changing lives everyday in Haiti and to let you hear from the Haitians who have benefitted from them, as they are now using the skills they acquired to help rebuild their communities.
Bringing clean water to the community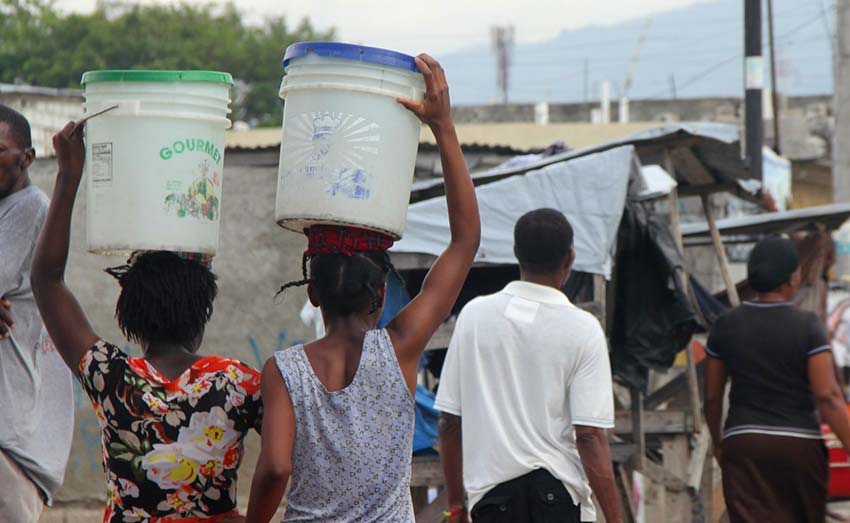 Habitat launched a "WASH" programme to help address the major water and sanitation issues affecting the community of Simon-Pele. We started by getting feedback from community leaders and key members on how to best address these.
We conducted a broader assessment. In the assessment we found that 60% of the water samples collected in people's homes were contaminated by faeces. This puts the entire population, and especially children under 5, at risk for water borne diseases such as cholera and typhoid.

Our work therefore focuses on reducing the spread of these diseases for families living in Simon-Pele through improved access to safe water and toilets as well as improved knowledge of hygiene practices after a natural disaster. We expect to achieve three main results:
Improved access to clean drinking water
Icreased knowledge of good hygiene practices amongst vulnerable families, especially for their children
Improved access to adequate sanitation facilities (latrines)
Our strategy
To achieve these results, we take on a holistic approach to address the problem at multiple levels. We're rolling out a large awareness campaign to educate residents on the proper practices around personal hygiene, water storage, and treatment at home.
Leveraging opportunities to create jobs, we will introduce new goods and services such as water treatment tablets and latrine maintenance. This way the whole community will be working together towards providing safe drinking water for everyone all while boosting the local economy.

Not-for-profit housing microfinance
With the help of our partners, we are helping the poorest families get access to housing micro-loans through the HOME programme (Home Ownership Mortgage Expansion). This is completed by technical assistance to incentivise financial institutions to serve impoverished clients who would otherwise be unable to access these financial products.
SOCOLAVIM is the first financial institution we teamed up with in March 2016 and together we are exceeding targets (by more than 20%) to expand housing finance to hard-working Haitians in need. As of December 2016, 224 home improvement loans were provided, that's 39 more than originally planned.
SOCOLAVIM Director Prophète Fils-Aimé believes that "the combination of an incentive programme, along with technical assistance provided by Habitat for Humanity and our continuous efforts to improve are the key factors of this success."
Moving forward, the HOME program will continue to support SOCOLAVIM on their efforts to:
Improve access to housing credit for women
Improve access to housing credit local organisations
Leverage new technology to increase their efficiency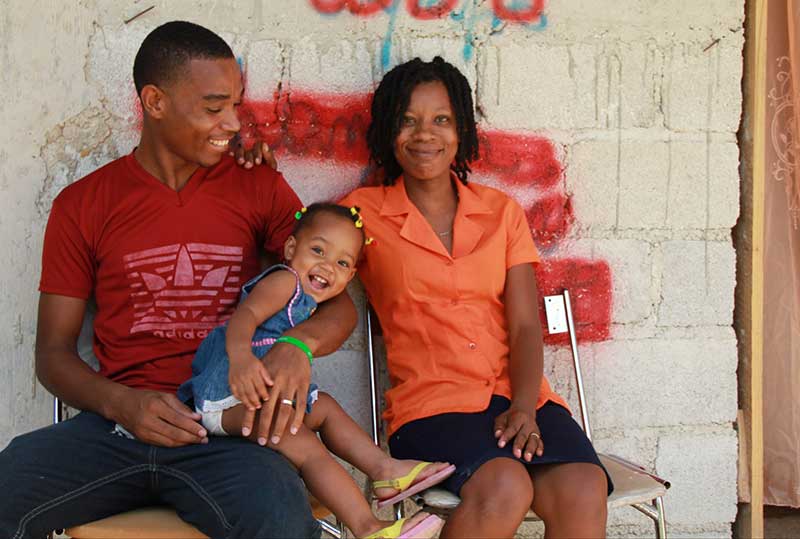 Meet Ramon, from Arnaud (Nippes province)
Ramon Azor, 63 is one of 100 beneficiaries who received training in specialised masonry techniques to help residents rebuild safe homes for their families. A native of Arnaud, Ramon is a well-respected leader in his community. He lives in a neighbourhood called Joli, with his wife and two kids. He shares his experience of training with us:
"Before this training, I used to work as a tailor. I knew very little about safe construction techniques. Frankly, I never paid much attention to how people in my community were building. But since I received the training, I see things differently.
"I now notice that many of the people in Joli live in poorly built houses, located in unsafe locations that leave them vulnerable to future natural disasters. In a small community like Arnaud, we have to look out for each other and help others who may be endangering themselves. This training has equipped us with the skills necessary to help and protect our people, which can only bring use closer as a community. So, I applaud Mercy Corps and Habitat for Humanity's work here."
Ramon Azor and 24 other trainees in Arnaud have volunteered to help repair their fellow neighbour Merosier Sylverain's house which as destroyed by hurricane Matthew.

Training the youth, creating local jobs
Jean-Marie Joseph, a law student and a primary school principal, is another beneficiary. He shared his excitement with us regarding the training he received:
"I took this training mainly to pass on my knowledge to the youth of the community. Many young people here in Anse-à-Veau have finished high school. But they haven't been able to attend a university or a vocational school because they cannot afford it.
"So, they just sit around, play cards and dominoes with their friends daily because of this. Habitat for Humanity and Mercy Corps have drastically changed the lives of some of these young people.
They won't have to remain unproductive, now will be able to find jobs and financially assist their families. A few weeks after their training, they are already giving back to the community. Now that these young people start getting involved and helping their community, they will feel more purposeful. You are doing the country a huge favor. So, we thank you for their long-term investment in the youth of our community."

Changing the lives and perception of women
"This training is beneficial for all of us in the community. In Haiti when you say the word construction, it usually leaves women out. Before this training, I had never seen women working on construction sites in this community in my entire life.
So, I can't help but be proud of myself for being one of the first women to have participated in a training on safe construction techniques. Last week, my uncle was renovating his house, and I helped him! I am going to share my knowledge with other people, especially women, so we can help each other.
When our houses were damaged in the past, we had to call outsiders to help us fix them, and this cost us a lot of money. First, we had to buy the construction materials, plus, we had to pay the construction workers for their transportation and services.
Now, that money will go to better use. We can buy construction materials and instead of paying anyone else to do the work, we can help each other. A big 'thank you' to Habitat for Humanity and Mercy Corps for the knowledge they are bringing to this community."
Take Action
Related
Comments