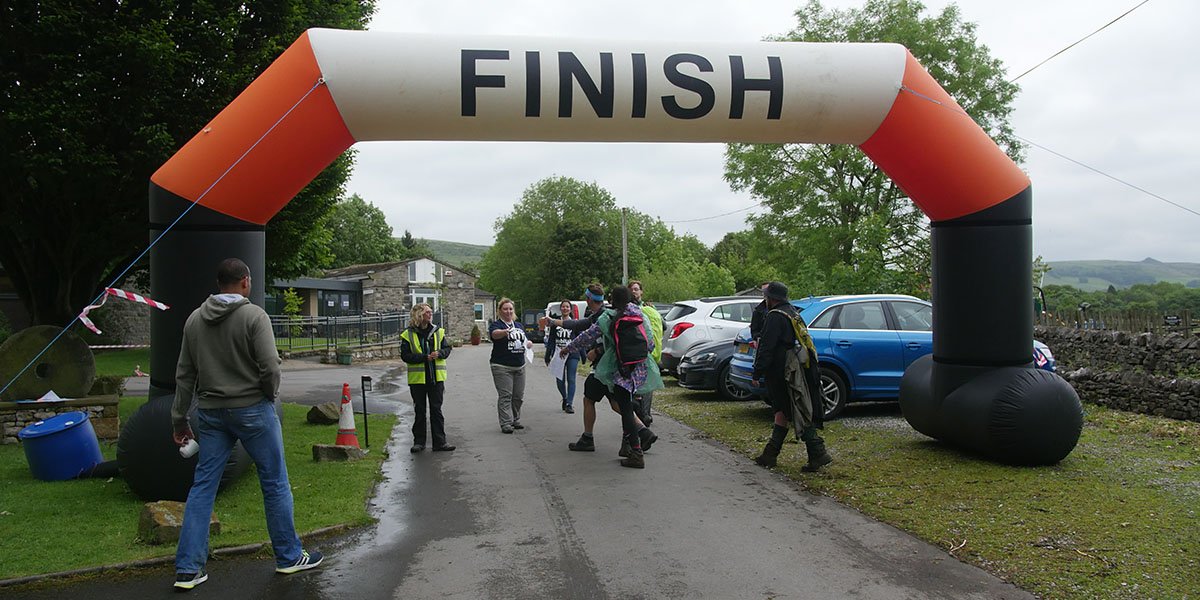 Miller Homes brave the elements -
to carry on supporting Habitat for Humanity GB
Following on from a phenomenal year of fundraising in 2016, 3 teams from Miller Homes braved the elements to raise over £28,000 for  Habitat for Humanity GB.
Three teams from across the housebuilder's regional offices competed in the charity's Hope Challenge, which took place in Derbyshire's Hope Valley from 9th to 11th June and comprised four activities – fundraising, constructing a shelter, a trek of at least 20km and problem solving activities
Pitted against colleagues from other firms in the construction industry, Miller Homes' Star Gazers team from the North area claimed first place after scoring top marks from the judges.
In the overall rankings, Miller Homes' Peaky Builders, from the Midlands and South regions, secured sixth place, while Scotch on the Rocks, from Scotland came tenth.
However, when it came to fundraising, Star Gazers, Peaky Builders and Scotch on the Rocks took the top three positions, each raising £12,220, £8,362 and £7,543 respectively.
Chris Endsor, Chief Executive of Miller Homes, praised everyone who took part in the Hope Challenge:
"It was incredible to see how much money the teams raised, not to mention all the training and preparation that they put in," he said.
"As well as building weather-proof shelters to sleep in, they also demonstrated creativity and innovation by installing front doors, a welcome mat, a changing room and even a giant gnome!
"The British weather lived up to its reputation and they endured heavy rain for the trek. However, despite these punishing conditions, they dug deep to complete the challenge and we're enormously proud of what they all achieved."
Habitat for Humanity's focus is on shelter and the charity recognises that home is the cornerstone of hope for those living in poverty.  Working with established partners in more than 70 countries across the world, the charity offers simple, sustainable solutions to help lift some of the poorest and most vulnerable people in the world out of poverty housing.   The average 'Habitat Home' costs around £3,000 to build and provides families with a house which is wind and water tight, light, and airy.
Miller Homes supported Habitat for Humanity's Hope Builders Campaign throughout 2016, raising more than £228,000 and sponsoring a team of volunteers to travel to Malawi to help build four 'Habitat Homes' for families in the local community.
Chris added: "I was lucky enough to join the Miller Homes team which travelled to Malawi last year and witness first hand the fantastic work Habitat for Humanity does to help people across the world living in poverty housing. By providing funds and also putting our fundraising into action we have been able to give hope and make a real difference to the lives of many families."
Meryl Davies, CEO of Habitat for Humanity, echoed his comments, adding that the charity had been overwhelmed by the contribution Miller Homes staff had made over the past year.
"Once again, Miller Homes has shown what wonderful supporters they are. On the back of an incredible year of fundraising, their employees stepped up again and entered three teams into our Hope Challenge event.  Not only did they build three amazing homes and brave tough conditions, but between them raised just over £28,000 to support our global activities. Well done to all the teams and thank you so much for the ongoing support."
Take Action
Related
Comments