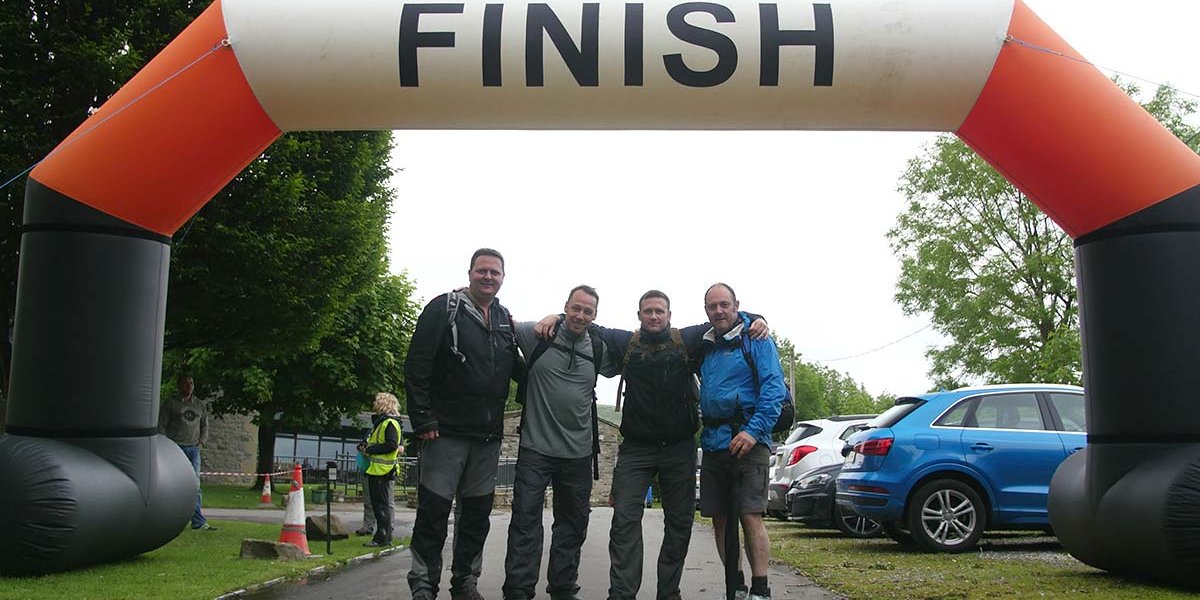 Fundraising events: charity runs, races & challenges
5Ks, 10Ks, half-marathons, marathons & fun charity runs
We love it when you take on a physical challenge to raise funds and awareness for charity: with sponsored runs from 5Ks to marathons and all sorts of Spartan races down to Zombie Evacuation, we've got it all. We will help you reach your fundraising goal while you help us build more homes!
Why do a charity run with us?
If you're participating in one of our charity challenges you will receive:
A race shirt
Dedicated support from our volunteering team to help you reach your fundraising target
Our growing collection of online fundraising resources (ask us for any material you'd like to receive)
Your own personal web page to fundraise for your run (though you are free to use any fundraising platform)
Join a fundraising event
Once you've found the right race for you, you can go ahead and register your details with us to start fundraising for our charity. We'll get you set up and ready to take on the challenge.
Whether you're going for a fun Zombie run or the full 26 miles marathon run, choose a training plan that will work best for you. And don't forget to tell your friends and family about your sponsored charity run, and raise money for Habitat for Humanity GB!
We look forward to supporting your charity race, do not hesitate to get in touch with us if you have any questions!
Browse all: 2019/2020 charity runs calendar
You will find here the full list of our best charity challenges & events available for Habitat for Humanity GB supporters: sponsored charity runs such as marathons, half-marathons, 10ks as well as parachute jumps, charity fun runs and obstacle races… We have it all!
Registration deadlines apply, so get in touch soon and avoid disappointment!
If you exceed your fundraising target by the Registration Fee amount then this can be used towards the next event that you sign up for. For example, if your Registration Fee is £20 and your target is £200, if you raise £220 then the £20 can be used towards the next event that you sign up for.
If you have any queries then please contact kchedgey@habitatforhumanity.org.uk
| Month | Event | Distance | Location | Date | Estimated Reg date | Reg. Fee | Fundraising Target |
| --- | --- | --- | --- | --- | --- | --- | --- |
| April | Warwick Grand National Run | 7Km | Warwick | April 5, 2020 | March 30, 2020 | 15 | 100 |
| | Asda Foundation City of Lincoln 10Km | 10Km | Lincoln | April 7, 2020 | TBC | 15 | 100 |
| | Gateshead Half Marathon | Half Marathon | Gateshead | April 12, 2020 | March 30, 2020 | 20 | 250 |
| | Spartan Beast - South East | 21Km Obstacle Race | Pippingford Park, East Sussex | April 18, 2020 | April 8, 2020 | 50 | 200 |
| | Rough Runner - London South 5Km | 5Km Obstacle Race | London South | April 18, 2020 | April 6, 2020 | 35 | 100 |
| | Rough Runner - London South 10Km | 10Km Obstacle Race | London South | April 18, 2020 | April 6, 2020 | 40 | 150 |
| | Rough Runner - London South 5Km | 5Km Obstacle Race | London South | April 19, 2020 | April 6, 2020 | 35 | 100 |
| | Rough Runner - London South 10Km | 10Km Obstacle Race | London South | April 19, 2020 | April 6, 2020 | 40 | 150 |
| | Brighton | Marathon | Brighton | April 19, 2020 | March 4, 2020 | 50 | 500 |
| | BM 10Km | 10Km | Brighton | April 19, 2020 | March 19, 2020 | 30 | 150 |
| | BM Ride | 50km Bike Ride | Brighton | April 19, 2020 | March 19, 2020 | 25 | 250 |
| | Spartan Sprint - South East | 5Km Obstacle Race | Pippingford Park, East Sussex | April 19, 2020 | April 8, 2020 | 30 | 100 |
| | Asda Hull Half Marathon | Half Marathon | Hull | April 19, 2020 | March 29, 2020 | 25 | 200 |
| | Asda Hull 10Km | 10Km | Hull | April 19, 2020 | March 29, 2020 | 15 | 100 |
| May | Asda Gear 10Km | 10Km | Gear, East Anglia | May 3, 2020 | April 13, 2020 | 15 | 100 |
| | Milton Keynes Half Marathon | Half Marathon | Milton Keynes | May 3, 2020 | March 19, 2020 | 20 | 200 |
| | Milton Keynes Marathon | Marathon | Milton Keynes | May 3, 2020 | March 19, 2020 | 30 | 350 |
| | Leeds Half Marathon | Marathon | Leeds | May 10, 2020 | April 20, 2020 | 30 | 300 |
| | Hackney Half Marathon | Half Marathon | Hackney, London | May 17, 2020 | May 8, 2020 | 40 | 250 |
| | Chester Half Marathon | Half Marathon | Chester | May 17, 2020 | March 27, 2020 | 25 | 250 |
| | Rough Runner Oxfordshire 5Km | Obstacle Race 5Km | Oxfordshire | May 23, 2020 | May 11, 2020 | 35 | 100 |
| | Rough Runner Oxfordshire 10Km | Obstacle Race 10Km | Oxfordshire | May 23, 2020 | May 11, 2020 | 40 | 150 |
| | Rough Runner Oxfordshire 15Km | Obstacle Race 15Km | Oxfordshire | May 23, 2020 | May 11, 2020 | 45 | 200 |
| | Edinburgh Running Festival - 5Km | 5Km | Edinburgh | May 23, 2020 | May 13, 2020 | 20 | 100 |
| | Edinburgh Running Festival - 10Km | 10Km | Edinburgh | May 23, 2020 | May 13, 2020 | 30 | 150 |
| | Edinburgh Running Festival - Half Marathon | Half Marathon | Edinburgh | May 24, 2020 | May 13, 2020 | 40 | 300 |
| | Edinburgh Running Festival - Marathon | Marathon | Edinburgh | May 24, 2020 | May 13, 2020 | 60 | 600 |
| | Rough Runner Oxfordshire 5Km | Obstacle Race 5Km | Oxfordshire | May 24, 2020 | May 11, 2020 | 35 | 100 |
| | Rough Runner Oxfordshire 10Km | Obstacle Race 10Km | Oxfordshire | May 24, 2020 | May 11, 2020 | 40 | 150 |
| | Rough Runner Oxfordshire 15Km | Obstacle Race 15Km | Oxfordshire | May 24, 2020 | May 11, 2020 | 45 | 200 |
| | Spartan Sprint - Ireland | 5Km Obstacle Race | Dublin | May 24, 2020 | May 13, 2020 | 20 | 100 |
| | Spartan Super - Ireland | 10Km Obstacle Race | Dublin | May 24, 2020 | May 13, 2020 | 30 | 150 |
| | Run4Colour | 5km Fun run | East Anglia | May 31, 2020 | May 25, 2020 | 10 | 100 |
| | Asda Foundation Nottingham 10Km | 10Km | Nottingham | May 31, 2020 | May 11, 2020 | 15 | 100 |
| | Swansea Triathlon | Triathlon | Swansea | May 31, 2020 | April 24, 2020 | 40 | 200 |
| June | Asda Foundation Derby Half Marathon | Half Marathon | Derby | June 7, 2020 | May 18, 2020 | 20 | 250 |
| | Super Hero in the City Run | 5km Fun run | London | June 11, 2020 | June 9, 2020 | 10 | 100 |
| | Wales Triathlon - Middle | Triathlon | Fishguard, Pembrokeshire | June 13, 2020 | May 21, 2020 | 60 | 350 |
| | Fishguard Triathlon - Sprint | Triathlon - Sprint | Fishguard, Pembrokeshire | June 13, 2020 | May 21, 2020 | 30 | 150 |
| | Rough Runner Manchester 2.5Km | 2.5Km Obstacle Race | Manchester | June 20, 2020 | June 8, 2020 | 35 | 100 |
| | Rough Runner | 5Km Obstacle Race | Manchester | June 20, 2020 | June 8, 2020 | 35 | 100 |
| | Manchester 5Km | | | | | | |
| | Spartan Super - Wales | 10Km Obstacle Race | Glanusk Estate, Crickhowell | June 20, 2020 | June 10, 2020 | 30 | 150 |
| | Spartan Sprint - Wales | 5Km Obstacle Race | Glanusk Estate, Crickhowell | June 21, 2020 | June 10, 2020 | 20 | 100 |
| | Rough Runner | 2.5Km Obstacle Race | Manchester | June 21, 2020 | June 8, 2020 | 35 | 100 |
| | Manchester 2.5Km | | | | | | |
| | Rough Runner | 5Km Obstacle Race | Manchester | June 21, 2020 | June 8, 2020 | 35 | 100 |
| | Manchester 5Km | | | | | | |
| July | Zone 3 Wales Swim | Open Water Swim | Pembrokeshire | July 3, 2020 | June 2 , 2020 | 30 | 150 |
| | Long Course Weekend | Cycling, Swimming, Running Weekend | Pembrokeshire | July 3, 2020 | June 2, 2020 | 200 | 250 |
| | Asda Foundation Leeds 10Km | 10Km | Leeds | July 5, 2020 | June 12, 2020 | 10 | 150 |
| | Monster Triathlon | Swim, Cycle, Run. | Across the UK | July 6, 2020 | TBC | TBC | TBC |
| | Wales 5Km | 5Km | Pembrokeshire | July 5, 2020 | June 1, 2020 | 10 | 100 |
| | Wales 10Km | 10Km | Pembrokeshire | July 5, 2020 | June 1, 2020 | 15 | 150 |
| | Wales Half Marathon | Half Marathon | Pembrokeshire | July 5, 2020 | June 1, 2020 | 20 | 250 |
| | Wales Marathon | Marathon | Pembrokeshire | July 5, 2020 | June 1, 2020 | 30 | 350 |
| | Spartan Super - Midlands | 10Km Obstacle Race | Market Harborough, Leicestershire | July 11, 2020 | July 1, 2020 | 30 | 150 |
| | Spartan Sprint- Midlands | 5Km Obstacle Race | Market Harborough, Leicestershire | July 12, 2020 | July 1, 2020 | 20 | 100 |
| | Asics 10Km | 10Km | London | July 21, 2020 | July 3, 2020 | 25 | 150 |
| | Gower Triathlon | Triathlon | Pembrokeshire | July 25, 2020 | June 24, 2020 | 30 | 150 |
| August | Asda Foundation York 10Km | 10Km | York | August 2, 2020 | June 13, 2020 | 10 | 150 |
| | Mudnificent 7 | 7-10Km Obstacle Race | Coventry | August 8, 2020 | July 29, 2020 | 20 | 150 |
| | Men's 10Km - Glasgow | 10Km | Glasgow | August 30, 2020 | August 19, 2020 | 20 | 150 |
| September | Saunders Foot Triathlon | Triathlon | Pembrokeshire | September 5, 2020 | August 13, 2020 | 30 | 150 |
| | Rough Runner London North 5Km | 5Km Obstacle Race | North London | September 5, 2020 | August 24, 2020 | 35 | 100 |
| | Rough Runner London North 10Km | 10Km Obstacle Race | North London | September 5, 2020 | August 24, 2020 | 40 | 150 |
| | Rough Runner London North 5Km | 5Km Obstacle Race | North London | September 6 2020 | August 24, 2020 | 35 | 100 |
| | Rough Runner London North 10Km | 10Km Obstacle Race | North London | September 6 2020 | August 24, 2020 | 40 | 150 |
| | Thames Path Challenge | 22Km, 28Km, 50Km and 100Km options | Putney to Henley | September 12-13, 2020 | TBC | TBC | TBC |
| | Spartan Beast - Scotland | 21Km | Queensferry, Scotland | September 19, 2020 | September 9, 2020 | 50 | 200 |
| | Spartan Sprint - Scotland | 5Km | Queensferry, Scotland | September 20, 2020 | September 9, 2020 | 20 | 100 |
| | Scottish 10kM | 10Km | Glasgow | September 20, 2020 | September 9, 2020 | 20 | 150 |
| | Scottish Half Marathon | Half Marathon | Glasgow | September 20, 2020 | September 9, 2020 | 30 | 250 |
| | Asda Foundation Sheffield 10Km | 10Km | Sheffield | September 27, 2020 | September 7, 2020 | 15 | 150 |
| October | Mumbles Triathlon | Sprint | Mumbles, Swansea | October 3, 2020 | September 4, 2020 | 30 | 150 |
| | Mumbles Triathlon | Middle | Mumbles, Swansea | October 3, 2020 | September 4, 2020 | 50 | 250 |
| | Bournemouth Supersonic 5Km | 5Km | Bournemouth | October 3, 2020 | September 23, 2020 | 20 | 100 |
| | Bournemouth Supersonic 10Km | 10Km | Bournemouth | October 3, 2020 | September 23, 2020 | 30 | 150 |
| | Bournemouth Half Marathon | Half Marathon | Bournemouth | October 4, 2020 | September 23, 2020 | 50 | 250 |
| | MBNA Chester Marathon | Marathon | Chester | October 4, 2020 | July 29, 2020 | 30 | 350 |
| | Alcester 10Km | 10Km | Alcester | October 4, 2020 | September 29, 2020 | 15 | 100 |
| | Spartan Beast - Windsor | 21Km | Windsor | October 10, 2020 | September 30, 2020 | 50 | 200 |
| | Spartan Super - Windsor | 10Km | Windsor | October 11, 2020 | September 30, 2020 | 30 | 150 |
| | Spartan Sprint - Windsor | 5Km | Windsor | October 11, 2020 | September 30, 2020 | 20 | 100 |
| | Manchester Half Marathon | Half Marathon | Manchester | October 11, 2020 | September 17, 2020 | 20 | 200 |
| | Royal Parks Half Marathon | Half Marathon | London | October 11, 2020 | May 15, 2020 | 60 | 350 |
| | Oxford Half Marathon | Half Marathon | Oxford | October 11, 2020 | October 1, 2020 | 40 | 250 |
| | Asda Foundation York Marathon | Marathon | York | October 18, 2020 | September 28, 2020 | 30 | 350 |
| | Amsterdam Half Marathon | Half Marathon | Amsterdam | October 18, 2020 | July 29, 2020 | 20 | 250 |
| | Amsterdam Marathon | Marathon | Amsterdam | October 18, 2020 | July 29, 2020 | 50 | 350 |
| | Tatton Park 10Km | 10Km | Cheshire | November 7, 2020 | October 28, 2020 | 20 | 150 |
| | Tatton Park Half Marathon | Half Marathon | Cheshire | November 8, 2020 | October 28, 2020 | 30 | 200 |
| | Spartan Sprint Race - Twickenham Stadium | 5Km | Twickenham | December 5, 2020 | November 13, 2020 | 40 | 100 |
| All year Round | UK Bungee | Adrenaline | Various | Various | | 100 | 500 |
| | UK Parachuting | Adrenaline | Various | Various | | 50 | 350 |
| Showing 1 to 95 of 95 entries | | | | | | | |
| PreviousNext | | | | | | | |