What is Microbuild?
The MicroBuild Fund is the first housing-specific microfinance product dedicated to helping low-income families.
Microfinance is a type of banking service that is provided to unemployed or low-income individuals or groups who otherwise have no other access to financial services. We view microfinance as a tool to help solve the housing crisis and lack of access to funds in developing markets.
Why was Microbuild set up?
Currently, the microfinance industry's allocation in housing products totals only 2% of its entire loans portfolio to microfinance institutions globally.
We, alongside Habitat's Terwilliger Centre, want to increase this allocation to 10%. This means that more funds can be dispersed so that more people can access loans for building and improving their homes.
Who will Microbuild impact?
It will affect the approximate 1.6 billion people living in substandard housing worldwide.
For low-income families in the developing world, the options for financial support to improve their homes are limited. Services in their local communities can often be expensive, of poor quality or simply unable to serve their needs. Microbuild encourages independence and financial inclusion, supporting low-income families' growth and development.

The MicroBuild Fund was one of 10 winners of a Classy Award, which recognizes the most innovative solutions to the world's toughest social issues.

Mike Carscaddon, chairman of the MicroBuild Fund board of directors
Building a home where families can thrive
Stability & Security
Financial Inclusion
Changing the Future
Microbuild growth over the last 5 years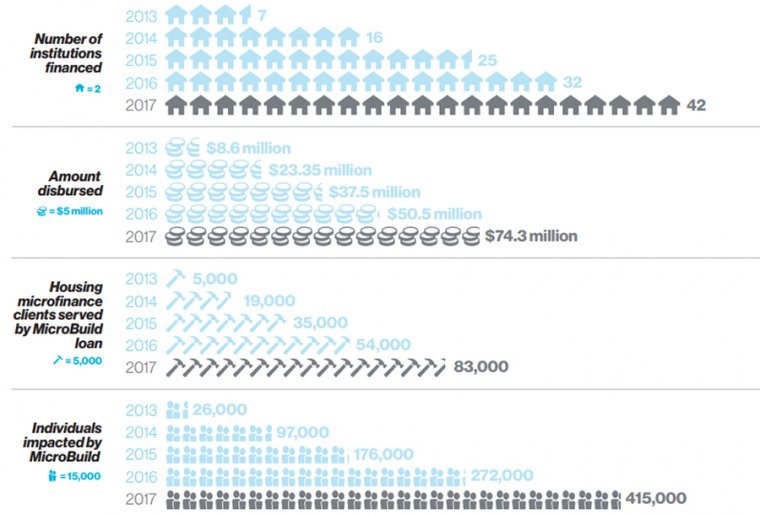 Microbuild goals by 2026
600,000
people will get improved shelter.
We will encourage home improvement projects, small house construction, and secure tenure and land purchase.
US$10 million
will be spent on microfinance loans globally.
It will be used to support: 60 microfinance institution investments, 35 partner countries and it will provide technical assistance to microfinance institutions.
US$35 million
will be used to create a microfinance industry shift, by helping to fund housing finance.
Microbuild's geographic reach
Case studies from countries around the world