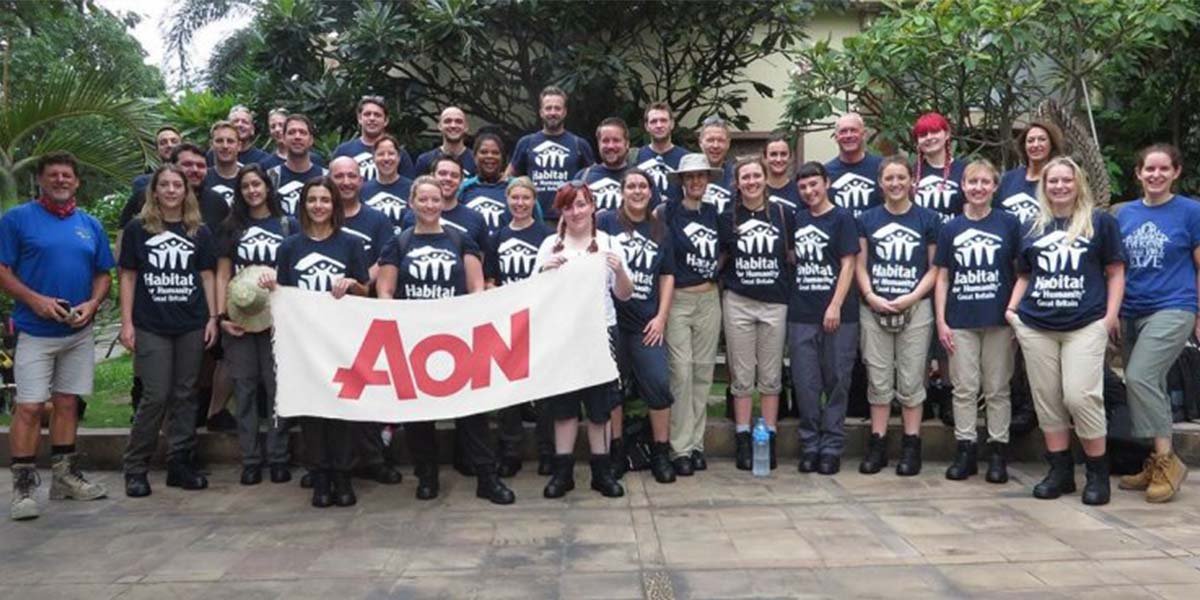 AON
Our partnership with AON
We began partnering with Aon in 2012 when they sent their first team of volunteers to build homes in Mozambique. Since then, they have sent additional teams to Zambia, Cambodia, and (in the near future) Guatemala.
Helping to build communities
AON are dedicated supporters of Habitat for Humanity's Global Village programme. Over the last 6 years over 60 AON employee's have travelled to Mozambique, Zambia and Cambodia to help build homes for those living in the poorest communities. Aon are currently fundraising and preparing for their next home building adventure to Guatemala in 2019.
Building homes and changing lives
AON began their relationship with Habitat for Humanity in 2012 when their first team of 13 took part in a trip to Mozambique, building two homes during their stay.
This was followed by a team of 19 employees flying out to Lusaka, Zambia in October 2014. During this trip the team managed to work on three homes with two of the three completed in the 5 days.
Motivated by the the previous teams feedback, more employees leapt at the chance to help to build more homes and a team of 33 were chosen to take part in Aon's third trip to Battambang, Cambodia in November 2016.
This enthusiasm and passion to help provide others with a safe and secure home continues into 2019 with the next team fundraising and preparing for their experience in Guatemala In January.
Employee Engagement
For each trip AON employees take part in a variety of fundraising activities. This has ranged from pushing themselves to run a half marathon, to balloon modelling at children's parties, and baking cakes to sell in the office.
Whilst they have individual targets to raise, they work as a team to ensure that the maximum funds are raised and to support Habitat for Humanity's vision of a world where everyone has a safe and decent place to live.
I was really happy and excited when the volunteer team built the house. I can say that this is my own house as compared to the old one where we were considered illegal dwellers. Now we own this house and plot.  We are no longer squatters; we have a decent place to live.

Tes Theary, a mother of 3, Cambodia
Image and video Gallery