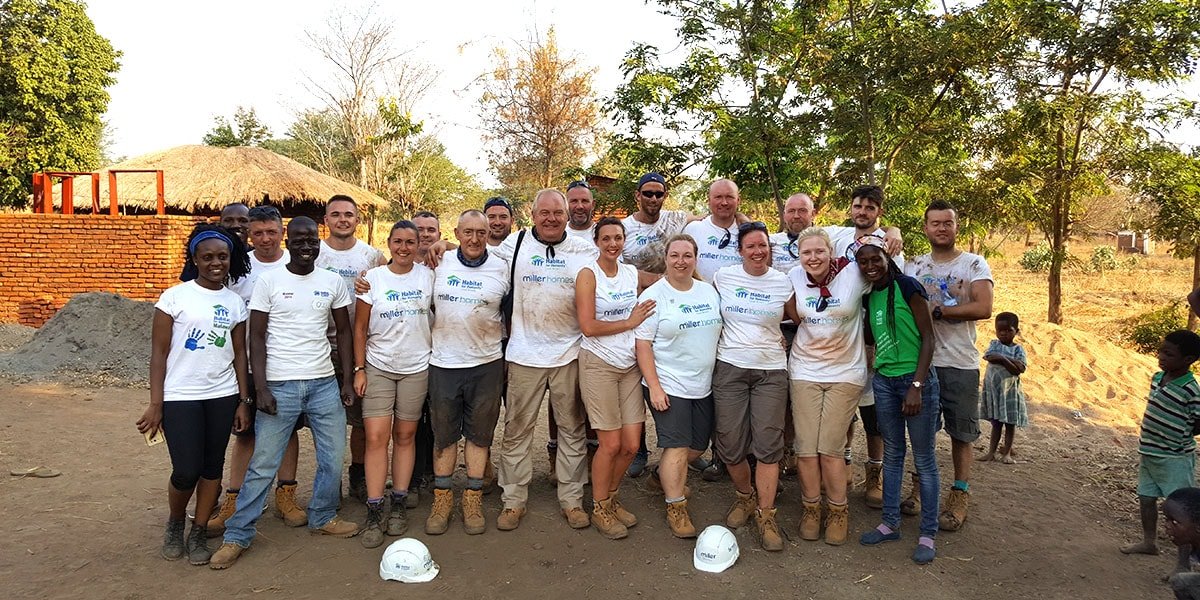 Miller Homes
Our partnership with Miller Homes
Miller Homes joined the Hope Builders campaign in 2016 and united their entire UK workforce to raise £228,000 in a year, in addition to sending a team of volunteers to build homes in Malawi. Four years on they have raised over £500,000 for us, they have won the Hope Challenge 2017 and teams of volunteers have travelled to Malawi and India. Alongside the financial support, Miller Homes staff have helped to support our events and trained to be team leaders further demonstrating their dedication to the helping those living in poverty.
A safe place to call home
At the end of 2015, Miller Homes committed to raising £100,000 for Habitat for Humanity in 2016.  A year later the team more than doubled their goal.
In September 2018, a regional team of volunteers  travelled to Pondicherry, India, to help to build more homes.This was shortly followed by a team returning to Salima, Malawi where their house building support first took place
Whilst the Miller Homes teams were unable to defend their 2017 Hope Champion title, they raised over £12,000 for the 2019 event and had a fantastic team name with 'Drop it like it's Scot'!
Supporting our work
Miller Homes started their Partnership with Habitat for Humanity in 2016 with an ambitious target, and with their drive and determination they doubled it in the first year! Over 60 employees put themselves forward for the initial housebuilding trip to Malawi, however only 16 employees were selected to take part. These volunteers witnessed first-hand how a safe and secure home can benefit many aspects of life for the immediate family and wider community.
Two further trips arranged to Malawi and India have given even more employees the chance to see how the funds they raise makes a difference to the most in need.
Alongside overseas volunteering, Miller Homes have demonstrated their innovation and ingenuity in shelter design when taking part in our 2017 and 2019 Hope Challenge event's.
As we have begun our fourth year of working together, we are looking at how in addition to the fundraising support received, we can find exciting and impactful ways we can utilise the skills and knowledge from within Miller Home.
Employee Engagement
Milller Homes are one of the UK'S biggest Housebuilders with many regional offices, yet this has not prevented their employees from uniting to support Habitat for Humanity's vision that everyone should have a decent place to live.
From taking part in running events, making Gingerbread Houses and building shelters in the Peak District, Miller Homes employees embrace all opportunities to raise funds and demonstrate their commitment to improve the lives of others.
In April 2020 one of their employees will represent us at the 40th London Marathon event aiming to raise £2,000 and spreading further awareness of our work.
Don't hesitate. I can stick my chest out and say we've set the bar really high but I challenge you to raise it higher. And I'll be the first to take my hat off to you if you do.

Chris Ensor, Chief Exceutive
Our fundraising has involved everything from traditional sponsored walks, runs. We've done two marathons, London and Edinburgh, to bizarre events like pigeon-racing, cake-baking. We've had to get one of my sales director racing a train. He then did a tough mudder and he then ran up Snowdon in absolutely appalling weather. We've had Gus, my colleague in Scotland, doing 100 rounds of golf in a day and raising a hell of a lot of money through sponsorship.

Chief Ensor, Chief Executive
Image Gallery
More on Miller Homes